SPANK Rally 2007

Scoring

Now finished, I was very happy with my ride and thrilled with the fun I had experienced. I casually gathered my stuff and went in for scoring. Dave McQueeney would be scoring me and it would be "live" face to face. I liked this format as it left no room for guessing.

Shortly into the scoring it became apparent that I didn't have my rally "drawers" in some of the pictures. "Correct" I said, "They are only in the ones where required ..where spelled out in the Rally Pack".

!Wrong!, they are supposed to be in every picture. "What!?!" no mention of that, or was there? After asking some riders, they confirmed that George HAD in fact said at both riders meetings that Drawers must be present in ALL pictures UNLESS otherwise noted.
Needless to say my heart and soul emptied of blood as 9 bonus locations and aprox 50,000 points where taken from my score. OUCH!!


I was extremely frustrated at this. Mostly at myself, but just upset in general. I could not help but think of bonuses such as Tecate where I had busted my ass to bag the points, hence missing an important checkpoint ...and now those hours and efforts were for nothing. I made it clear to Dave that my frustrations were not with his scoring and thanked him for his efforts and I kept a professional demeaner .....and he truly was fair in scoring me. My anger was pointed within. George was nice in efforts to console me and I was not the best of the situation at that particular moment.

However, I quickly realized that I had just spent 30hours on a bike having a great time and was stupid if I was to let this ruin my fun. If losing points was the worst thing to happen this day, then I had a pretty damn good day. Also, common sense says that I should have taken the time to put the drawers in every picture, whether called for or not. I was a fool to not do so.

In rallys we go for points, it is the unit of measure. But, it is the memories and challenges of attempting to earn those points that is the real prize. While having both the points and the memories is the best. If it came down to a choice, I'll take the memories every time.

Later I would find out that I finished the rally in 12th place. I'm very happy with that. My goal was to have fun and finish top 10. Didn't make top 10, but I had more than enough fun to make up for that!! It was a great and unique rally. Some superb riders and some even better thinkers. What a treat to be in the company of such proficient rally veterans.





Riding is done, but the adventure continues!




The phone call that I received shortly after finishing was from Monte and Tami.

They had blown a rear final drive on their K1200LT.

My heart sank for them.

They're also from Reno and I've spent some good riding with Monte over the years. Lots of Dual-Sport dirt riding (my favorite) but also plenty of LD riding.

Most recently he joined me at WFO for the BBG there and we had lots of fun.

If you ride, you know how valuable "LOW MAINTENANCE" riding buddies are. Well Monte is not LOW maintenance. Rather Monte is NO maintenance. I enjoy our rides because he gets the job done, no drama. When good things happen we enjoy them. When shit happens, and of course on occassion it does, Monte can deal with it and there is no girlie drama involved. I really appreciate this about him and this quality makes him a joy to ride with.

So, they had blown the final drive just south of Los Angeles off of I-5. Not a great area. Fortunate thing: They had trailered the bike down to the rally. They called to ask me to come and get them and the bike with their truck and trailer.

Let the adventure begin!! I got their waypoint, grabbed my GPS and took off in their gigantic truck. Big diesel, dualie, jake-brake, six speed manual, big enclosed trailer and I'm off on unfamiliar crazy So CA freeways!!
I felt like a real bad-ass chugging down the freeway, using the jake brake and thinking back at home I drive a Subaru LOL LOL.
...up the 90miles to where they were. The adventure was intensified by my lack of sleep and exhaustion from the rally. It was great fun in a warped kind of way. Monte and Tami were most appreciative. We got back to SPANK headquarters in time to head for the awards banquet.





Awards Banquet

The banquet was a few miles away at Stone Brewery. Volunteers took people in cars so that there was no booze and bikes being mixed.
A swanky but beautiful place. Kind of hoity-toity for this hick from Nevada, but the damn good beer made up for it. They had about 30flavors on tap. I had a couple pints of each and then decided their "Arrogant Bastard" was my favorite, so had about a million pints of that flavor before the night was over. After an intense rally then driving big-rig truck, beer is really good. :-)

Meanwhile the banquet was very nice. George gave a nice plaque to each finisher. In addition there were prizes and lots of good fun. I think everyone was in aggreement that this rally was something unique and fun. The banquet was a nice topping.

This is an example of the plaque and pint glass belongs to Scott Wright ...Scott did a nice job on the rally and brought some good fun to mix as well.
And the winner is: .......................
Terry, it was great to see the great performance you delivered!! But the real thrill was whitnessing the excitement of winning that you exhibited, -combined with your humble demeanor. Congratulation my friend. Awesome all the way around!
On Terry's heals was another great guy: Doug Webb
Third Place went to Jerry White -The waypoint techno guru himself.
Great job to you guys, as well as all the participants.

Big Thanks

Chuck Hickey; DeVern Gerber: John Langan: Don Moses(behind), Dave McQueeney and RallyMaster George Zelenz
Time to go home
I got a late start out of Escondido and paid dearly for the mistake. Not far up 215 heavy traffic and then it eventually got shut down from Heavy (80MPH!) winds and fires. Not to mention the blown over big rigs!! It was crazy. Even lane splitting was painful, as the strong winds made it tough. Only 120miles in 5hours of riding.
At Hesperia I was out of the mess, but realized that I'd be hitting Mammoth Lakes very late and temps would be in the low 20's ..and cold all the way to Reno. I had experienced enough and got a Hotel room and relaxed until the next morning.
The wind and related fires were something terrible. As I write this San Diego and Southern CA is an inferno. Thoughts and prayers to all of those folks.
I'm also told that much of the area that we rode in, particularly in San Diego County is now gone. SPANK a day or so later would not have been possible. We were lucky, but for those in Southern CA this is a terrible time.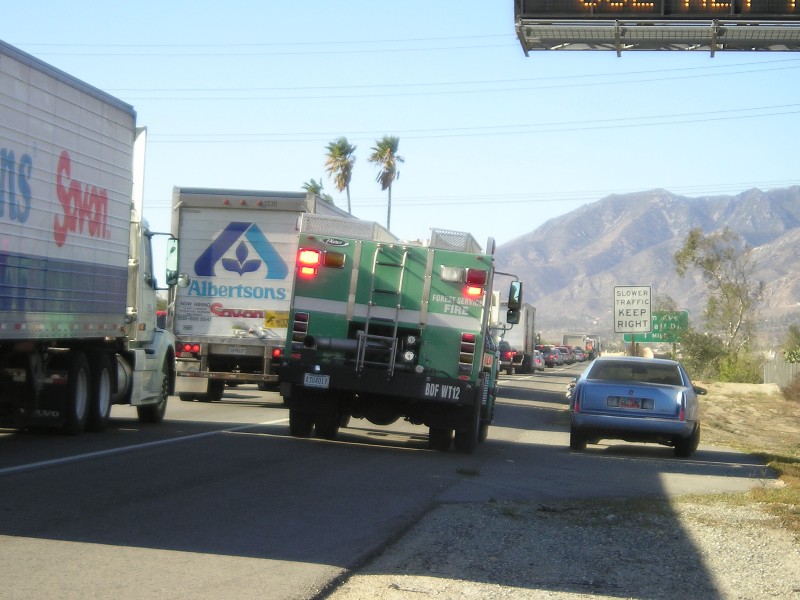 Thanks for the ride along
Riding Moto-Bikes is good fun! ..renojohn