Cal 24 Rally
I had not planned to run this rally, but an opening on the calendar came up. Not expecting there would be any room, I pinged Tom M. and he said because of a cancellation he could get me in. Thanks Tom and to who ever cancelled --as this was a groovy time.

---

I told Brian R that I was heading down and we figured might as well go down together. Me figured we might as well take some descent roads and we did just that: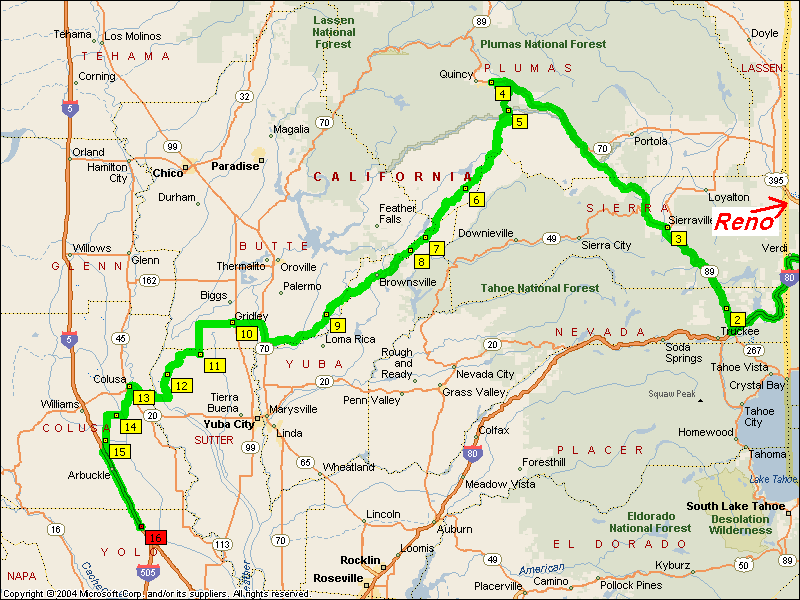 This map is pretty close to what we did....
Reno, Truckee, Graegle, East Quincy, La Porte, Strawberry Valley ....down into the valley and then a zig-zag to Dunnigan USA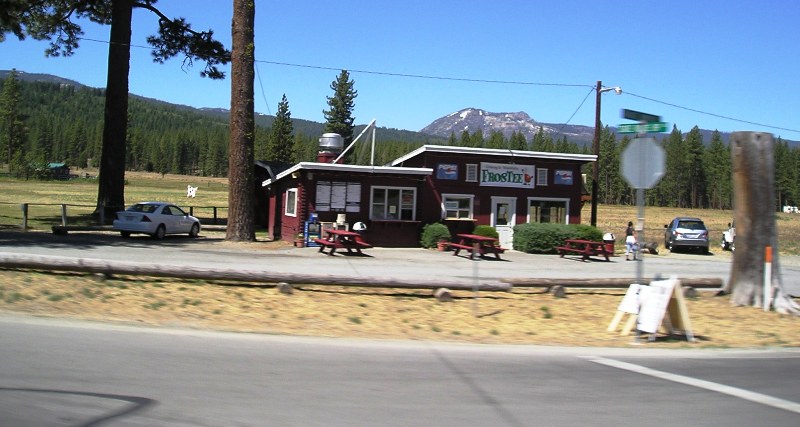 Through Greagle and note the blue sky (compare with upcoming pic)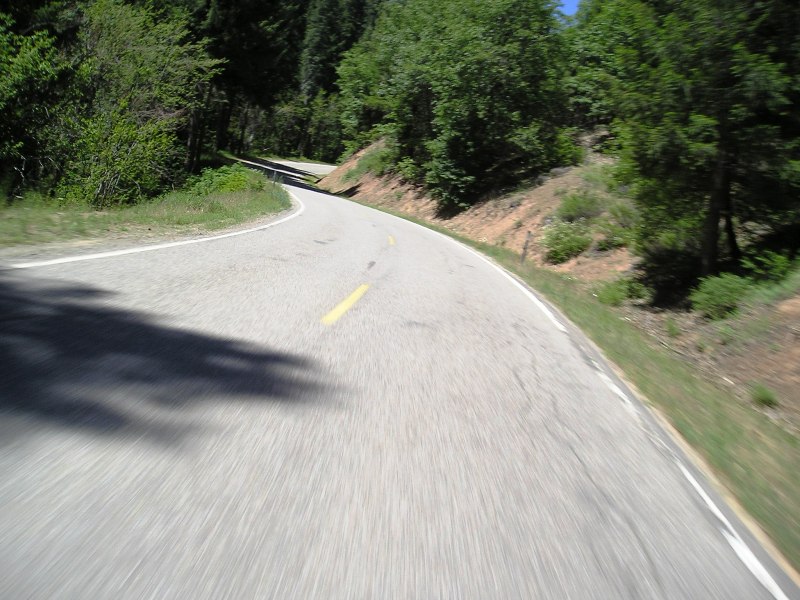 La Porte Road, on the east side ..always a treat. They paved this rode a few years back and since then it has gained the attention of some sport riders ..and for good reason, this road is a treat. Still on most days you pretty much have this road to yourself. Can't count the number of times for me on this road -too many, but this was the first time this season.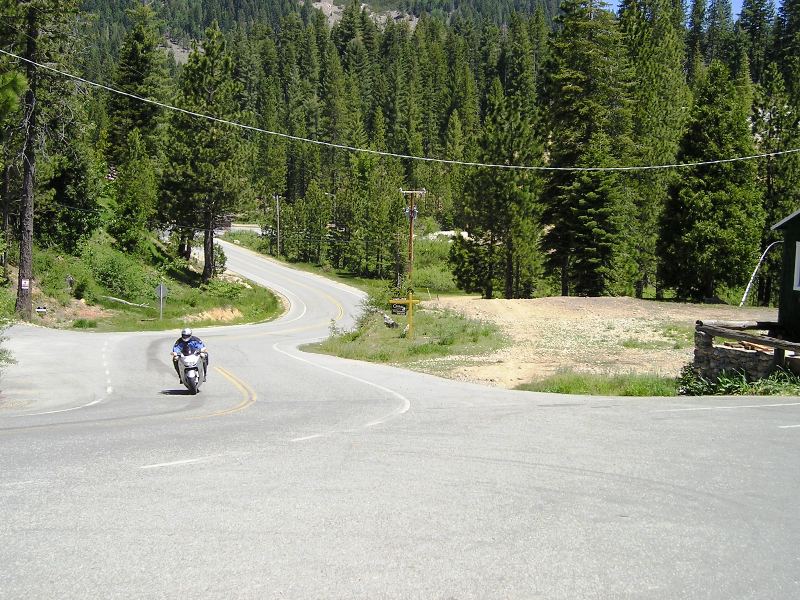 Brian entering the town of La Porte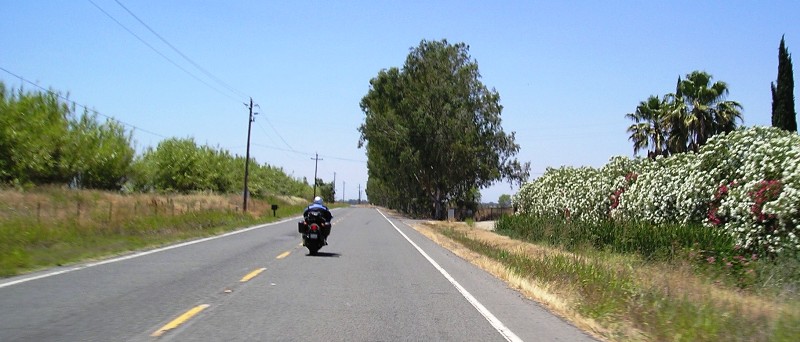 .....ugghhhh We drop down into The Sacramento Valley ..about 100feet elevation ..as we get closer to Dunnigan.


---
At Dunnigan we do Tech Inspection, Odometer check, Riders' meeting and the like. Great to see new faces and familiar ones -like my buddy John Langan (the only guy with the balls to bring a V-strom to this event).
Riders' meeting was fun, well done and no packet until the next morning so not a night full of anxiety and routing. Instead the time was spent socializing and relaxing.
---
...and now we get to ride!!!
Brief but informative riders' meeting and the rally packets handed out. Well done, organized and straight forward. Scratched my head at a few of their directions, but no requirement to follow the rally packet to the bonuses so no worries.
---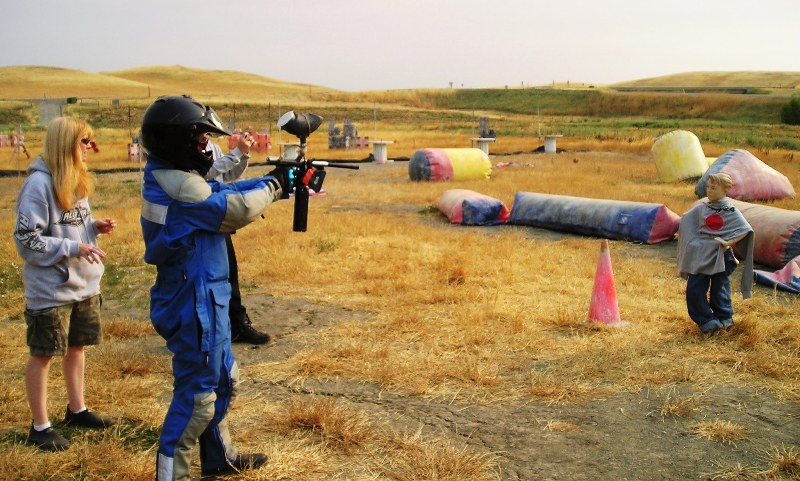 Here is a rider collecting bullet #1 ...paintball into his own shirt. Note the young boy wearing the shirt/target. Not the safest way to help at the rally ...being the target of assorted guns .....this was the start of what would turn out to be a really bad day for this young lad.
Bullet Two was at Oroville Dam .......good fun in the morning.
Then up Bucks Lake Road toward Quincy USA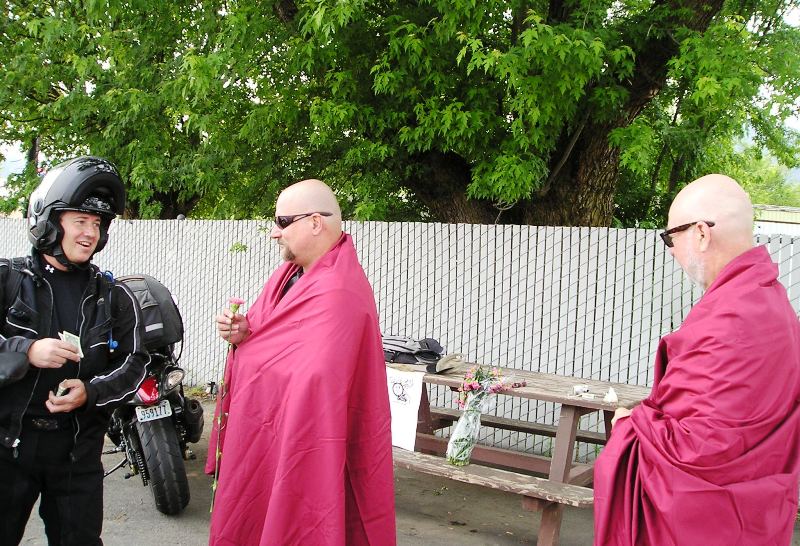 Here in Quincy, ...getting a bullet consisted of buying a rose from these Hari Krishnas. (Can you name them?) You must have exact $amount
........why???
Because: "Change must come from within"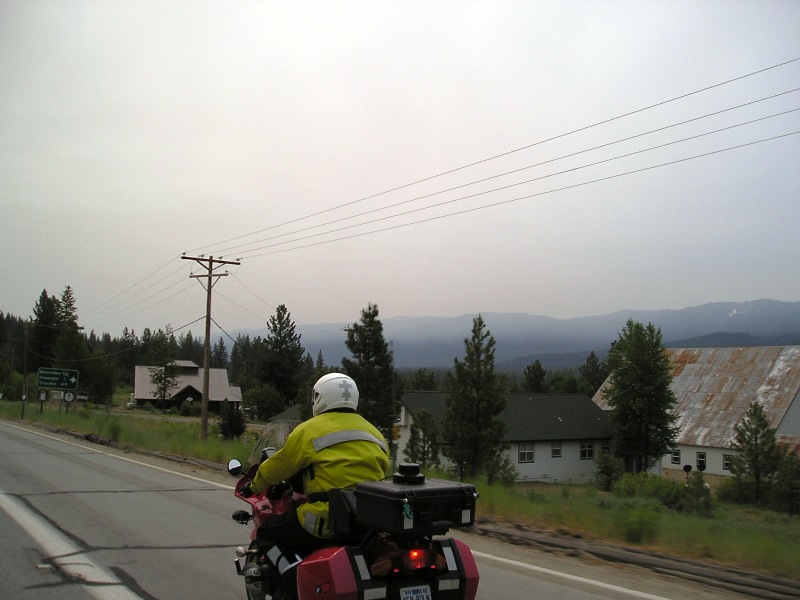 Outside of Quincy I caught up with Jerry White. By circumstance we rode together for a bit and that was a lot of fun. Note the heavy smoke in this pic ......from the fire near Paradise. Compare the sky with the pic of Graeagle above ....the smoke filled many of the valleys to the south ...even Washoe and Tahoe.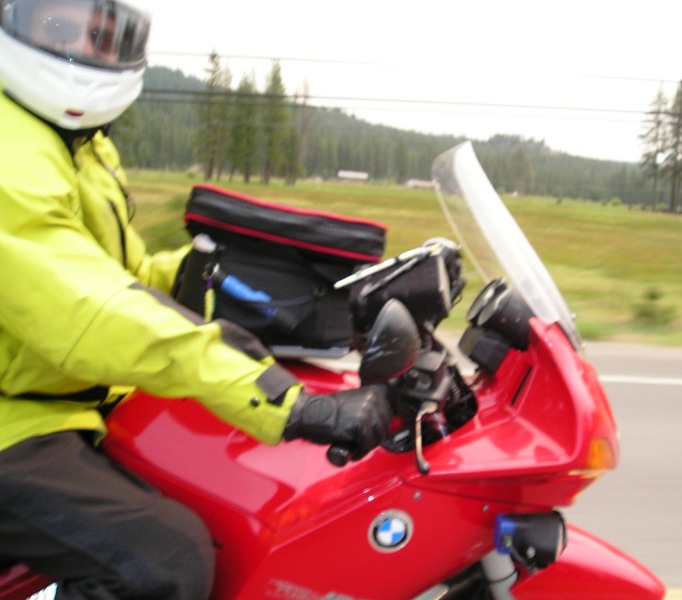 Pulled up alongside Jerry ....
Jerry was really jazzed for this rally and the time with him was great fun. Easy to sense he was on a mission to do well.

Bullet 3 was at the top of Kingsbury Grade (east side of Lake Tahoe) But first we had to go around the north side of Lake Tahoe ...a PIA on a Saturday with traffic, running races, tourists ...But we eventually got to the bonus.
....we had to eat the sandwich left from the previous rider. I was first, so my sandwich had been made by Mark Crane -hours?, days? or weeks? before ....I complained in good fun about the stale sandwich ..but it was actually a nice treat.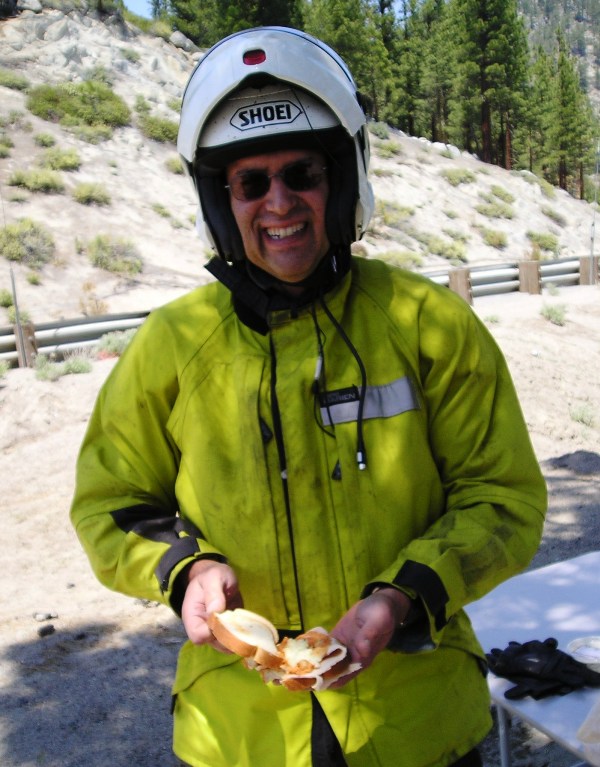 ....and yep, you better be smiling Jerry ...I made a sandwich fit for a King ...my way of showing appreciation of Jerry's great passion this day.
Jerry was not so kind to whatever rider came next --The sandwich Jerry made was not as "nice" LOL LOL
By chance we had ridden the last bit together .....and Jerry finishes his sandwich and yells at me: "Come On! We gotta get going ....Let's GO!"
LOL, I looked at John Langan and said: "can you believe that???? ..I build the guy a perfect sandwich and he yells at me like that ......"
Jerry laughed too ..and then said: "Now, come on!!" ...the words came out of his mouth like an impatient 6 year old.
He took off and we had a fun ride down the grade ....slightly different routes to the 5th bullet, my "shortcut" got me there a minute or two before Jerry: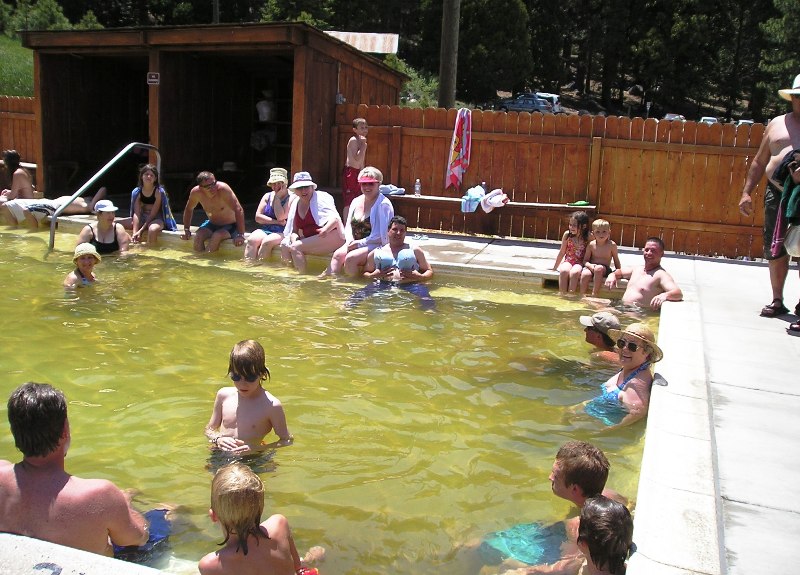 Grover Hot Springs. For some reason this place attracts a lot of european tourist ....and today was no exception. I made quite the scene as I stripped down, threw on my Cal24 bra and got in the murky hot spring water ........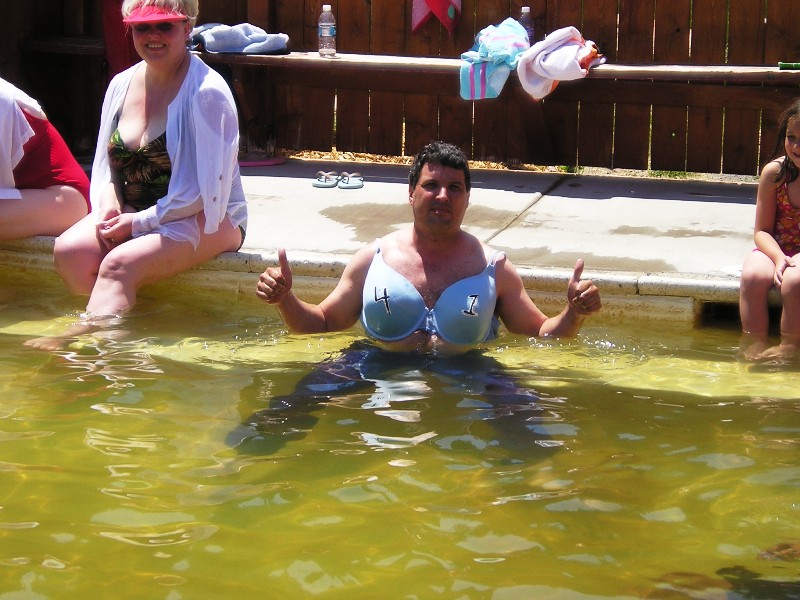 LOL, some good fun here ....Most of the folks in the spring didn't know what to think of me or these antics.
Jerry wasn't quite so bold but got the bullet and headed out before me. That was the last I would see of Jerry until much later.
Thanks for the fun Jerry ...
---

The Hot Springs were a bonus bullet and it had taken some time to do ..so now off to Walker Lake ..and not much time to spare.

So, I decide to take East Walker road out of (near) Wellington. Dirt road that comes out south of Shurz and saves some miles. Did about 5miles of dirt with about 20more to go and realized I would not make the pace I had hoped on this road ..and it was only going to get worse as it crossed over the mountains ..so I backtracked out the 5miles (10miles total of dirt) -This was a waste of both energy and very valuable time.

Now, because of this, it would be close as to whether I could make the Walker Lake bonus ...and, I didn't know exactly where it was. *IF* on the north end of the lake should be no problem ..midpoint ..should be OK ..but if on the south end I was in for a real gamble.

Had to press much more than I ever wanted to here ..and the only time of the rally that I was in this situation.

I was fortunate, the bonus was at the midpoint of the lake and I made it.
It was fun to see Mark Crane who was manning this bonus. I applied my bright lipstick and chilled a bit. I was a bit tired and needed to assess my next bonuses -or lack of.

---

Well, it was time to go for Rawhide and then maybe the shoe tree, the last two possible bonuses on leg one.
Well, I didn't mark the exact location of Rawhide on my GPS and/or maps ....and in my haste going through the rally pack I thought this was an "easy" one going out to the shoe tree. Now as I headed that way while routing ... I realized that I was wrong, in fact, it would take as much energy/time as the shoe tree. ...And, I had wasted a bunch of time riding to Fallon to (finally) figure this out. !!!DOH!!!

I had to choose one or the other ....OR, I could get skip them and go to the mandatory checkpoint early ...and have some time to chill and get a fresh rested start on leg two as soon as it opened.

Hard choice, but I abandoned Rawhide and the shoe tree and took a leisurly ride to toward the checkpoint with a stop for fuel and a tiny snack on the way.

Hindsight is always golden in rallies ....and at this moment I knew I'd be 2nd guessing my decision for a long time. I was correct :-)
---

Mandatory Checkpoint
Start of Leg 2

Now this was some good fun!!!

We were quickly scored on our first leg and that determined how many "Bullets" we had earned.

We then rode down a dirt road where Mark Crane had prepared a staging area where the shooting would take place. I had earned 6bullets so I proceeded to put a relatively tight grouping in the target of my Cal24shirt! What good fun!!

I now could open up my packet for the 2nd leg ---and it seemed fairly straight forward.

While many folks are better at quickly digesting packets than I am ..to me it seemed a base route that had lots of stops, quite a few bonuses in the Napa Valley -and those could be tied in with other things ....

And, a few, but yet valuable bonuses scattered up north around Oregon. For me, the decision was easy, I wrote down all the high point vales on my map and plotted a simple course. I knew the roads, new I could connect them ...it looked pretty good, but I didn't know mileage ..was it too aggressive? ..was it too wussy?? ..perhaps time for even more??? To find out, I set them all in my GPS and told it which order to route ..this would give me the mileage.
Hmm, under 700miles, about right for the time remaining ..and I made some notes of where I could pick up more or skim the route if unexpected things came up.


Time to start leg 2 ....but not before thanking Terry Neil for the fun at the Checkpoint. We got a chance to talk and share stories. He was going through his packet and I was going through mine. ...I'm sure both curious what the other was going to do. Turned out we chose different strategies...otherwise it likely we might have ridden together.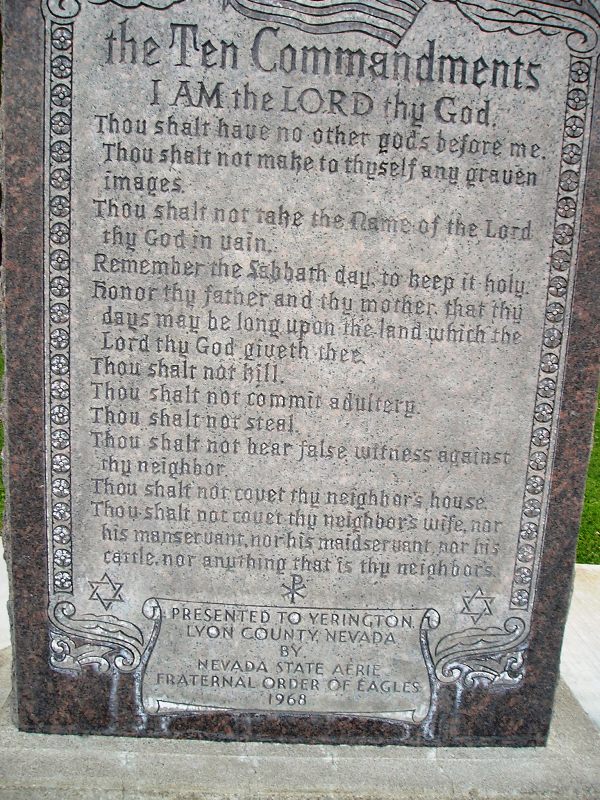 Before Leaving Yerrington .. A nice little bonus on the way out of town, and a reminder that northern Nevada is full of hard working, god-fearing folks. Thanks for the fun Yerington, but time to ride on.

So as I rode north toward Fernley, I knew that I had an easy 2nd leg loop ..very simple -just keep the wheels turning but not rush, plenty of time.
But, it occurred to me that I was the only person on planet earth that knew that I was about to ride all night through some very rural areas. Terrain with large concentrations of critters to ruin your night. So, I called home and left a message on the answering machine so that Kathy would know my route should I turn up missing.
My recording: "Kathy: save this message just in case. ...9:00p, leaving Fernley on my way to Gerlach, then Fort Bidwell, then Tulelake, then Dorris and then a cruise back to Dunnigan USA. I'll call when I get out of Dorris to let you know the rural stuff is over."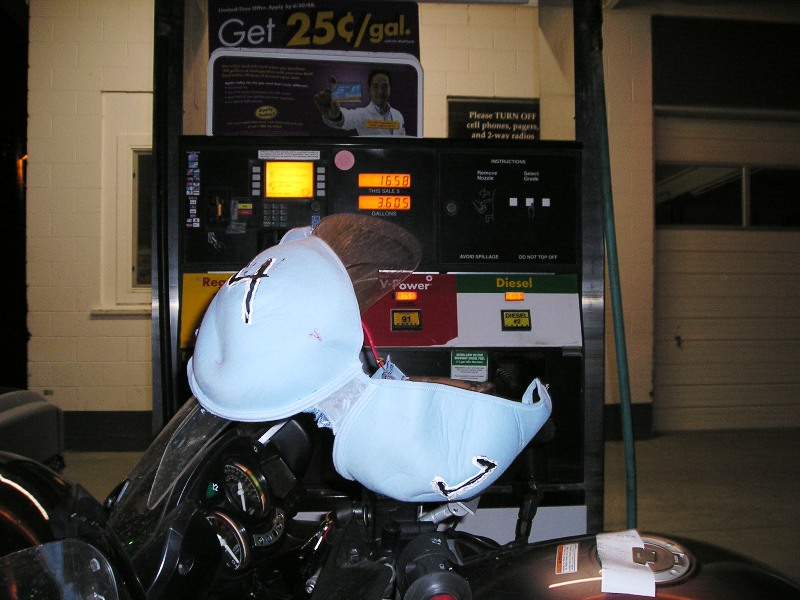 First stop Gerlach ....to top off, lots of rural ahead and wanted gas to not be a worry. Took pics as the receipt does not have the date stamped on.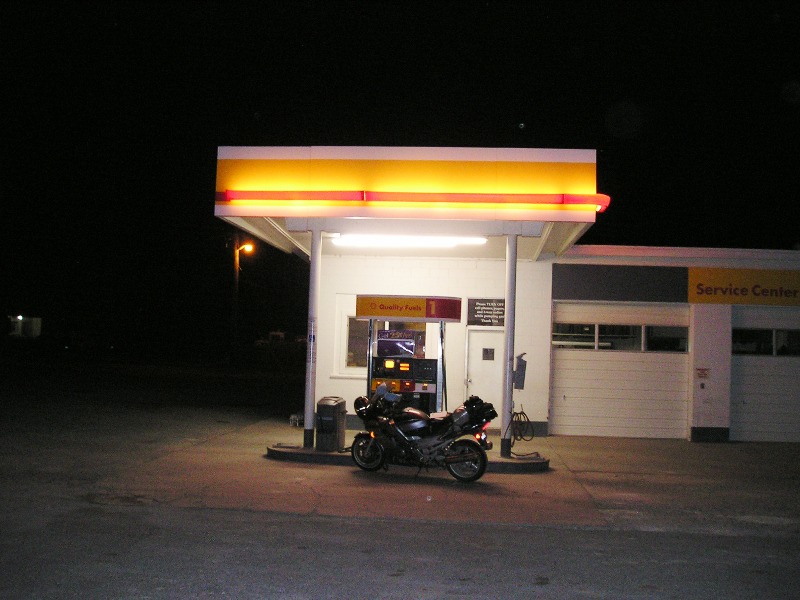 I live not far from Gerlach ...and my bikes are no stranger to this pump.
Still, consistent with every other visit, Gerlach and the Block Rock desert are nothing short of magic.
Not the first time, nor the last time, a lonely bike will be getting fuel under darkness here.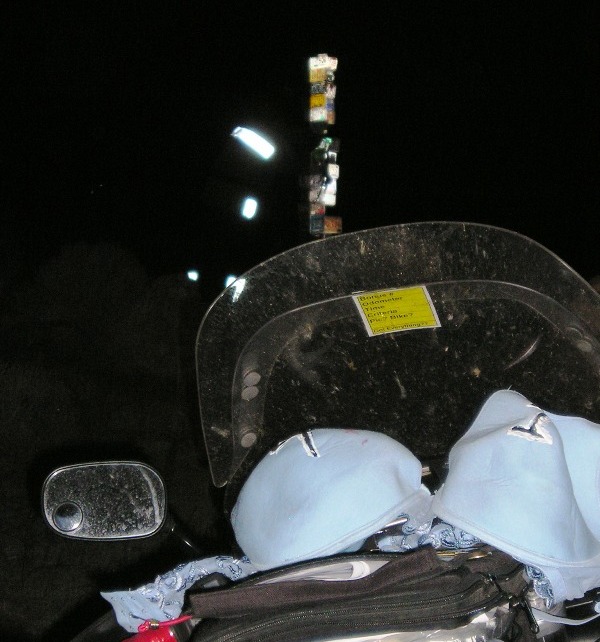 Rally Packet said we were not required to ride all the way to the license plate tree (we could hike in) ....but I rode pretty much right to it.
I said two prayers while here. The first for fallen riders, and the second that I would not fall into that category.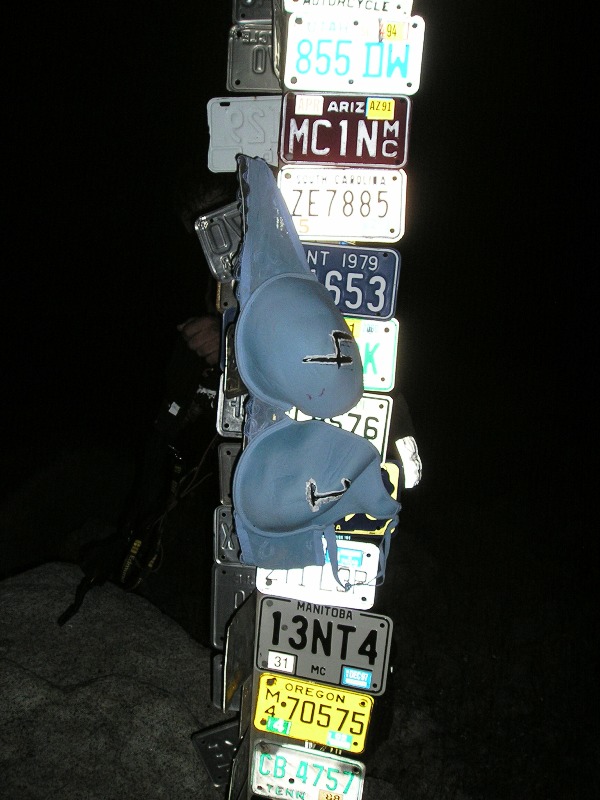 Walked a couple of steps and took this pic.
Now up toward Cedarville and then the nowhereland of Fort Bidwell. I was excited to do this ...haven't been to fort bidwell in many years ..just isn't on any route that would bring one through there with any regularity.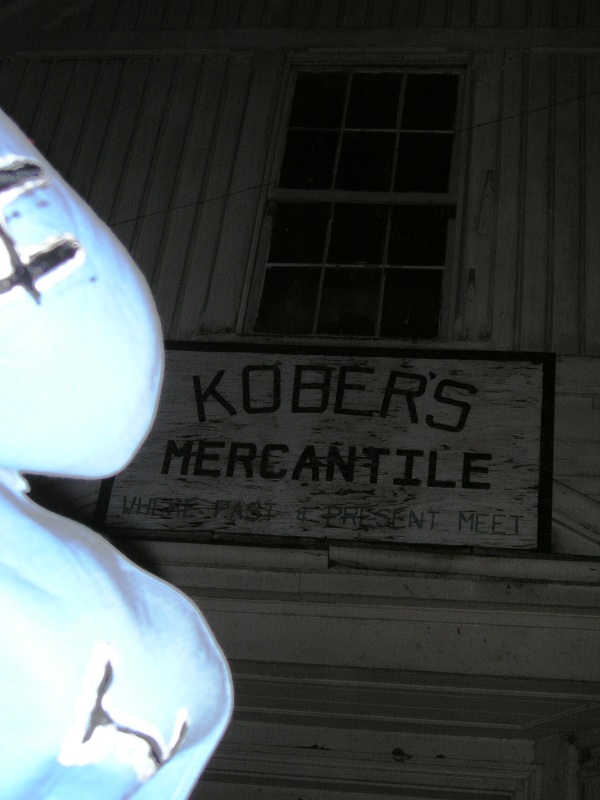 And after many miles of rural fun ...and many deer sightings ..the bonus picture At Kober's Mercantile
"Where Past & Present Meet" ......what a wonderful bonus
Thanks Cal24 for the chance to come to Fort Bidwell and live a very special spot of planet earth.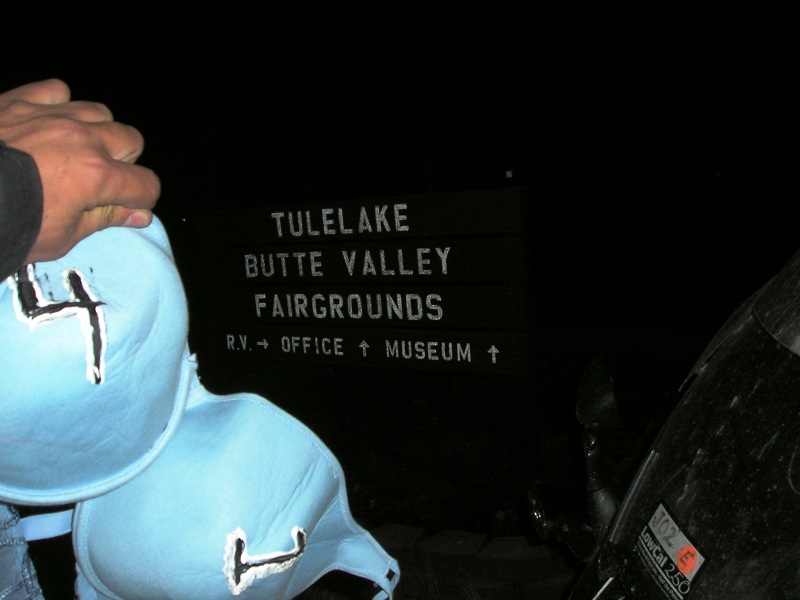 And hours later ......the Tulelake Fairgrounds.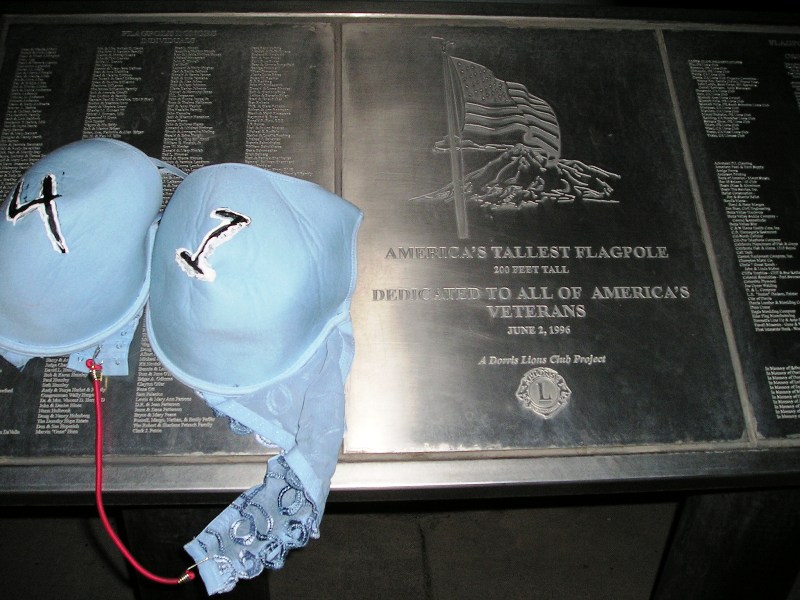 And then the flagpole in Dorris. LOL, I remember when they were building this ...the "tallest flagpole in the usa" ...they were so proud, this tiny town would have something to put it on the map ....and before the completion of the pole, somewhere else erected a taller one. LOL LOL ...me thinks Dorris will never really get on the map. FYI, I spent some time during college working for Dorris Moulding.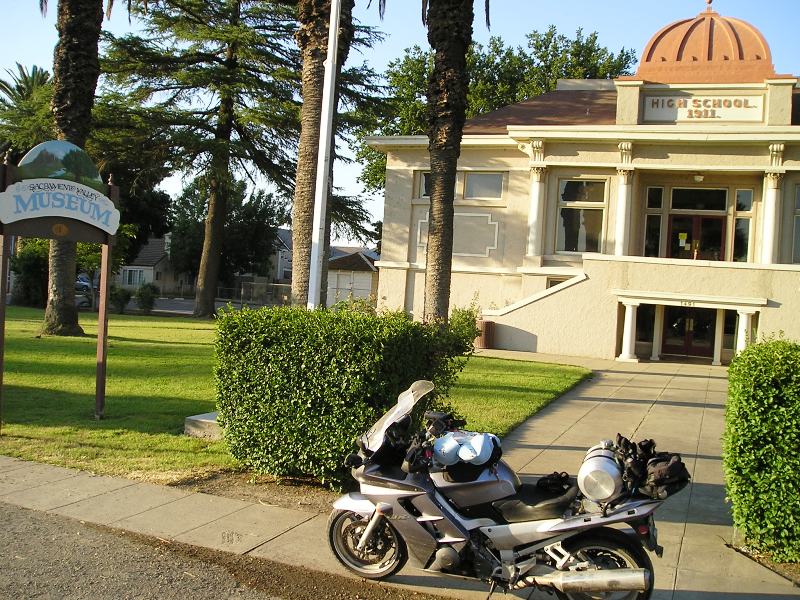 In Williams, the Sacramento Valley Museum.
---
---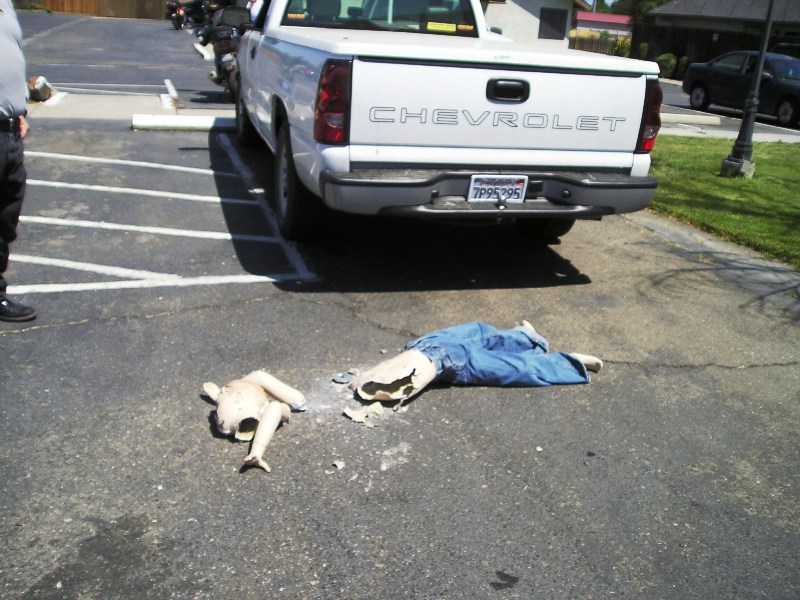 I was one of the first responders to this accident. --The Chevy truck was more than this boy could handle.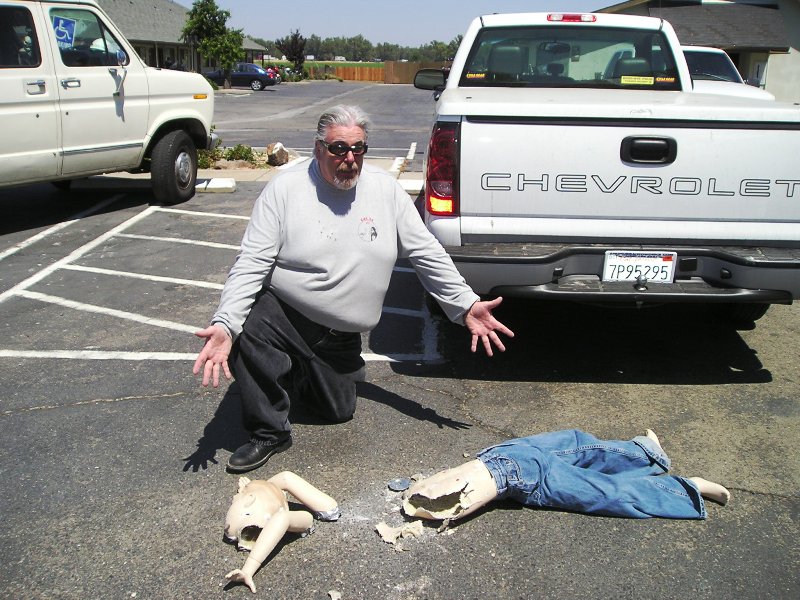 Tom Melchild ...can't believe what has happened to his little buddy.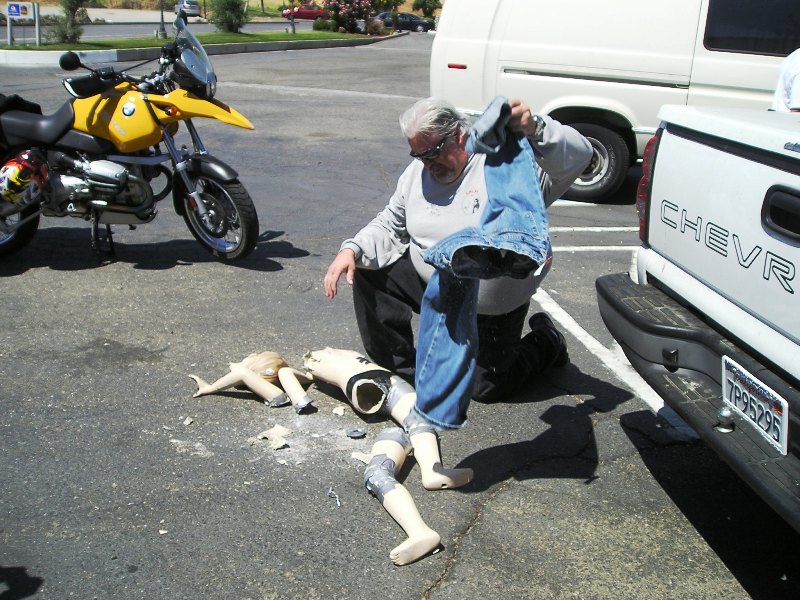 Very tough to witness someone grieving over the loss of a loved one.
Tom, our thoughts are with you during this difficult time.
---

So, rally is over! Plenty of time to chill, have a refreshment (or 6), a cigar (or 3) and prepare the rally pack.

Not much preparing to do, pretty straight forward this rally and my 2nd leg had kept my bonus count low.

Points for Sale!!
There was an interesting thing that many, including myself, considered. You could basicly buy points via a donation to the Polio Plus Foundation.
So, for the person who wanted to gain points, without having to earn them on the road ...they could be bought. Most of us did our donations without going this route -but for some (one) this was an easy way to get unearned bonus points [insert fun-intended jab at Erik Jewell here LOL LOL]
---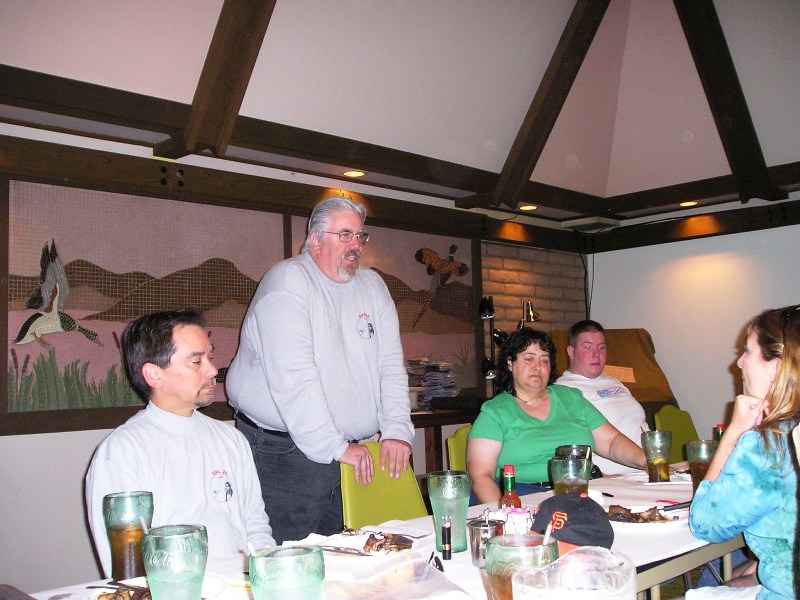 So, time for the awards banquet and Tom (standing) and Mark (left) did a wonderful job.
Some good stories, good food, and a good mix of folks.
Great job on all!! This rally really has a good "feel" to it.
It was obvious that a lot of time and energy went into making this rally fun, I know that was your goal and anytime you can ride around on moto-bikes, shoot guns and share fun with other riders -all while riding great roads ....well, you guys got it figured out. Thanks.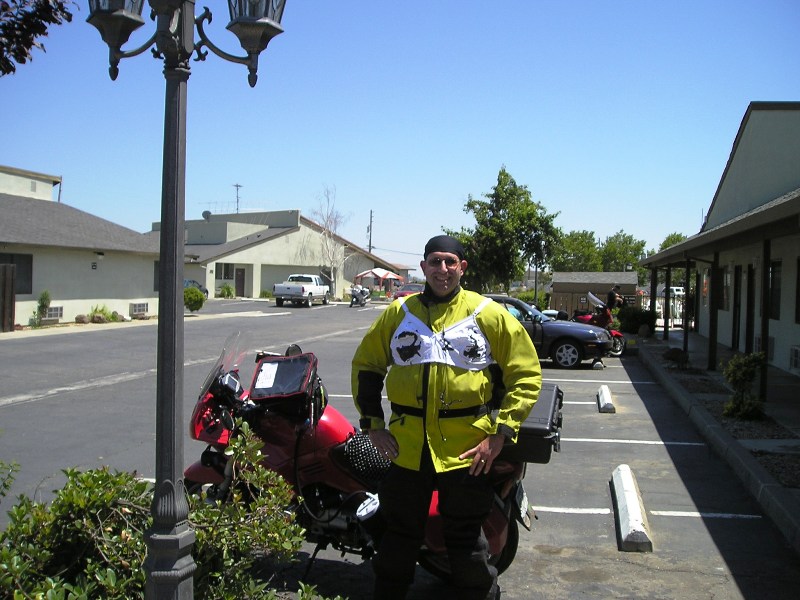 Jerry, ...this guy had an emotional rally and now it is time to head out toward home. One of my favorite memories of the rally was seeing Jerry's wife (Sally) and cute young daughter (Claire) show up for the awards banquet to surprise Jerry ....what a nice Father's Day for you my friend.

A great rally, good fun and I was happy with my ride. Secured a top three finish, getting beat pretty handily by Jeff Earls and neck-neck with Erik Jewell. I was thrilled. 1211miles and 6992highway earned points and a lot of fun.
My route was like this:

After ever rally you ride away with many thoughts of "woulda / shoulda" ..and this rally was no exception. My biggest??
**I coulda/shoulda have ridden in the Harley class (I'm not on a Harley, but I bet they would have been cool with it). You see, there were Three Harley Davidsons in this rally. These bikes (and their pilots) looked different, sounded different than all the rest of the field. But make no mistake, they had more fun than should be allowed and they personified a fun spirit that we all should strive for. GREAT job guys, it was an honor to be sharing the fun with you. Next year ....I'm riding with ya!!
---
---
So now, late in the day, many folks heading home ........and I had figured that would be my plan as well. And, Brian? Well, he had the same thoughts.
But without ANY effort we each talked the other into staying.
Our new plan was to: Relax, drink beer, have cigars and then deal up a little mischief on this sleepy little valley town.
...Eventually getting up in the morning to ride home.