SPANK Rally 2007
RIDING the rally ..fun and some great stories.
After receiving the rally packet and digesting the concept of this unique rally, I spent a few minutes formulating a strategy. I had in my hands permission to bag aprox 25% of the Leg 1 bonuses. I figured I'd snag a couple of nearby bonuses and then head to the north *SOFT* checkpoint. From there I was guessing that I'd work my way down to the central *SOFT* checkpoint and finally the south *SOFT* checkpoint before finally heading north to the Mandatory checkpoint/start of Leg2. I had hopes that this would be a good strategy and of course I'd be zig-zagging for bonuses along the way. Only time and miles would let me know if this strategy was a good one.
First checkpoint was an apartment where George Zelenz (rallymaster) had lost his viginity ...supposedly many years ago, but I have a suspicion that it was much more recently. :-)
Eventually made my way up to the northern *SOFT* checkpoint:

Here Chuck Hickey and Don Moses were having too much fun as the checkpoint coordinators. GREAT job guys! I was the first rider here, in fact I wisely opted to kill a few minutes before checking in ..wanted the "odd-hour" bonus. So at this bonus I was allowed to open up the next rally pack (next section of LEG 1). I now had aprox 50% of the LEG 1 bonuses available to me.
From here I went down to the Firehouse (I believe the town is Crandal?) bonus on an AWESOME road 15miles down ......
Here the Firemen were curious as to what I was doing and I gave them the abbreviated answer. They gave me the "thumbs up", but elected not to wear my rally "drawers" for the picture (ya, I asked them to LOL LOL)
.......and 15 miles back, to again see Chuck and Don who approved this bonus.
----------------
After hitting some bonuses I went to the central SOFT Checkpoint which was being manned by George Zelenz -and fortunately John Langan was also there to supervise George. Mark Crane was there at the same time and I could see he was challenged with GPS issues ....yet he was still smiling. I was now allowed to open the third packet for Leg 1 and now had aprox 75% of the LEG 1 bonuses available to me. I was excited to see Tecate Mexico listed on this section.
My next bonus stop was a great fun one!! Carizzo Overlook
This bonus was interesting because it required instructions from the section1 rally pack to manually enter GPS coordinates. From this location, we would then go toward the actual bonus. If you didn't take this manually entry step as described in the packet, you would not be able to get to the actual bonus location!
But better yet, it was a dirt road bonus!!
I was thrilled to find that I would not be a street pussy on this rally and would be doing some dirt. I love riding dirt. FJR is not the perfect Adventure Touring machine, but I rode it as if it were ...bottoming the bike and its limited-travel suspension many times -and crusing at a nice brisk pace on dirt to the bonus location.
Once at the staging area for this bonus, a smart person would park the bike and walk the short distance to the overlook.
I'm not smart.
I took a look at the sign that says "no motor vehicles", and the two posts to enforce this. Not being a fan of such authority, I visually sized up the opening and figured "no problem, i can zoom through that" ...and off I went. Then all of a sudden: "BAM" with a huge terrible noise. It was as if someone had taken a huge hook to the bottom of my bike and it stopped instantly ....as I lurched forward banging my helmet on the windscreen.

LOL, not very smart. I had wedged the bike in there GOOD. It took me 15minutes of grunting and pushing to get it pushed back out. Saddlebags are pretty scraped up, but the fiberglass (plastic?) came back to shape fairly well.

But at least I got this dirt bonus and had a lot of fun doing it. A great fun bonus this was!



MEXICO HERE I COME!!!

So, my plan was to aim for Tecate, I was excited to go into Mexico for a bonus. I had forseen this possibility before the rally and had brought my documention (passport, tourist card etc) to get back into the USA easily should the opportunity arise. I figured I'd hit Tecate then go slightly north to the south soft checkpoint for those points. ...But first Tecate.

I arrived at the border and was debating whether to ride into, or walk into Mexico. I've come back into the USA at Tecate on a bike before and knew the drill, no big deal but takes a bit of time. There was a parking spot right at the border so I took it and elected to walk (run) into Mexico instead. I only had 25 minutes to bag this bonus and get the 8miles to the last soft checkpoint. TIME WAS TIGHT!!!


So I grabbed my polaroid, rally pack and silliness and ran down the streets of Mexico to the bonus. Note I had my Aerostich on, helmet with flip "up", polaroid camera, rally packet and was running. It was a site to see! Took the pic of the bonus, promptly turned around and ran UPHILL on the streets of Mexico back to the border. I was confident that I could cross ....the way I came in....who would notice a guy in an Aerostich, helmet and polaroid running with a trail of sweat running out the arms of his snow suit (it was like 90 degrees there!).
Who would notice that??
Well apparently I caught the attention of the border patrol as about 35yards from my bike I heard a siren, then yells. GREAT! I thought, a diversion, they won't notice me. Well the siren and yells were for me and I promptly had two, then three border patrol agents clenching my wet from perspiration Aerostich. They aggressively asked me what the hell I was doing. I gave the scavenger hunt abreviated tale and fibbed that I didn't think I actually crossed the border and was sorry. Seeing that I was getting nowhere with talk, and being short on time i gave up my lame excuses. Meanwhile they were escoring me (still clenching the stich) over to immigration. However they were cool guys and I got to the front instantly, had my paperwork processed in less than a minute and now back to my bike ..................

Back at my bike I now had 10minutes to go the 8miles to the last *SOFT* checkpoint. These are points I wanted and it would also open up 100% of the LEG 1 bonus locations. It was important that I get there.

Rode like hell and my Garmin took me on to some dirt spurs toward the bonus. With two minutes to go I was getting very close! With one minute to spare I was at a dead-end in someone's dirt driveway. I sat there and watched the clock on my GPS hit 15:15, which meant I had missed this important checkpoint.

It seems that Garmin was wrong in leading many folks to this bonus, I know that with only 5 or 10 more minutes I could have got to the actual bonus via some minor exploring, but I had no more minutes.





MELTDOWN

Dejected, I rode a few miles and stopped on the side of the road to review my options and feel sorry for myself. I had desperately wanted that checkpoint's 15,000 bonus points and even more: I wanted the final packet that would have given me permission for all LEG 1 bonuses. The Tecate bonus fun had cost me this last *SOFT* checkpoint. I also knew from elimination that Dave McQueeney and De Vern would be manning that bonus and always good to see those guys.

I took this opportunity to leave a message for George. A nasty ONE!! Via voicemail I gave him my status, shared my frustration and told him if I had the chance I'd rip his black heart from his chest. I'm sure there were a few F-Bombs in there too. (sorry George). Sometimes cursing the Rallymaster helps. I'm sure he understood the fun.

I was at a loss on "how" to head north, but saw some bonuses not far away, toward the west and I figured I should bag them and then head north. This was likely a mistake, instead I should have headed east, then north and taken secondary roads north, .....likey bagging some bonuses on the way.





HIGH DRAMA

After bagging a few bonuses I found myself in the town of Jamul and knew it was high time to aim for the San Bernadino Mountains for the Mandatory Checkpoint and the start of Leg2. I had to be there before 20:00 or face a disqualification from the rally.

I was in a bad spot!! should have thought this thru better! It was late afternoon and Friday commute traffic would be in full swing, no good way to get from Jamul to Lake Arrowhead. And, I don't know these roads at all!! GPS pointed me to freeways, but I figured that was a bad idea with commute traffic. In hindsight, I'll never know if I should have gone toward the freeways during rush hour. I opted to inefficiently zig-zag back roads, even though I had less than four hours to get to the checkpoint. Trouble was, even these backroads had commute traffic!


I kept thinking how dissapointed I would be if I missed the mandatory checkpoint. The rally would be over for me. In my attempt to get there, I had never ridden so hard in my life. Much more spirited than I ever care to do again. Lane splitting, while simultaneously recalculating dozens of scenerious on the GPS. No clear route to get to where I was headed. Dozens of options, none of them good. Taking advantage of the brief spurts of clear roads when I had them. I was stealing any inch I could get.

"Arrival time" being calculated by My GPS would show me being over, then under the required time ..."very close" in other words. But I also knew that the GPS was not factoring in commute traffic nor the great curves on the way up to the checkpoint.




MANDATORY CHECKPOINT

My efforts and lots of luck came my way and I hit the checkpoint with a mere10minutes to spare. It was close! I was exhausted from the last 4 hours, yet so relieved that I had made the checkpoint. For all practical purposes, I would finish this rally. That thought was golden to me and I casually started reviewing the bonuses for Leg 2 in my new rally pack. Meanwhile looking out over the valley ....the vista at the Mandatory checkpoint was stunningly beautiful.

I thought that I perhaps had a good rally going, but the rumors at the Mandatory Checkpoint were that 7 riders had hit the 200,000 point cigar bonus. Rather than kicking myself for not doing that bonus, I accepted the fact that I wasn't in the running for a top finish in this rally. ....I had been having fun, ..and was happy to keep that going. I felt little pressure to hammer out Leg 2 in an aggressive fashion.


Before going to this rally, I was confident that my rally plan would be to promptly aim for northern CA when the rally flag dropped. ...Right out of the shoot, not messing with unfamiliar territory in So CA, instead ride the very familiar roads of Northern CA. Surely George would have big bonuses in Mt. Shasta, Happy Camp etc etc etc. Little did I know that LEG1 would keep us on wonderful roads in eastern San Diego County!!!. Now at LEG2 I had the chance to head to familiar ground. Santa Rosa, The Sierras, Death Valley, 395 coridor etc etc etc. I knew these places all very well. But, all day I had been having such great fun on unfamiliar roads ...why stop now??? So, I did what I would never have imagined: I was set to play tourist in Los Angeles, Hollyweird etc. I would then aim for a huge bonus up on the top of Breckenridge that really sounded interesting. Time to play tourist! Never been to these places and why not do them on a bike in the middle of the night? NEVER would I have guessed that this hick from northern Nevada would be purposely aiming for such unfamiliar places!

LEG 2

I rode down the hill via another route toward the west. Met up with Eric Jewell along the way at a simple bridge bonus, Eric and I were the last ones to leave the Mandatory checkpoint. At the bottom (I-10?) I stopped for fuel and a 30minute rest bonus which included a couple of tacos. I was still pretty spent and in no real hurry.
Then aimed the aprox 100miles to Hollyweird where first stop was Tommy's Hamburgers. Had to buy one, and get a picture of me eating it:

At Tommy's had to buy one, and get a picture of me eating it. Apparently Tommy's is a real Icon down there, and there was a good vibrant crowd eating burgers.

The sites of Sunset blvd where crazy. Transvestite hookers, and all kinds of seedy stuff!! It was a site to see and I found myself looping around to get yet another view at the bizzare sites. I was totally playing tourist.

Next it was off to the Hollywood Walk Of Fame. This would be a crazy bonus.

Britney Spears, meet RenoJohn

This bonus was crazy fun. We had to put on our rally "drawers" and sit on one of the Hollywood Stars on the sidewalk. I chose Britney Spears and proceded to find some Japanese tourists to take the picture with my Polaroid. Meanwhile my bike was up on the sidewalk with the flashers going. Should have been easy enough, but the lighting was not good and it took 6 polaroid shots to get any descent ones. it takes a while for the results of the polaroid to become evident so you can imagine how much time had passed. By the time it was over, I had about 20 people crowded around watchng me in full Aerostich, helmet (flip up) straddling (laying) Brittany on the sidewalk while wearing my rally drawers LOL LOL. Silly stuff. Trust me though, I put on a show, Britney has never had it so good.

I then cruised down Santa Monica Blvd and watched the energy of the young folks partying at various spots. Open seating bars and lots of fun going on. Again I rode around, screwing around, playing tourist and enjoying the sites. I knew it was only available as a bonus during daylight hours, but I also went to the Marilyn Monroe museum ....just to say I'd been there.

It was good fun riding through the bizzare weirdness of that area. Sure, I've been to LA plenty of times, but have never played tourist in this area. It was some good fun.

Here is a typical shot as I chased transvestite hookers ...OK, the reality is that I was running from them. Damn, you So CA folks have some crazy shit down there.
From there I headed north on I-5 over the Grapevine. Near the top I made a brief stop and it was fun to see Robert Bulger pull up. We traded a few stories and with some warmer gloves I continued north to Pumpkin where I bagged a picture of the post office.




BRECKENRIDGE: WHAT AN AMAZING ADVENTURE
It was now time to prepare for the huge bonus on Breckenridge. I was excited to do this bonus. It seemed interesting and Lisa Landry and Steve Hobart would be manning this bonus. 100,000 points plus an additional 10,000 available. I had, by design, left plenty of time. I felt confident that the roads would be twisty fun and I would need this time. Turned out I was right, but little did I know, that being ahead of schedule would backfire on me ........the fun was about to begin.
Before long I found myself on some great curvy roads ---very twisty, bumpy, slick, sandy, COWS ....and it was dark! I was in love, this was good fun. This was another bonus where we had to manually enter GPS coordinates and then from that point, aim for the actual bonus. So, when i arrived at the manual-entry destination, and pointed up to the acual bonus location, this new road really got fun!!! A true goat trail with a steep asscent. This 8 crazy miles on this new road was pure enjoyment. I rode hard, safe, and it was fun.
I got to the coordinates of the checkpoint 15minutes early. No one was there. Dark and isolated, I waited a few minutes -meanwhile reading the bonus description/instructions over and over to see if I had missed anything. Could I possibly be at the wrong place. I don't see how that could be possible. Sometimes over-thinking things is your worst enemy.
Where were Lisa and Steve? ...no one was here. I could wait the few minutes, the bonus didn't open for a few minutes.
But instead, I over-thought things. The instructions said that they'd be *NEARBY THE LOOKOUT". Hmmmm, ......and the sign posted at this location said: " Lookout 5 miles" with an arrow pointing up a dirt trail. Hmmmm...... this has been a rally of inches, I don't consider 5miles "nearby".
So, I headed up the dirt trail. It was muddy, rocky and full of obstacles including tree limbs. Worse was the mud and FOG. Yes, the fog at this elevation (near 8,000 feet now) was soupy thick! So thick that it was often hard to determine if you were riding up-hill or down-hill. The trail split and I went right, this eventually took me to a television broadcast station/tower up on top of Breckenridge. It was so foggy that you could only see a few yards, and the energy from the television transmitters was so strong it blocked out my GPS!!!
At the televion tranmitter on the top of Breckenride. I spent an hour of riding through mud, rocks tree limbs and thick fog to this location and back -for no reason ...looking for Lisa and Steve. It was crazy fun. The picture is hard to see ...because of the thick fog but the television transmitter is in the background.
I then rode back down to the split and took the other road ...it wound up toward the Breckenride Lookout. Eventually a locked gate blocked the trail trail. There was no Lisa, no Steve and I was fealing silly for making this crazy trek. However, it was in a way, good fun. Mud rocks, fog, tree limbs ...at 8,000 feet ...steep terrain.
I then headed back down the muddy trail, -and exactly one hour from the time I started up, I was at the location where I first thought the bonus locations was. 11 miles of mud and fun later.
But this time it was different! Now there were a couple of bikes there: Mike Collins as well as Tom and Rosie Sperry. I cursed them inside my helmet for being smarter than me and not wasting an hour through the craziness that I had just encountered ...BUT, I was so happy to see that I had made the checkpoint!!! Yeah!!
Sex Toys, Bonus Points, And A First Impression.
I was thrilled to be at this bonus! I told Lisa the short story of where I had just been. She apologized that they were not there early, (but really, I was the one that left the bonus location before it opened). While looking at the side of my bike she says in a concerned voice: "Oh my, looks like you went down?" No, I said: Just muddy up there and the scratches are from tree limbs. You have no idea the obstacles of the last hour".
Pic courtesy Steve Hobart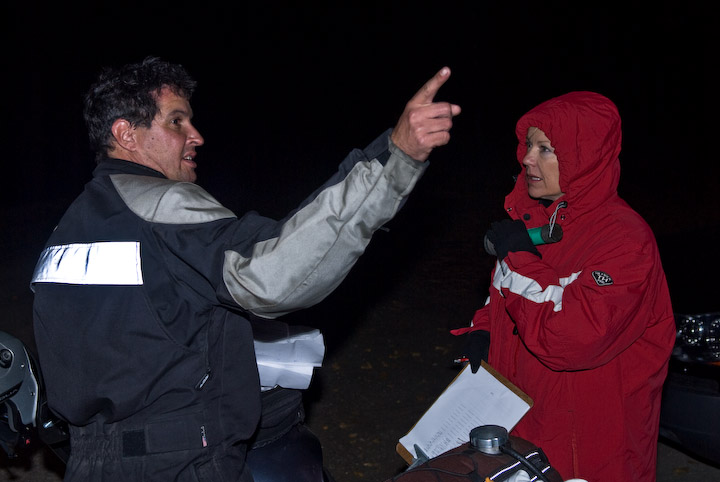 Lisa listening to my crazy story of riding mud, rocks fog and tree limbs on the trails up to the top of Breckenridge and back -as I point to wher I'd just spent the last hour. I was dirty and spent. But the fun meter was at the rev-limiter and at least I was now at the big bonus.

So, it was time to get the paperwork filled out, get the 100,000 points and go for the 10,000 extra bonus.

Steve Hobart filled out my paperwork and while doing so I realized that on the way up to this bonus, I had thought it a good idea to make a positive first impression with Lisa. Lisa Landry needs no introduction to the LD community, and we had never met in person. I felt meeting her at this bonus would be a great opportunity to make a good first impression.

I'm thinking this to myself as Steve hands me a condom and tells me that I have 10 seconds to open the wrapper and apply it on a sex toy that they've brought up ...I do so and then he asks if I want to go for the 10,000 points. Of course I say yes.

What a fun bonus!! And I learned that thinking can be your worst enemy. Still the added adventure made for good fun and big thanks to Steve and Lisa for making the wild trek to Breckenridge for this bonus and for all of the fun.

Back to the Barn

While the last bonus should have left a sour taste in my mouth, :-) , I was quite thrilled to have bagged it ....even with the extra drama. it was fun stuff. Now, just 250miles back to the Start/Finish on my planned route through Mohave. However, getting down off of Breckenridge would be some intense riding. I took it brisk but safe ride down and then cruised back to the finish. Not stopping for any more bonuses.

Arrived at the Hotel, getting the final bonus of arriving with my "drawers" on. Thrilled to have finished, I thanked George for the great rally and plentiful fun. I then casually started getting my polaroid pics and summary sheet together for scoring.

I then got a phone call that informed me that the adventures of this day were not over.................