2007 Mexico Bike Trip
Starting out ..Reno to Laughlin, then down to Agua Prieta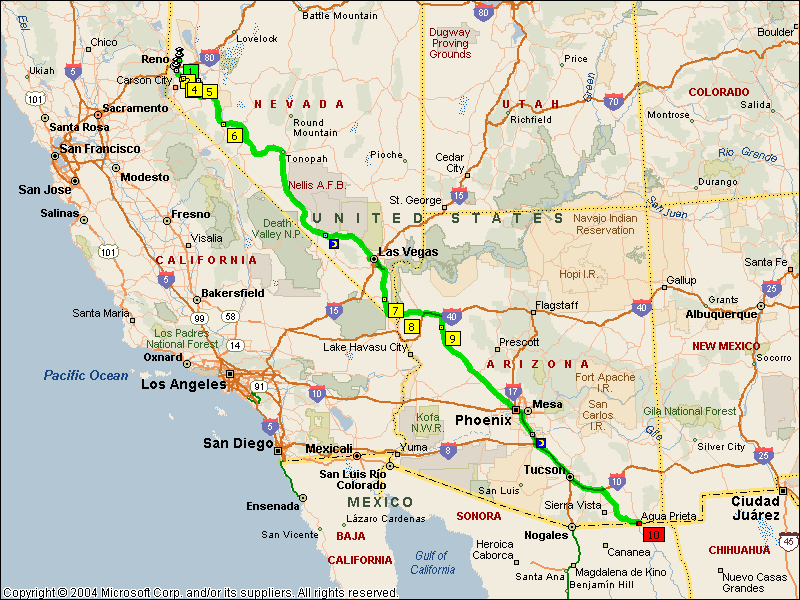 Bike ready to go ....New shoes on both feet and ready for the adventure. 2004 V-Strom heavily farkled
I left Reno after work on Thrursday and headed to Laughlin to meet Don and Bob. These two are great guys all around and I always look forward to our time together. They are both extremely competent and smart riders, and they share a wonderful sense of adventure and silliness.
This would be my third trip riding in Mexico in the last 12 months. The first trip was with Don and Bob and I owe them for showing me how great it is to experience motorcycling in Mexico.
.
Considering my late start, I made good time to Laughlin, never getting off the bike …just a few mounted fuel stops. Only weird event was when I was going down six mile canyon (back road east of Virginia city) and a truck I was passing was trying to get my attention. It turns out my sleeping bag had slipped out of the bungee and by a one in a million the bungee hook caught the end of the sleeping bag cord and the sleeping bag was being dragged behind me. I had no idea!!! It did a great thrashing of my sleeping bag!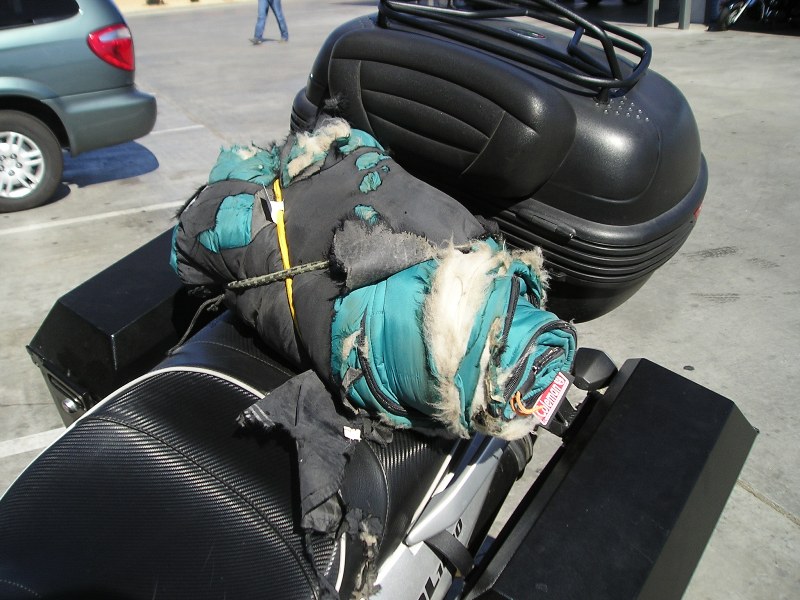 Here is the bag after putting it back on the bike
When I got to Laughlin, Don and Bob, the dirty old men that they are were getting ready to head down the street to a casino that was featuring some t-shirt modeling competition …if you know what I mean. I got my things in order, grabbed a snack and later joined them. Bad with a capital B. The event was the worst and it became obvious that while the youngest of the group, my maturity and supervision would be dearly needed for this trip.
---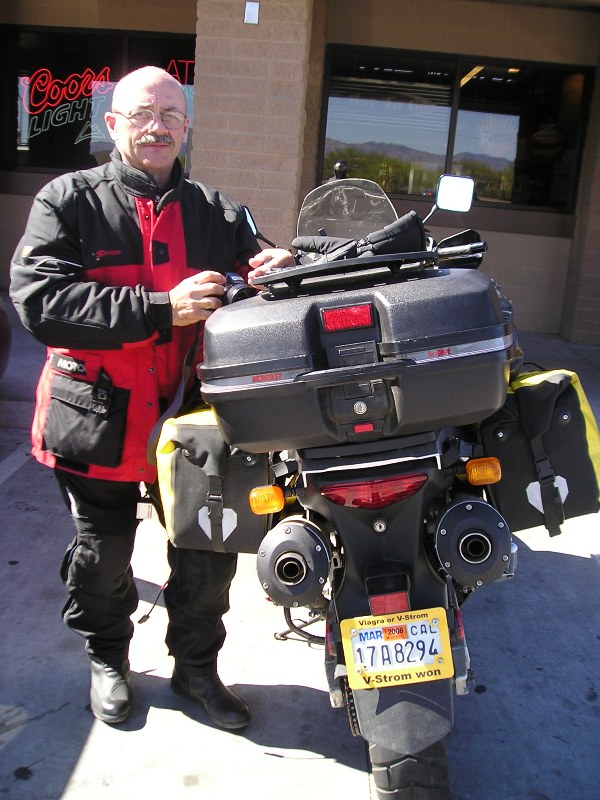 Bob Looking forward to the trip. Note his license plate holder: Viagra or V-strom / VSTROM WON
The next morning we got a relatively early start toward Douglas AZ. Pretty uneventful trip …did fairly well through the Phoenix traffic and south of Tucson I stopped in a Wal-Mart and purchased a shiny new sleeping bag!
We made a trip across the border for Don and Bob to do their Mexico paperwork. I was already set as I had done this for my Thanksgiving ride, knowing I'd be back down I arranged for 6months on my tourist pass, vehicle permit, insurance etc. As far as the Mexican authorities knew, I hadn't left the country since November! In short, I was all set to come and go as I pleased without doing any paperwork.
However, it didn't take me long to find trouble: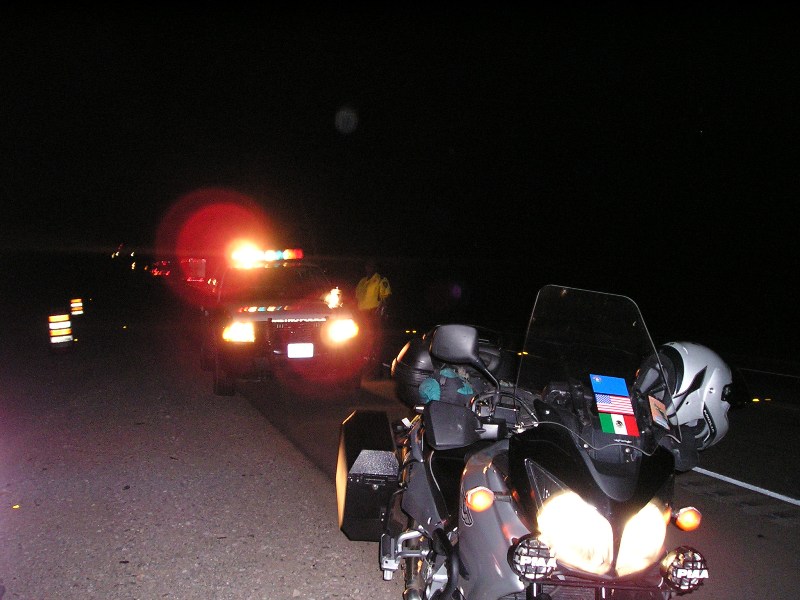 Next morning we headed toward Creel. Familiar roads, as we'd done this route before.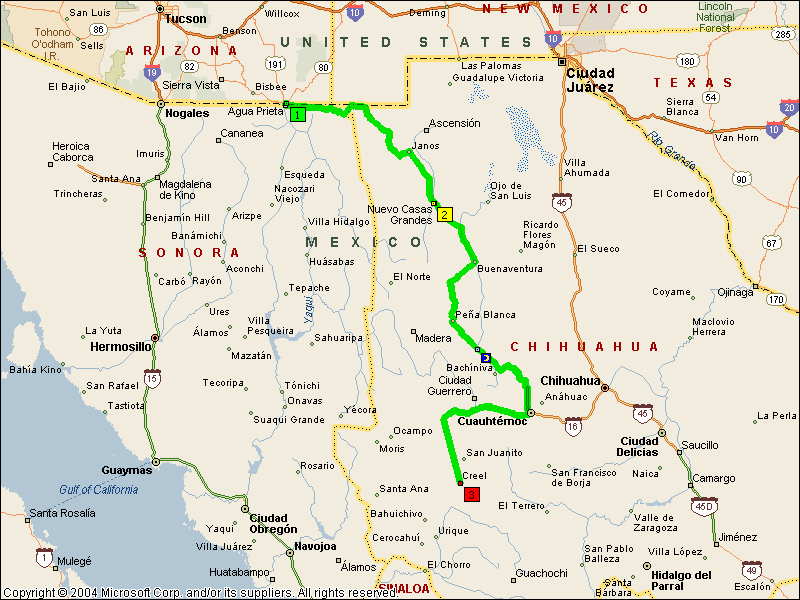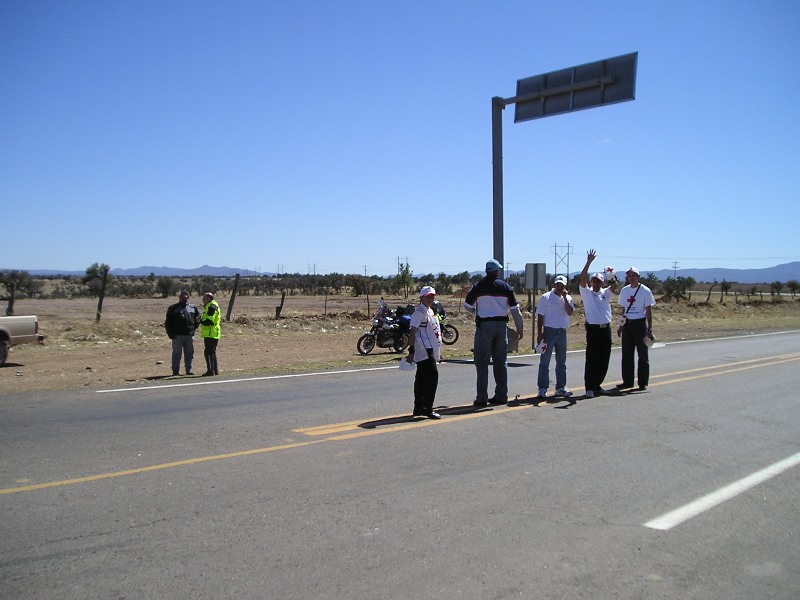 These folk in the street were taking donations for ambulance service in Mexico. You will see them frequencly when traveling in Mexico. We are always generous with them -in hopes that they'll treat us good should we need their services. You'll see the Red Medical Cross stickers on our bikes from this point forward.
At this same intersection we ran across "RTO" as he's known in the bike world. This is his brand new 950Adventure. Won't be brand new after this trip though. He's an avid rider with a real passion to share the fun with others. He does guided tours -But, NOT the of the generic, type. Instead of signing up and going with a group to where they want to take you on an organized ride ..with RTO it is much different. With RTO you say: "Hey, we want a kickass time, we want to do this, see this, ride this ...and he'll put a custom trip together for you and I'm confident you'll get what you wanted and then some. For a guy that doesn't want to do Mexico alone and wants to hit Mexico hard without the BS of generic tours, I'd suggest this way. ...but be prepared to open your wallet wide!! See contact info etc on RTO here

How nice to be in Mexico! Above Creel the roads start getting really good!. Heavy pine forests and high elevation.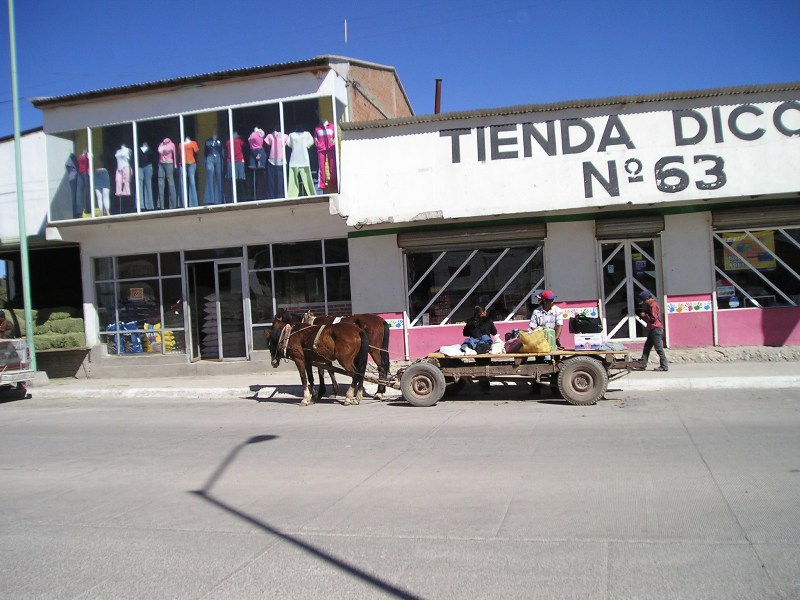 This is a small town a bit north of Creel
This would be the start of many days of non-stop kick-ass riding on spectacular roads. We landed at the familiar Margarita's motel ..where we have stayed before.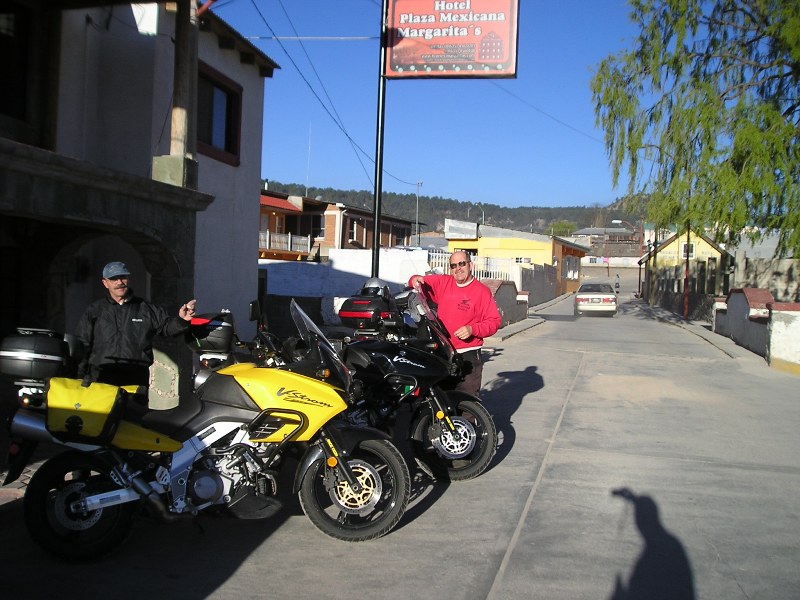 Bob and Don with bikes in front of our usual place to stay in Creel.
While the old guys relaxed, I took a ride up to Divisadaro …the top of Copper Canyon. Don and Bob have done this area extensively on dirt bikes and I can imagine what a treat that would be.
And What a wonderful road to ride in order to reach the top -sport bike heaven, but there are no bikes and few cars to reckon with.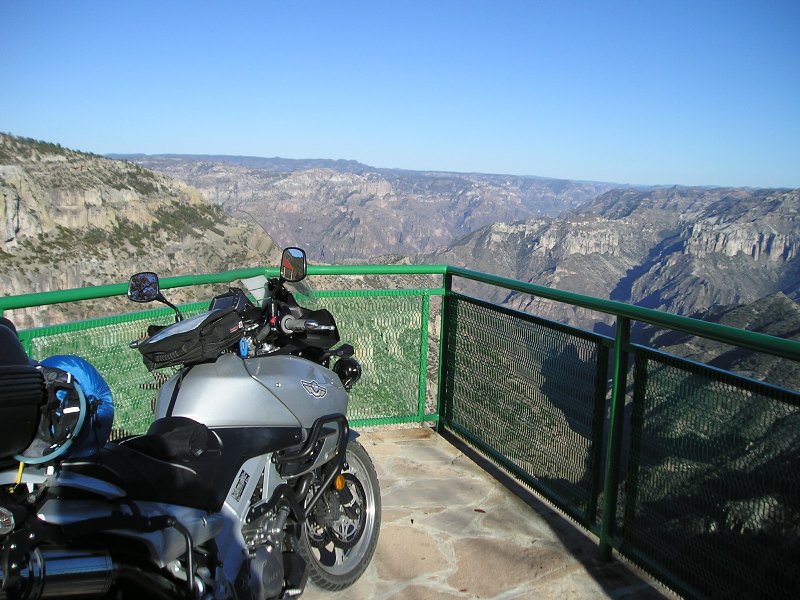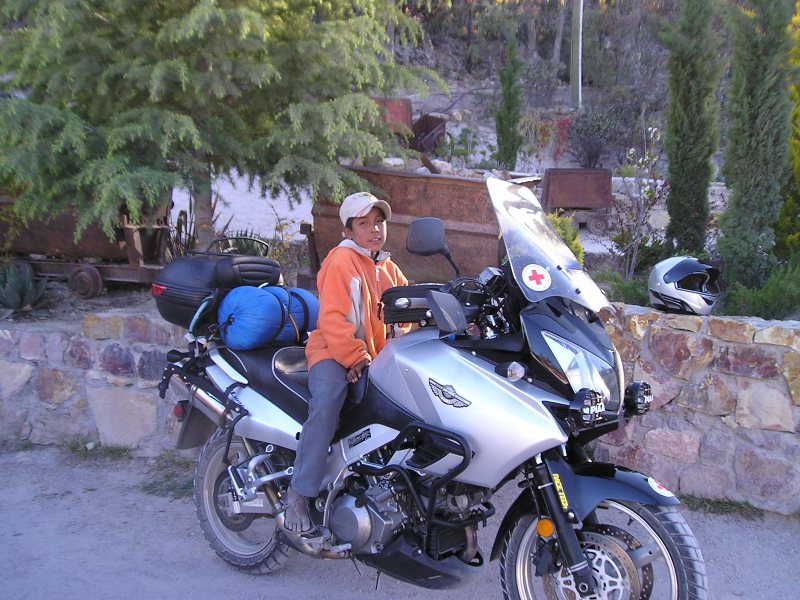 My new amigo, a Taharhumara indian checking out the bike.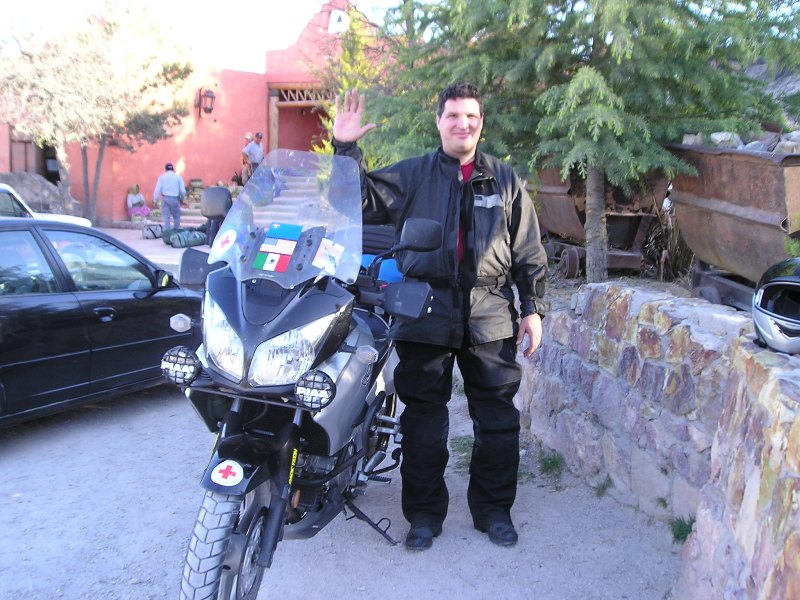 And he took this picture of me in front of the lodge at the top of Copper Canyon.
And of course the magnificent Copper Canyon. Seven times bigger than the Grand Canyon. But even more impressive IMO: Home of the Tarahumara Indians. Which after seeing them for the first time last year, have really captured my imagination. Amazing, fascinating and beyond comprehension how they live where they do.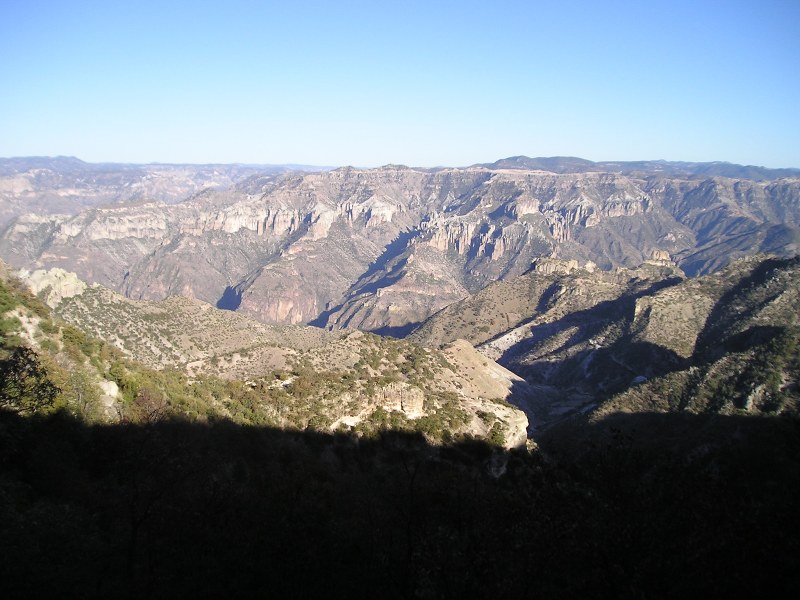 ---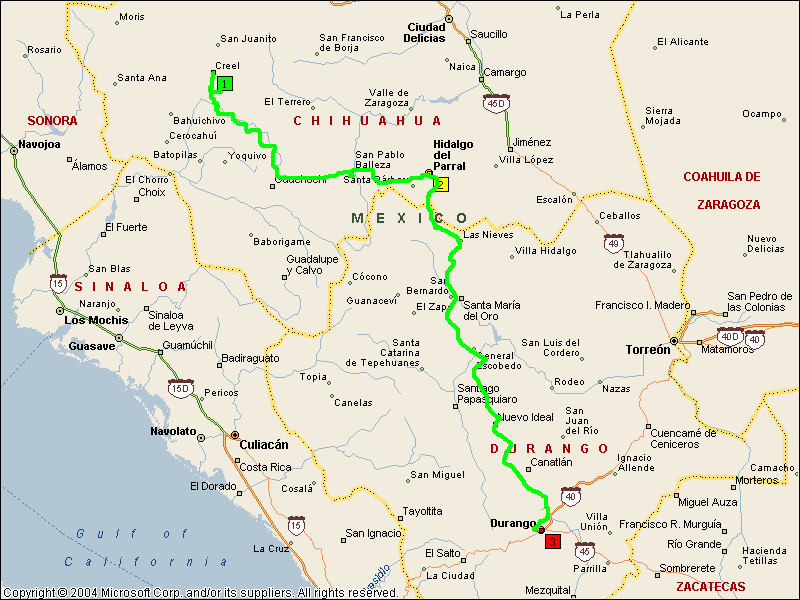 The San Jorge Hotel in Durango lets us keep the bikes inside ...parked on nice solid marble floors! Here I am coming out of the Motel
We left Creel and took the very nice roads to Durango. Again, a familiar path. Stayed at the same motel as last year and again parked on the marble floors inside the motel. Met a nice guy on a GS who was heading north to the east coast. My supervision was needed again as I took Don out to a local hot-spot for a beer and scenery -while we critiqued Durango and the trip so far. We were eager to see what the next days would bring, as we would be in territory unfamiliar to us.




---
---
---

1 2 3 4 5 6 7 8 9 10