2007 Mexico Bike Trip
4
A tough decision, I would break off from Don and Bob and head southwest.
Over breakfast with Don and Bob we traded great stories of the previous day. All of us shaking our heads in amazement that we were somehow all in the same spot after the previous day.
Don and Bob had allotted much more time for this trip than I could escape from work for. We we all knew that I'd be breaking off at some point. I had expected that this would be at Campeche as I wanted to get into the Yuchatan and see those sites. But the last few days had shown us all that what we thought were going to be easy days to knock out distance …were anything but.
I was concerned that I would end up chasing miles and time when the time came to head back north. Hence, forcing myself into long days. Big mile days in Mexico are not as easy as here in the states. I also wanted to be somewhat fresh when hitting the border as my plan was to do a "border to border" run in under 24hours. (Across the Mexican and Canadian border in under 24hours).
So, I made the very tough decision to let these two old guys go southeast without my supervision. I will never know if that was the right choice, but I do know that this day and the day following would be an experience that I will cherrish forever.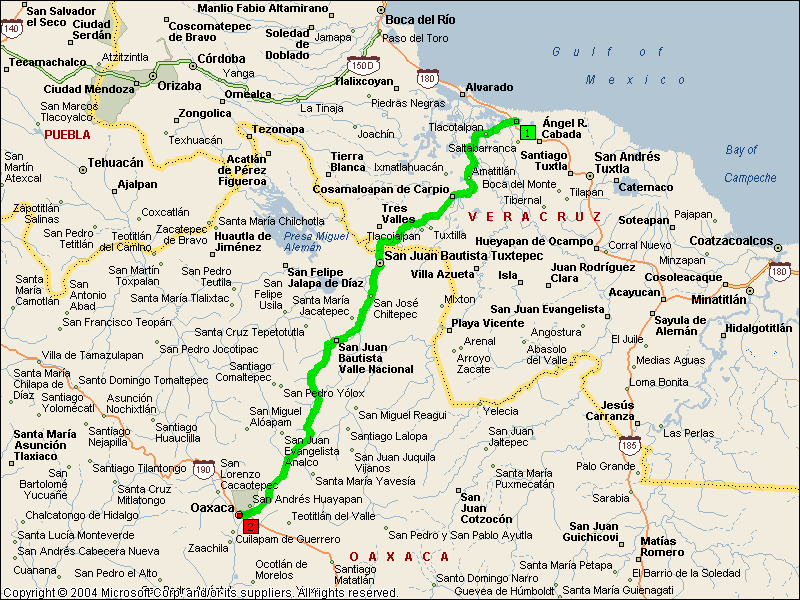 Don and Bob headed south …they needed to make up time and elected toll roads. I would head southwest over to the Pacific Ocean. The map showed road #175 that ran west, and went through Oaxaca. Hmmm, we had put a big red circle around Oaxaca on our maps as a place to avoid because of the turmoil, political unrest, violence etc …but hey, only a few hundred miles away, ..I can just pass through Oaxaca and then a few hundred more miles and I'm at the other coast. No big deal ……or so I thought.
I started west and just as I was gaining some elevation I came into this town and noticed internet ....so I made a quick stop to send an email update.
When I came out, this young fellow was looking over my bike: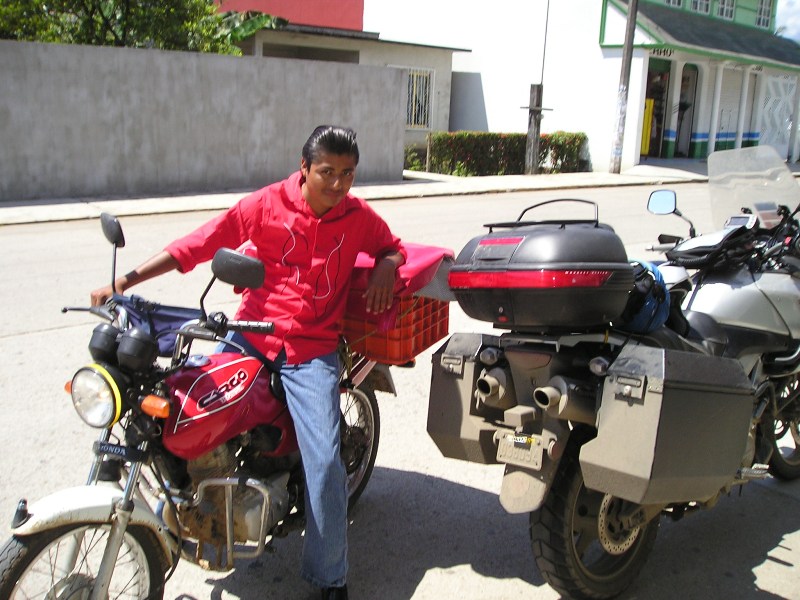 Notice that he had taken his finger and scraped the dirt off the top of my license plate to see where I was from.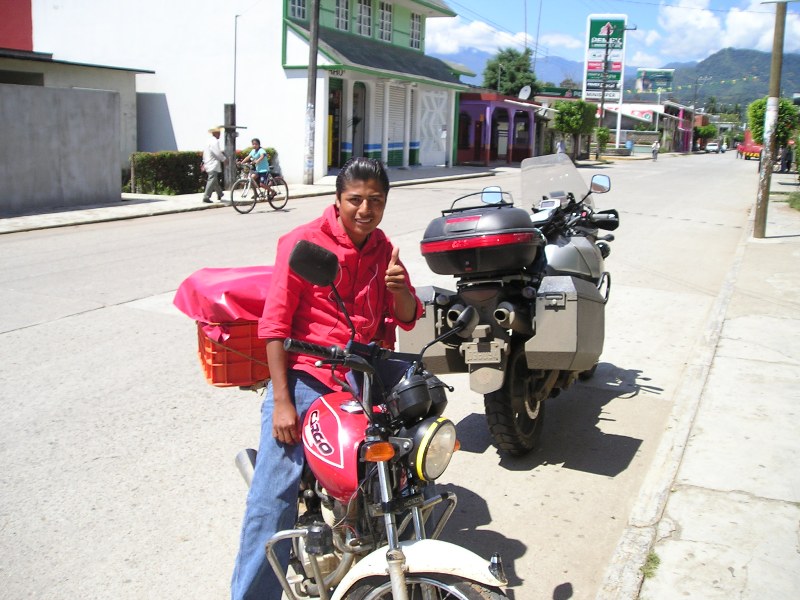 We talked for a bit in broken enlish/spanish and while we didn't make a lot of progress, we both understood the universal love of motorcycles. He knew where I was headed from looking at the highlights on my map. He knew what what I was about to experience on that route ...but little did I know what that was.
In hindsight, now I know why he gave me the double-look of admirartion and "area you crazy?".
Before long my sea-level elevation soon turned into high elevation and the most wonderful road I have ever been on, -period. Let me say it twice more. The most amazing road I have ever ridden. The tightest, craziest, bumpy road with incredible scenery, wonderful tiny villages and great people. Averaged around 8,000feet elevation with many spots over 10,000feet.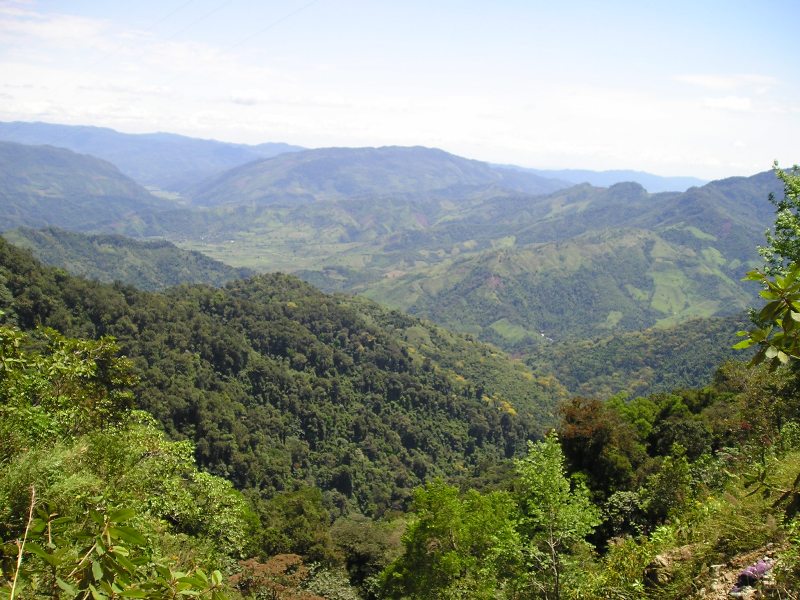 This road was very desolate of people, but full of amazing topography and scenery. Occassionally a tiny village. Here is a tiny village and a couple of nice girls made me an early lunch of tortillas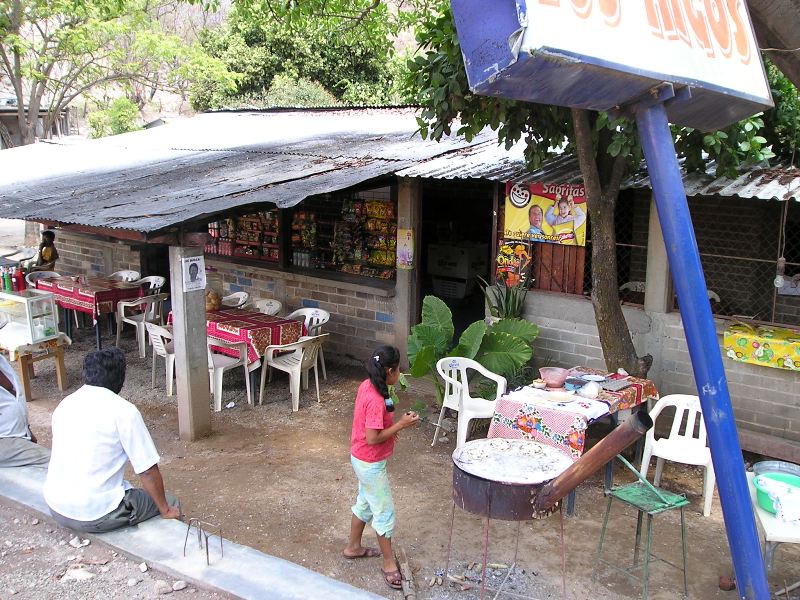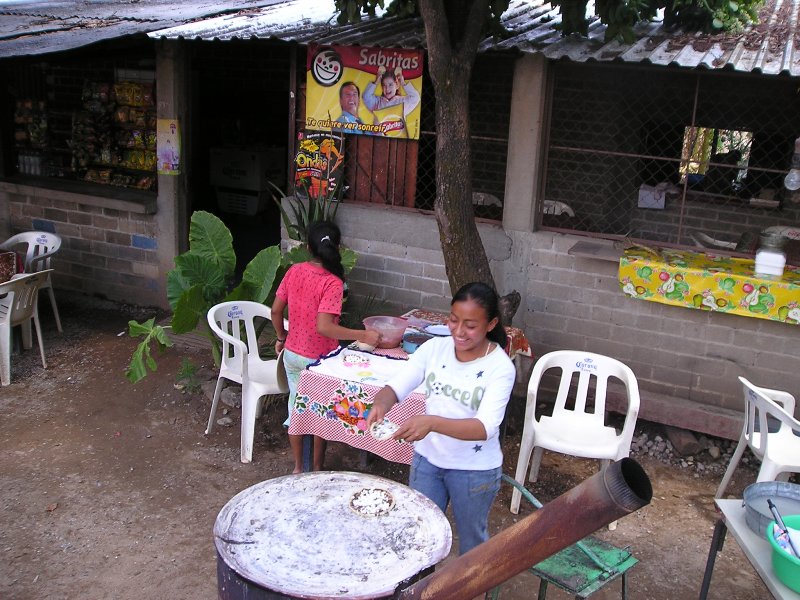 Coming around a bend at about 9000feet I saw another little village that sat well beneath the road. I stopped, and when I cut my engine I heard the sound of children singing. Beautiful as the young voices carried through the canyons in the thin air.
I looked down and saw a church/school and some nuns teaching choir to a small group of young girls.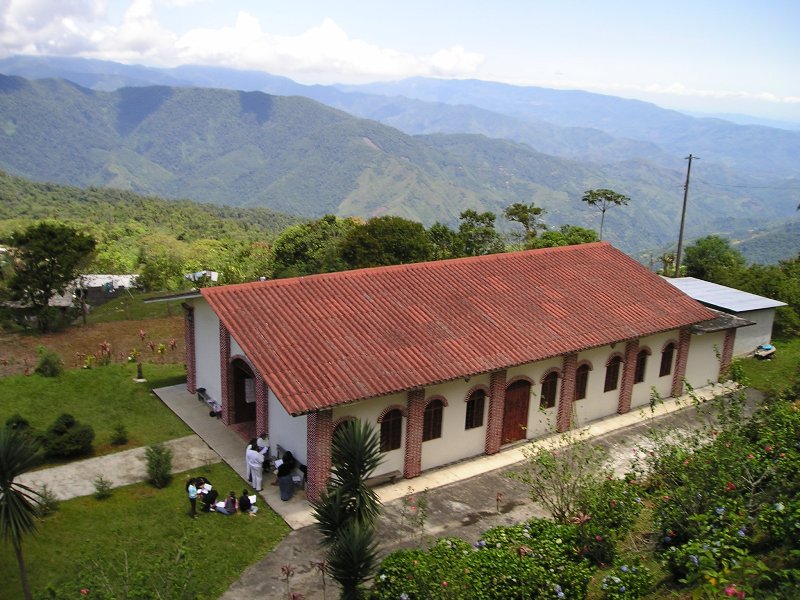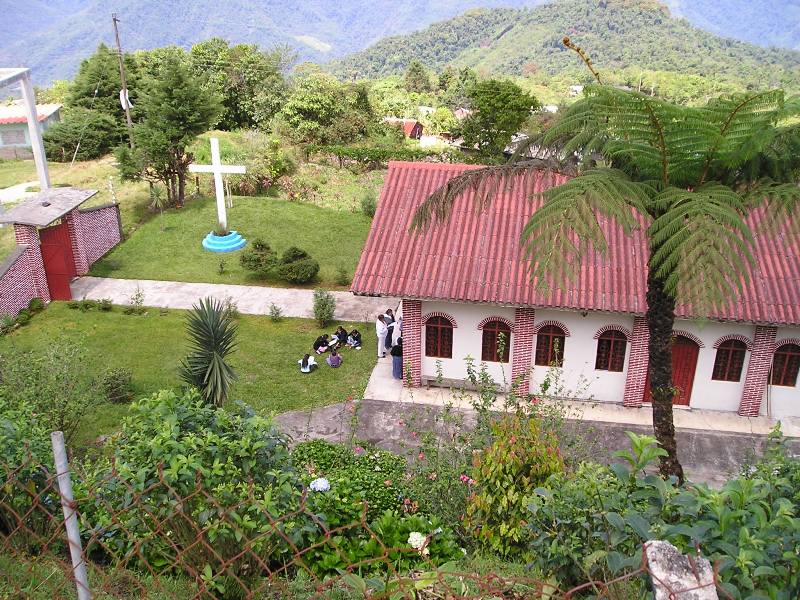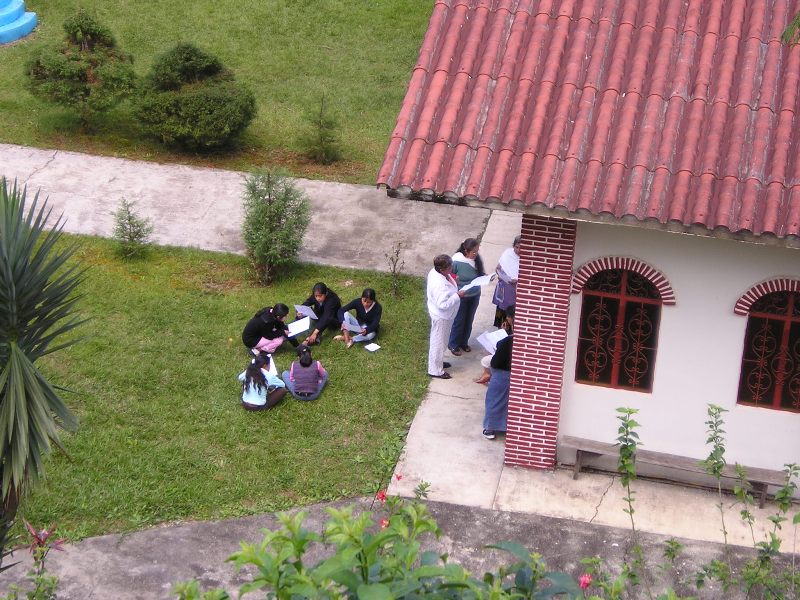 This was trully a site to see and will leave a life-long impression. You must realize how remote, primitive and HIGH this little place is.

---
1
I know you won't believe me, but this is actually a STRAIGHT section of road #175!! Tight, twisty and wonderful. Much of it blind curves (hence no pictures of the more typical knarly stuff) with lots of elevation +/- as you fight this road for your honor and life. I can move pretty good throuh roads like this, they're my favorite, ..and this thing went on for hundreds of miles. Amazing.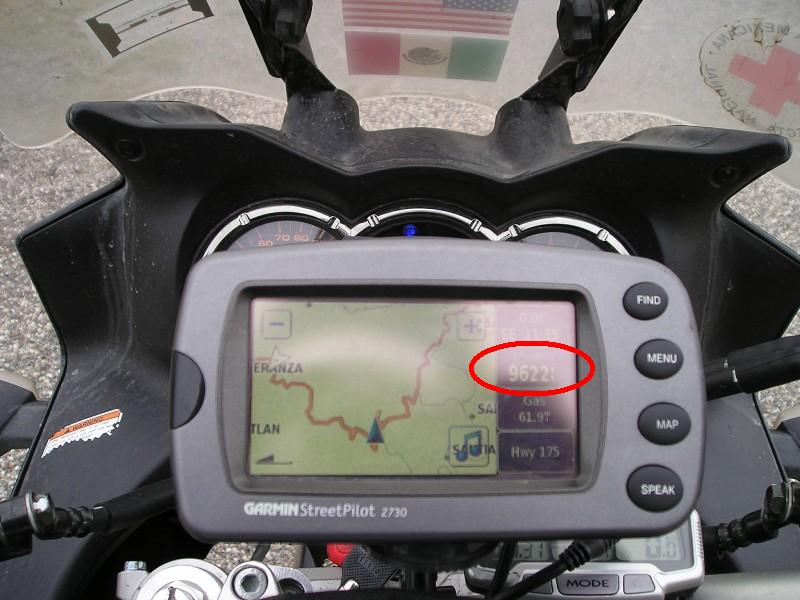 At this spot I was just under 10,000feet, ...some of this road was over 10,000 feet elevation.
I came across a little building (well building is an exageration) on the side of the road. It belonged to a family. Dad, mom, two daughters and grandpa. The father was a woodworker who built simple furniture that he (attempted) to sell. I stopped to look and chat.

Keep in mind that this is at about 8,000feet elevation, and very remote. These folks live here. No real roof over their head. Most of the space was taken up by the father's woodworking things and the stuff he built. The kitchen (see in picture) is an open pit fire with some very worn pots and pans. Clothes were scrubbed by hand and obviously air dryed. No real protection from any of the elements ..weather or other.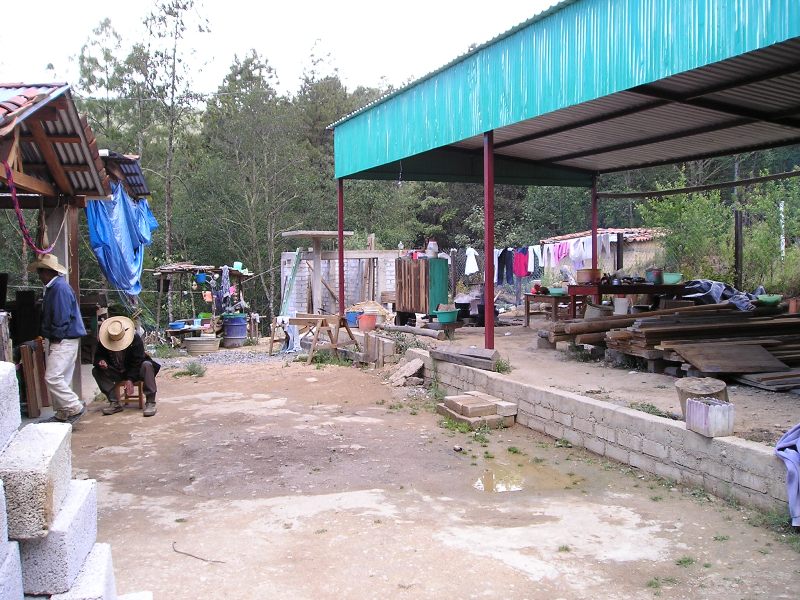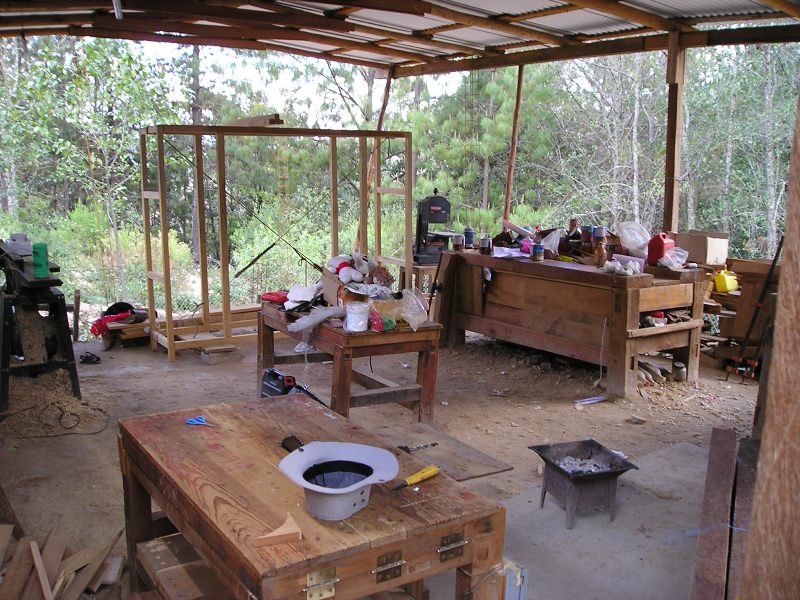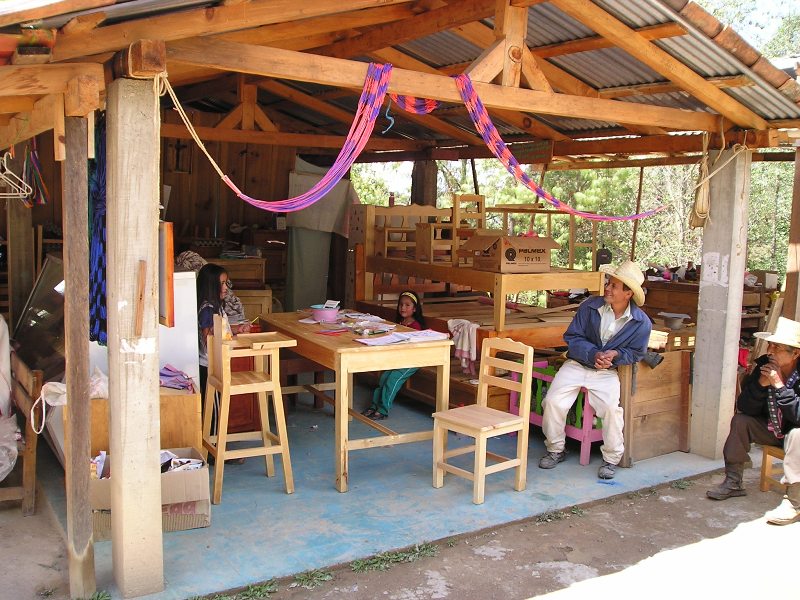 Two young daughters who melted my heart with their innocence and beauty. It was hard communicating but with effort we were able to share a bit. I gave them many glowsticks that I had brought with me.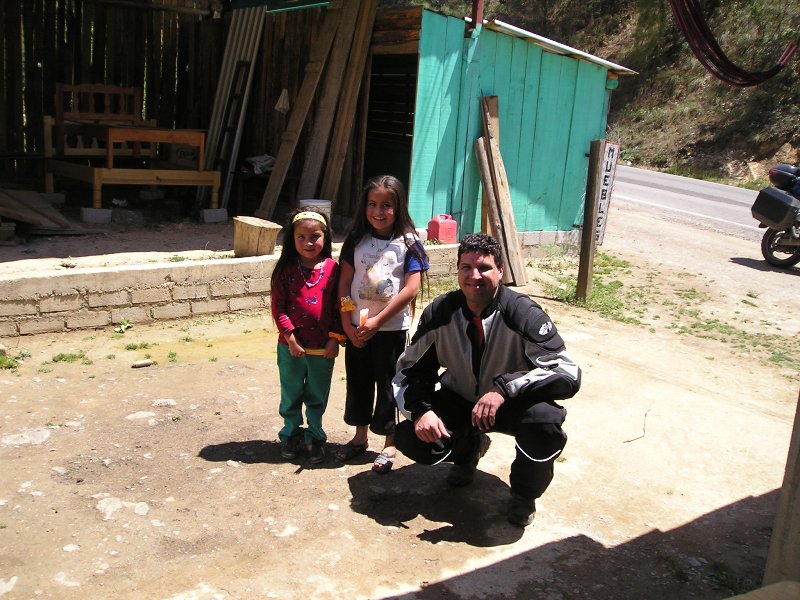 I was amazed at the spirit of this family, yet I could not help but to feel some pity for the tough life they lived. Harsh mountains, ....with no real protection and without all of the creature comforts that we all take for granted.
The youngest daughter, noticing my obvious lack of spanish, ......
Well, she had pity for me!! You see, life and all that it encompasses in her eyes, is wonderful and I was the one missing out because I didn't know spanish!! She wanted to teach me so that I could share the miracle of learning ...as she was in the middle of this miracle herself through home schooling.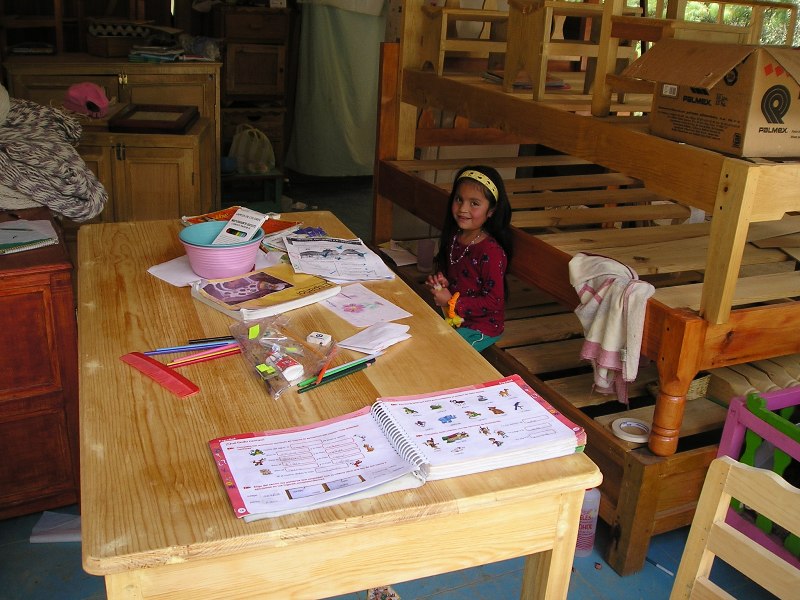 She proceeded to bring out her school book. ..and she was determined to teach me spanish ...as if it would happen at the snap of a finger.
She taught and I paid close attention. Time seemed to stand still as her little and beautiful voice sounded out her school work in spanish. Together we filled in a couple pages of the exercises in her school book. She was selfless in helping me, ..and proud to share her miracle of learning with me.

I rode away, thinking how fortunate I am, to have all the domestic comforts in my life, freedom and my favorite: The abilitly to get on motorcycles and ride.
But this little girl without much of that, has all the happiness and fun that I have. Kinda makes one think.

I will never forget this special girl who felt pitty on me and selflessy wanted to help by sharing her wonderful world with me.
Godspeed in a wonderful life for you my new friend.
---
---
---

1 2 3 4 5 6 7 8 9 10