2007 Mexico Bike Trip
New Tire, new friends and Mazatlan fun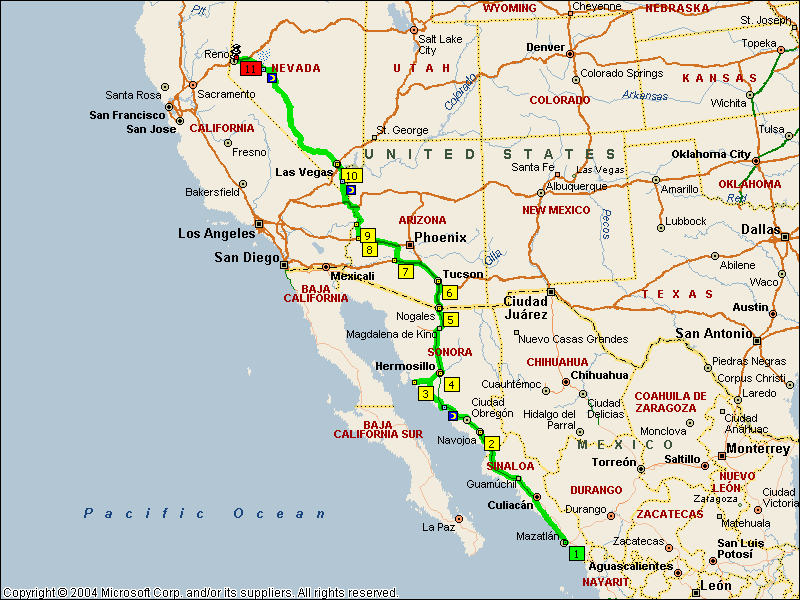 Dave had done me a huge favor a few weeks earlier by having his friend that owns the Suzuki dealership in Guadalara order a tire for me. I knew I'd need it ...and sure enough I did. The Avon Distancia was about shot ...mostly due to the thrashing it took during the two days on Rd#175.
In Mexico, the "urgency" to get things done is not what we are accustomed to here in the states. Dave had ordered the tire for me a few weeks earlier and had stopped by and checked on the tire ..and had done the same via phone for the last few days -and kept getting told "tomorrow".
So Tuesday morning Dave led me in to the big city of Guadalajara. We got to the Suzuki dealership before they opened and watched as the many employees drifted into work. When they opened we were informed that the tire was NOT there yet!! But, we were promised within an hour or so. Not being the patient type I was not thrilled, -especially as an "hour" in Mexico often means much more than that ..and I knew they'd been making "tormorrow" promises for many days now. I was also anxious to get moving north.
To my surprise though, the tire was there within an hour! I had already pulled the rear wheel off the bike. The mechanics were descent wrenchers and I was pleased that they let me help and work with them -as I like to do my own work and I was eager to get on the road. I decided I should change my oil ..and bought three liters of some good synthetic oil.
Before long, I was ready to go!! New tire, new oil and fresh from a couple of great days under the hospitality of Dave and Rosa.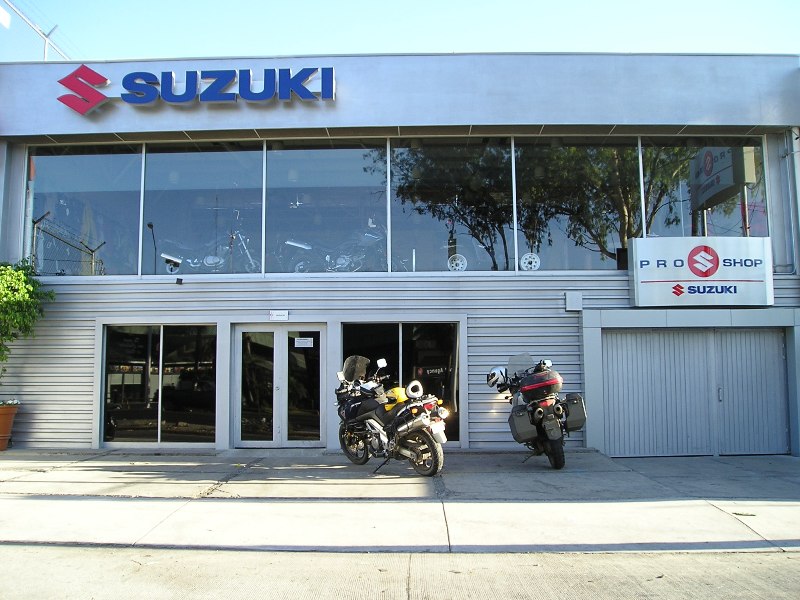 Notice the 650 strom cetner upstairs window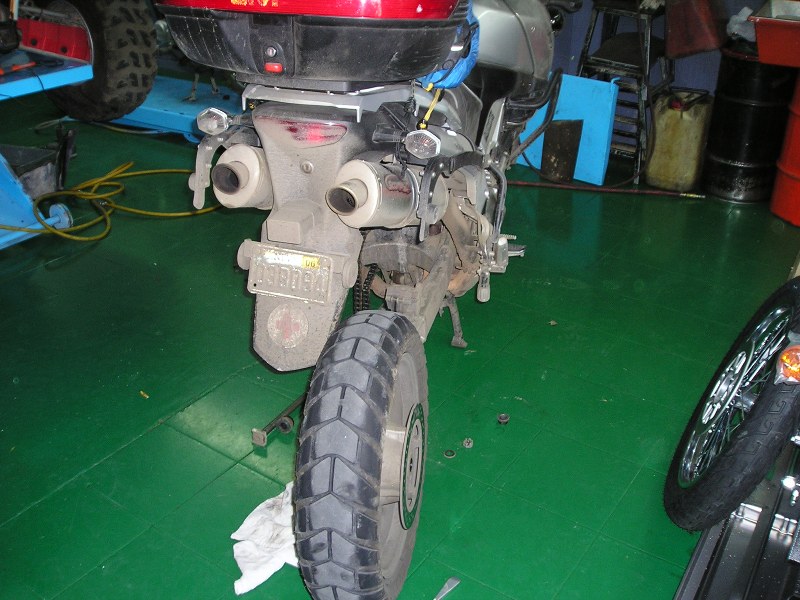 I pulled the wheel to rid the bike of this Distancia that I thrashed in just 4500miles ..due mostly to rd#175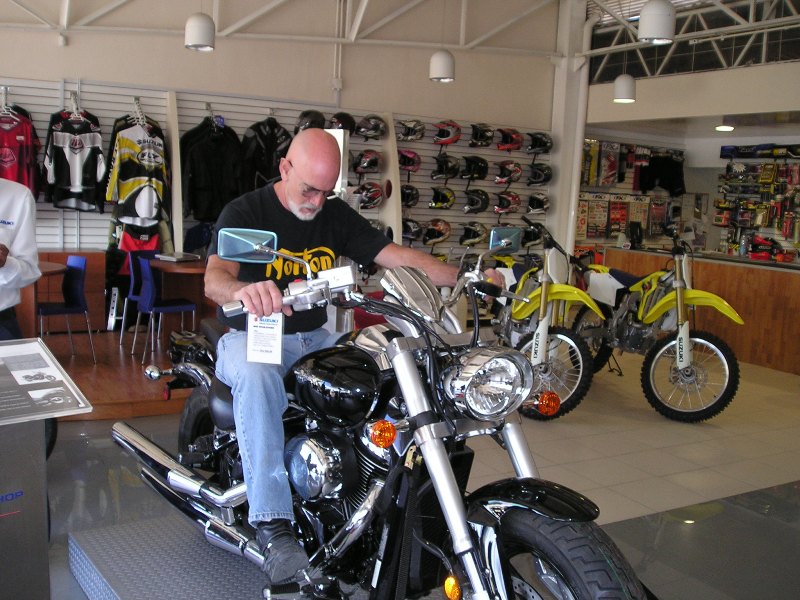 Dave trying on this cruiser during the fun at this nice Suzuki dealershp.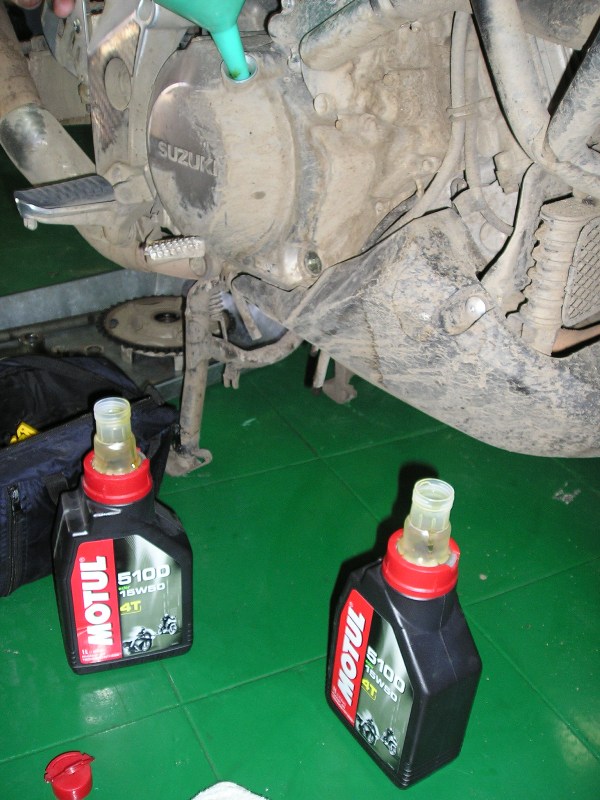 New oil in my dirty strom.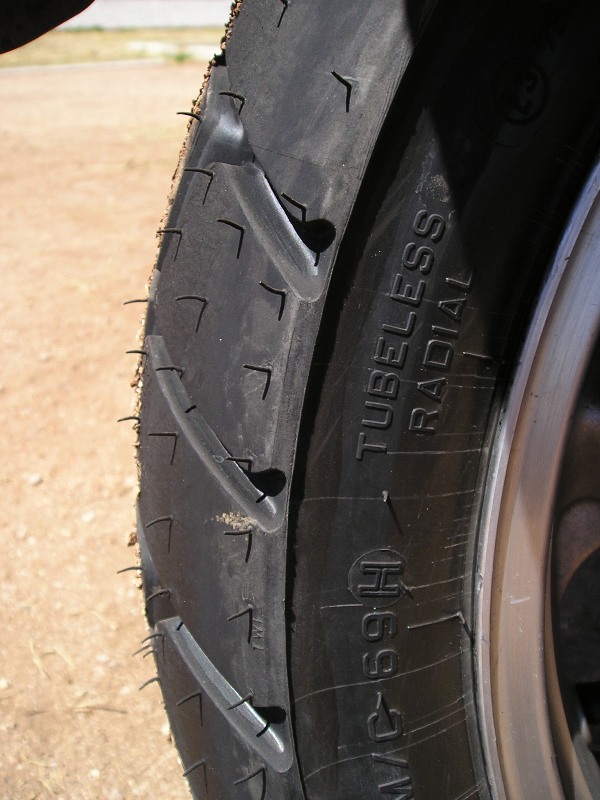 A ways up the road ...great having a new Pirelli Scorpion tire and I just now notice this is an "H" version..which is no longer available in the USA. Glad to have it!
---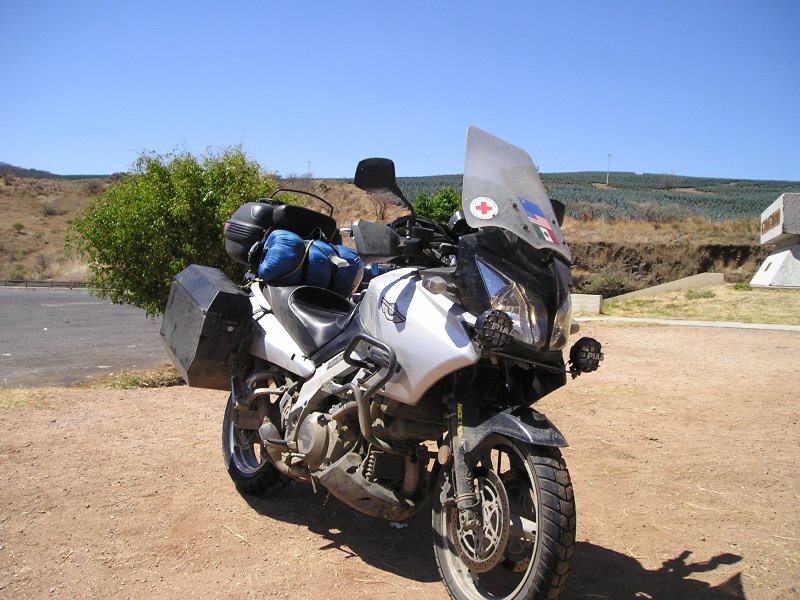 This picture is in Jalisco, near the town of Tequilla. Note the blue agave cactus in the background (upper right) this "Blue Agave" cactus is the premium for making the worlds best tequillas.


---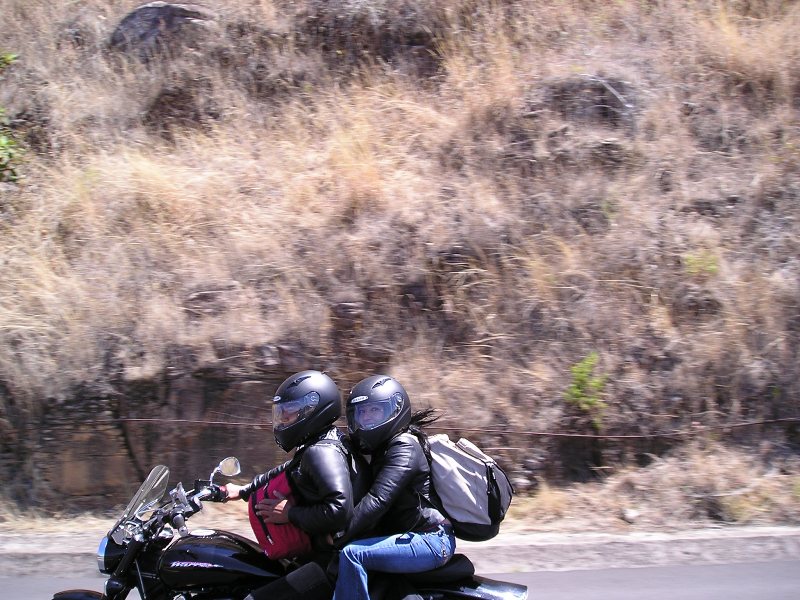 A little ways up the road I see a cute couple on a Yamaha Cruiser type bike. I knew that they were likey headed to Mazatlan, as the International Bike Festival was about to get underway. I came up next to them and took this picture. We stopped at the next village and agreed to ride to Mazatlan together. They were good fun.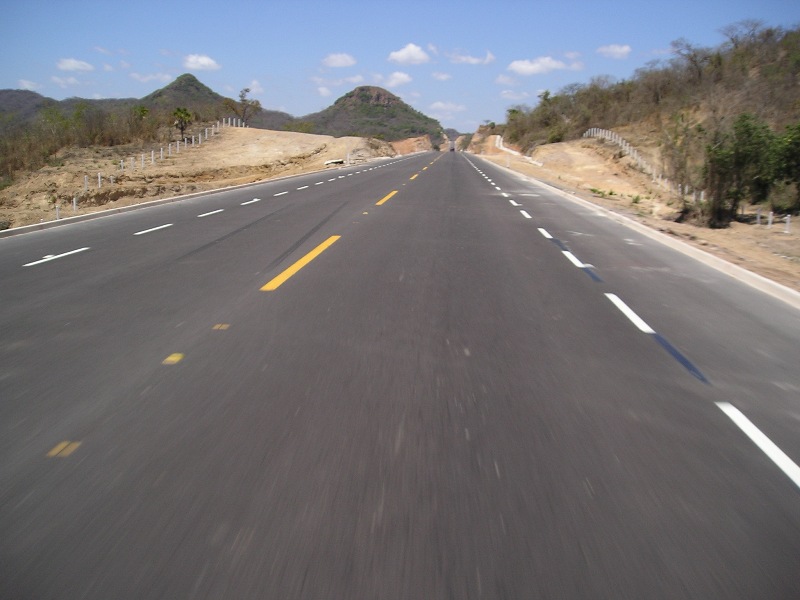 An example of the NICE toll roads that you see in much of Mexico. Very nice ones between Guadalajara and Mazatlan ...they are fast and easy ..but very expensive. In about 100miles I had alread gone through about 600pesos (about 60bucks) in toll charges.

My new friends didn't have any qualm about spending this money -but I suggested we take the "libre" (free) roads, as we were in no wild hurry ...and the free roads have much more character and you get to see the small towns and IMO the "real" Mexico.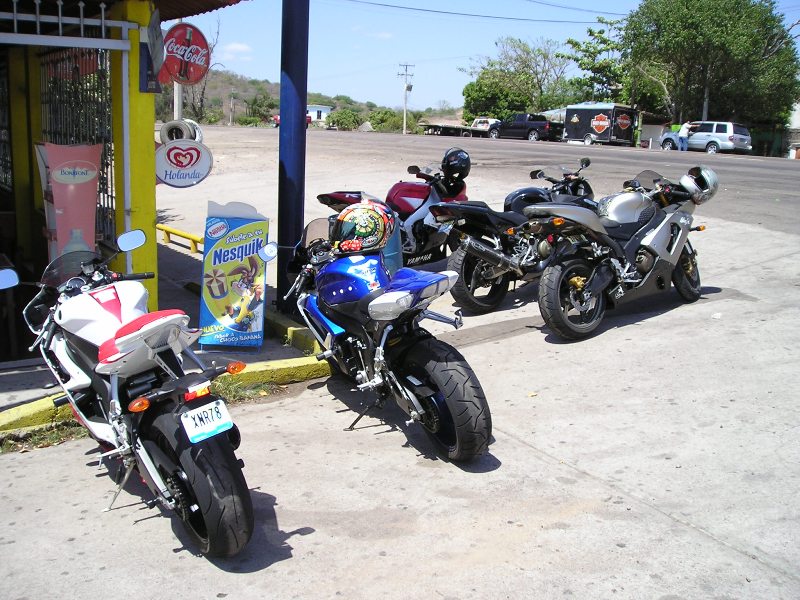 The closer we got to Mazatlan, the more fancy bikes we would see.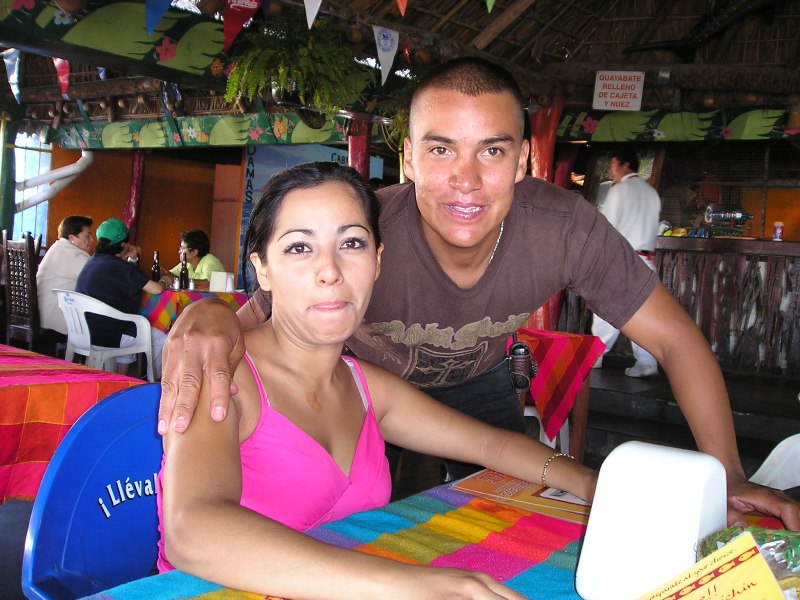 We stopped for a bite to eat ........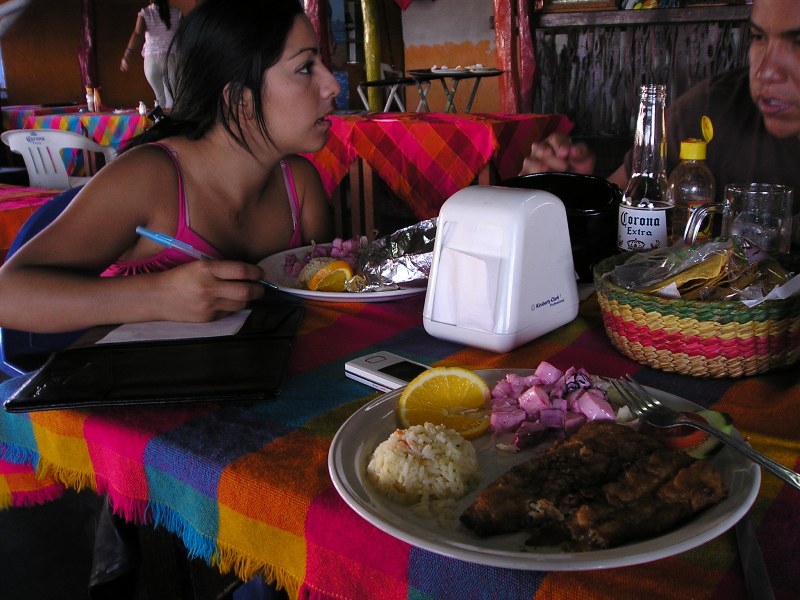 And over food, beer and with a notepad we did some primitive translation to learn more about each other.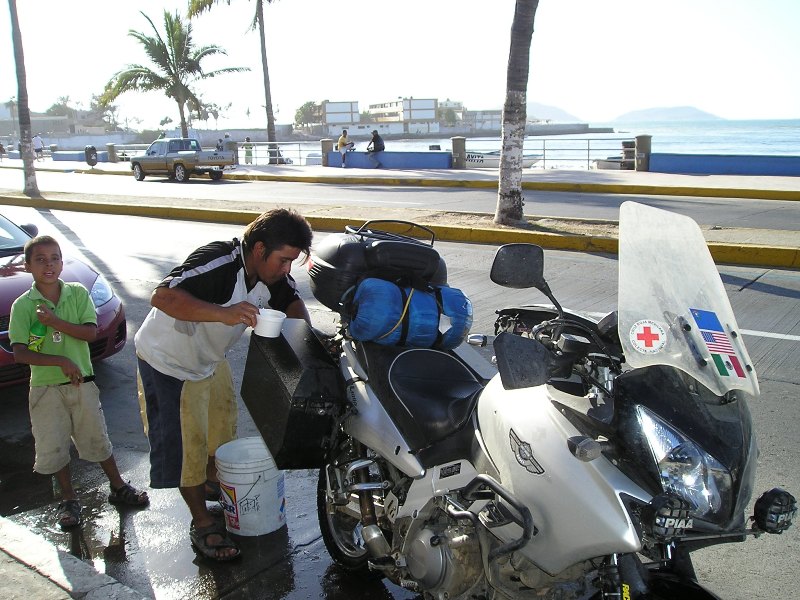 Meanwhile this guy worked hard to clean my bike on the street ...he had taken on a monumental project.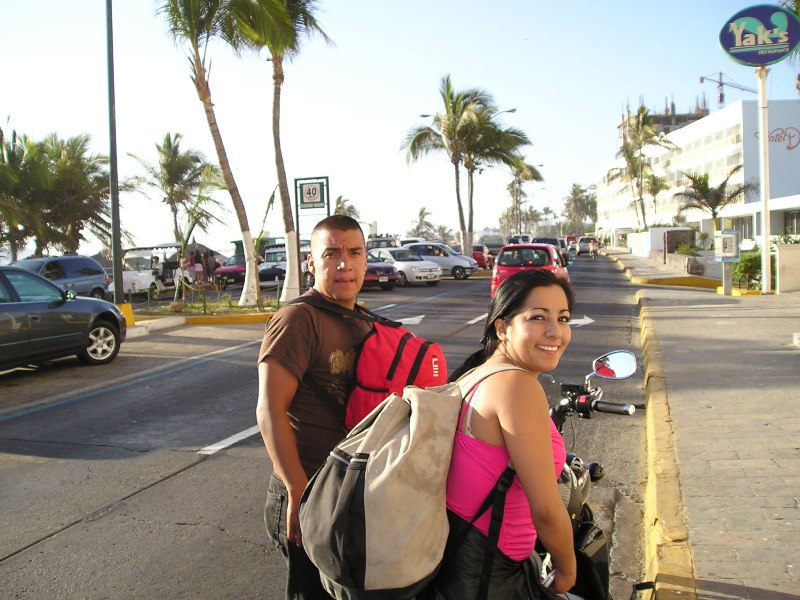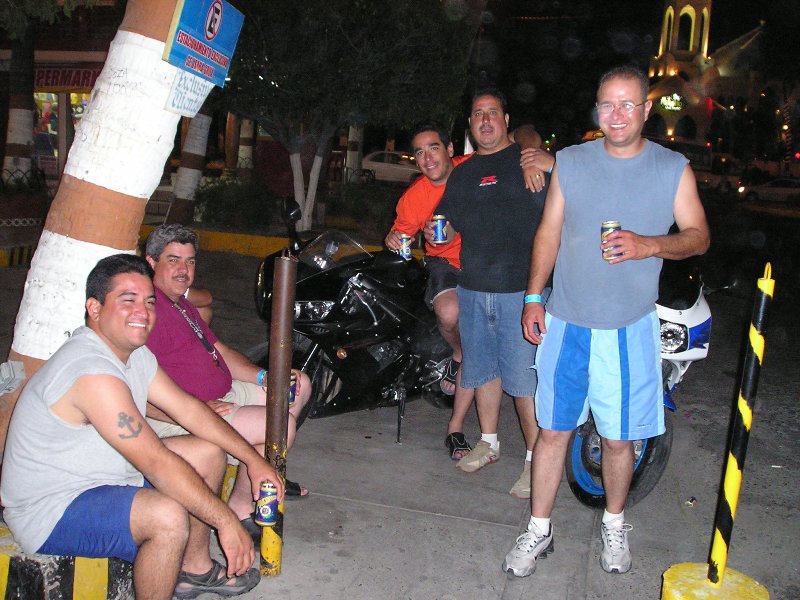 These guys were the best! Earlier in the evening I had found these guys on a backstreet of Mazatlan sitting on the patio of a restaurant drinking beer. All on fancy sport bikes, -they were here for the bike festival. I was wandering the back streets looking for an inexpensive motel. I stopped to ask for ideas and they had a great suggestion for me ...better yet, they all got on their bikes and escorted me to the 'Motel San Diego' about 4 miles away on the north end of Mazatlan. It was exactly what I was looking for ..only better.
After getting a room and cleaning up I came out to discover that they were still here ...and of course drinking beer. Beer is a part of motorcycling in Mexico ...as it is with everything else in Mexico. Thanks guys!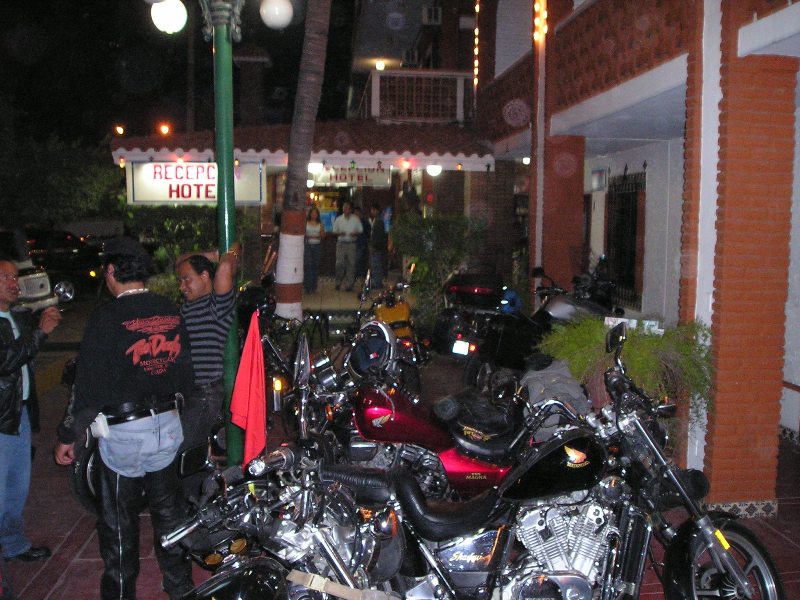 A pic of some of the bikes in town for the international bike festival ..in front of my motel. You can barely see my bike in the background.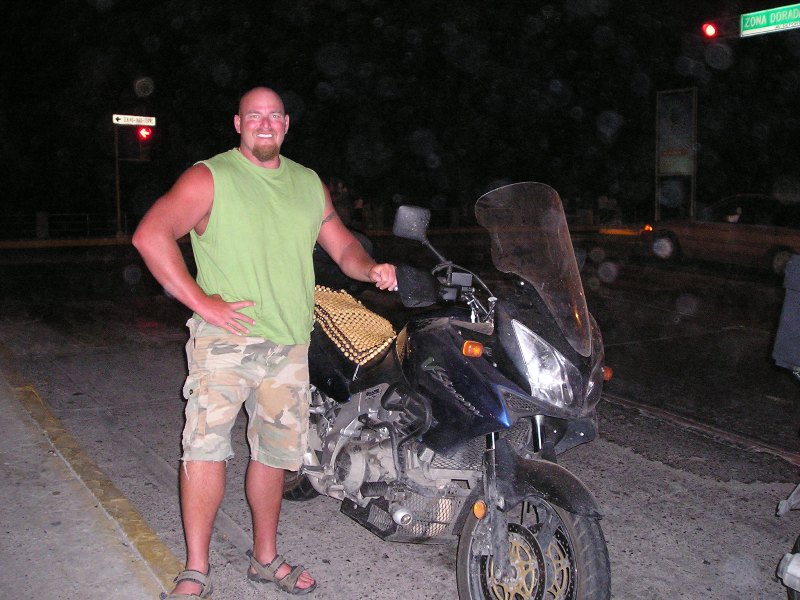 As I walked around, I saw this guy ..on a V-Strom. LOL too funny. He pulled over with his buddy on an ST1100 and we chatted. His name is Darren, he lives in eastern Canada and he's riding around for 5 weeks. He was a real fun guy -and this night they were "casual" enjoying the bike festival. I wish we could have spent more time. We'll be in touch!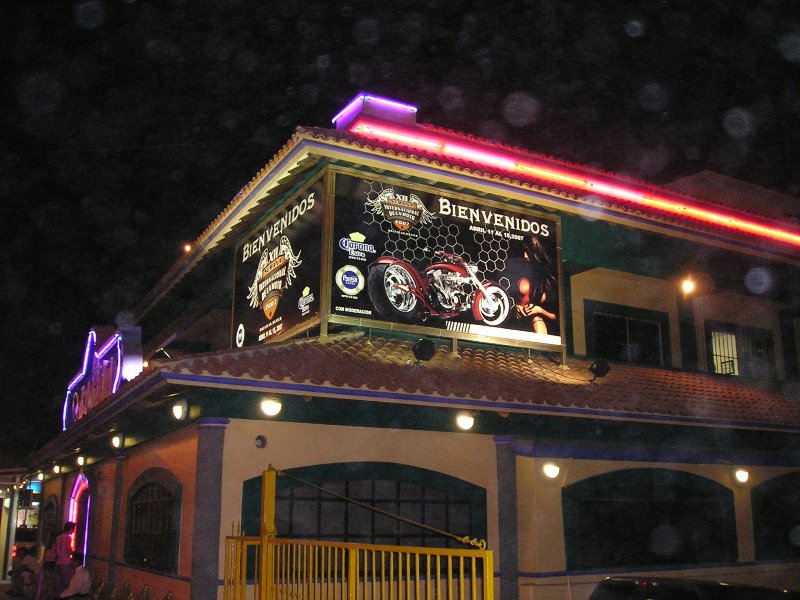 The town really gears up for this week ....and while it was just getting started ..I could see by the weekend that Mazatlan would be some party place with many many bikes.



And wouldn't you know ...I ran into my new friends!!
The three of us spent the evening and late into the night having fun in the party atmosphere of Mazatlan. Went to a few of the trendy bars and had a great time.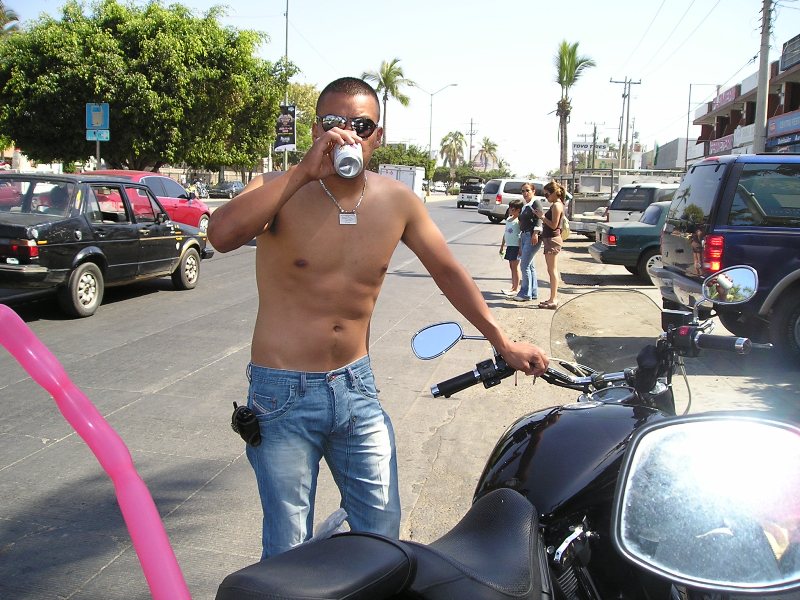 The next morning, knowing I'd be heading out he came by motel ..he wanted to say goodbye and thanks. It was early morning, and he was already in party-mode and drinking beer. Such is the life of the Mexican biker!

---
---
---

1 2 3 4 5 6 7 8 9 10