2007 Mexico Bike Trip
4
Today the 2nd half of Rd #175!! ...and then up the coast.
So morning came and I left my new found love: The city of Oaxaca. I would get back on Rd #175 and head south toward the Pacific Ocean. As promised, I was not disappointed.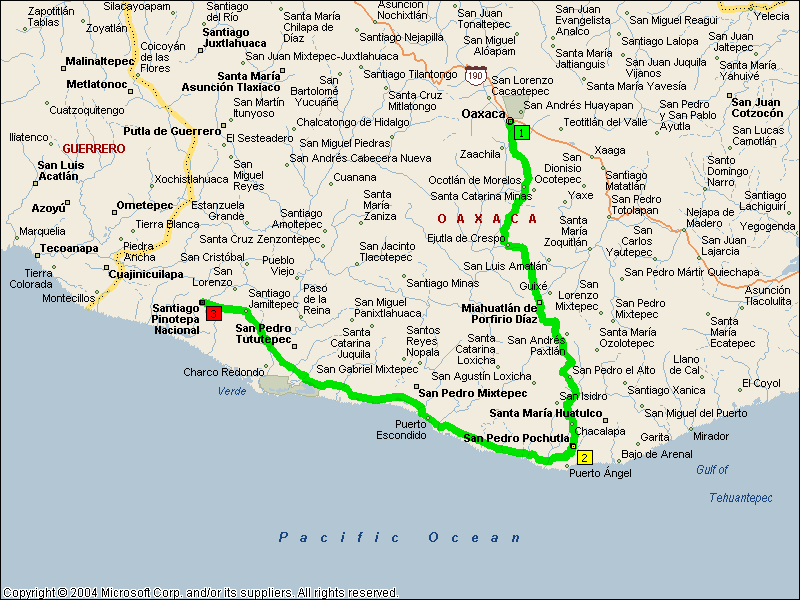 Much the same as the previous day ..high elevation and amazing sites. Here I see some goats on a little trail near the side of this very twisty road ..then I see some bright colors. It is a mom and two children ...all nicely dressed and with sticks ..they're hearding these goats! Not the typical got hearder that I'm use to seeing. And in a very remote spot, many miles from any village way high up in the mountains.
I pulled over but I didn't investigate as much as I would have liked to ...they were shy, and I saw no reason to make them uncomfortable. My fat uglie trailie of a bike and my weird clothes I'm sure were more than they cared to learn about!!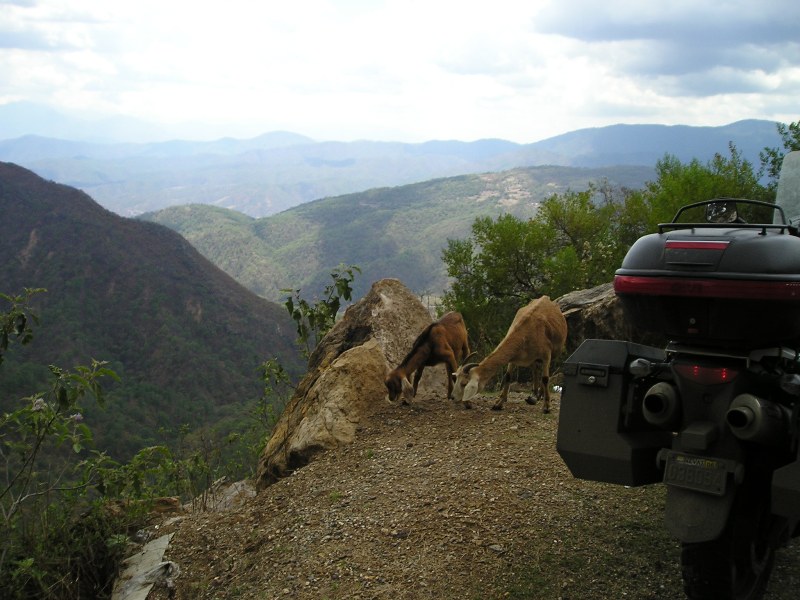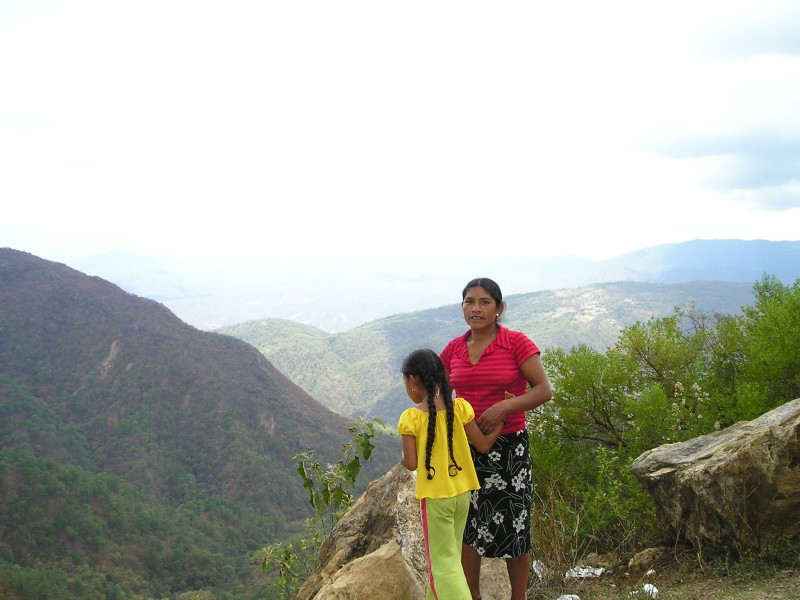 Took most of the day to reach the Pacific Ocean …the riding was fantastic …just as good as the day before.
I've ridden a lot of good roads, in the states and even better ones in Mexico …and this #175 takes the cake. IMO this is may be the best hardcore, Strom-perfect road in the world. Two days to do just 500miles, and my rear tire was now very worn due to the punishment that this road dished out.
What I thought would take one day, took two days. So when i got to the coast I started north -wanting to put some miles on the clock. I knew that these coastal miles would be much easier than what I had ridden the last few days.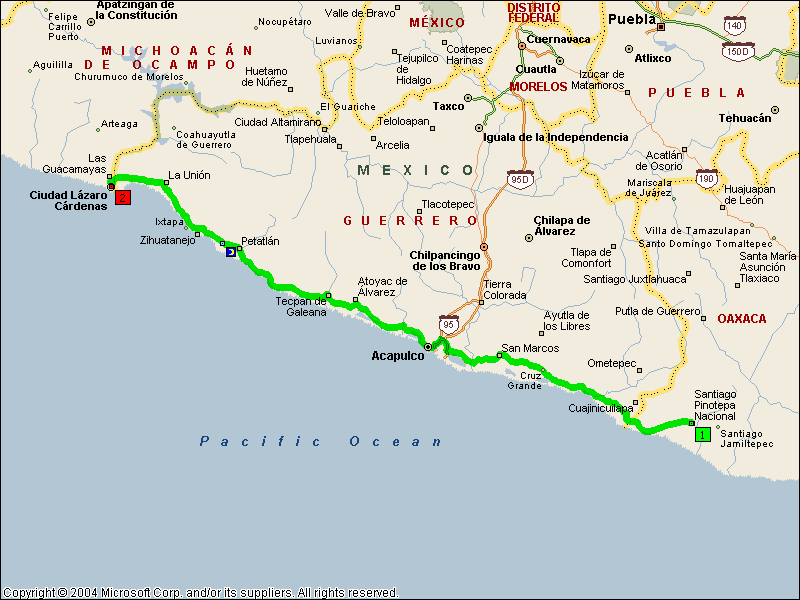 ---

I was not overly impressed with the lower coastline. Not overly scenic and a lot of shithole towns that just weren't very appealing.

I rode late into the night, eventually getting into some mild elevation, chilliness and rain. So, decided to stop at the next town which ended up being Pinotepa Nacional . Not a great town, but it did have a motel and they had secure parking and I could park next to my room. Only equivalent to about $10dollars a night!

There were some kids playing organized soccer under lights across from the motel and many locals had come to watch the kids play. That was kind of fun to participate in for a while. I walked into a scrapy bar called the San Francisco and immediately noticed that some of it's patrons were transvestites …and not the sophisticated surgery/hormone type of the San Francisco that we all know, ..Instead, dudes in women's clothes. Not for me, so I called it a night and got some sleep in my 10buck motel.
---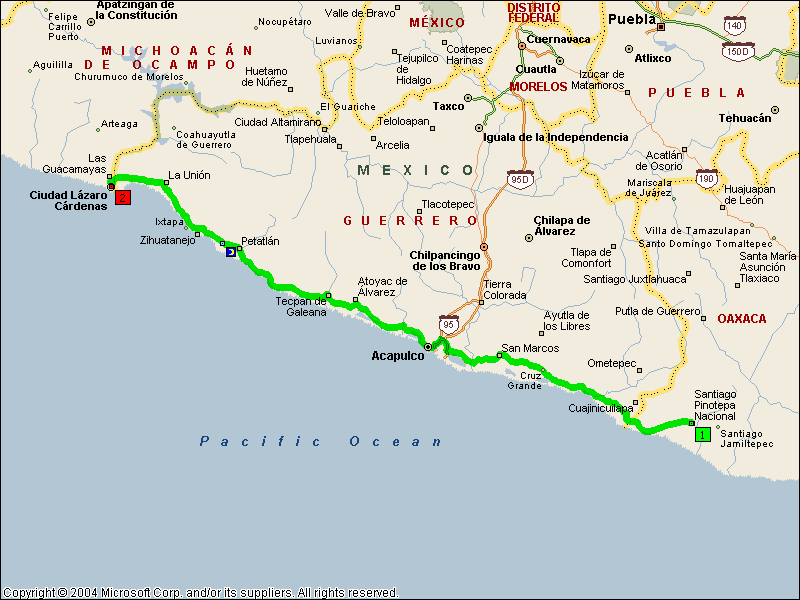 Got an early start the next morning headed north along the coast. Was making pretty descent time and talked to some folks along the way. They told me of a town by the name of Lazaro Cardenas -and said it would be a good place for me to see and spend the night. So I kinda made that my destination.
Going through Acapulco was a real pain in the ass. Too many people, heavy traffic and no good route to get through it. I was becoming very frustrated as I tried to make my way through this city and that caught the attention of the police. They knew that renojohn would tear that place apart if he didn't get out of there soon ...and not wanting that to happen, they gave me an escort out of town ...complete with a truck and four motorcycles and ..of course all carrying automatic weapons. These fellas were good guys and they had fun clearing the way for me. Thanks guys!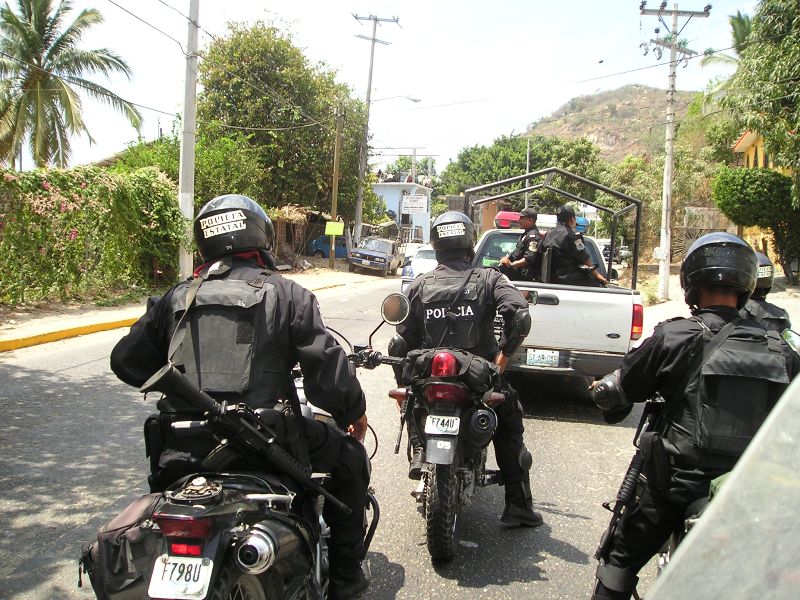 North of Acapulco the coastline started getting much better. And I would come across many places where the common Mexicans would congregate for ocean fun ..especially during this Easter holiday.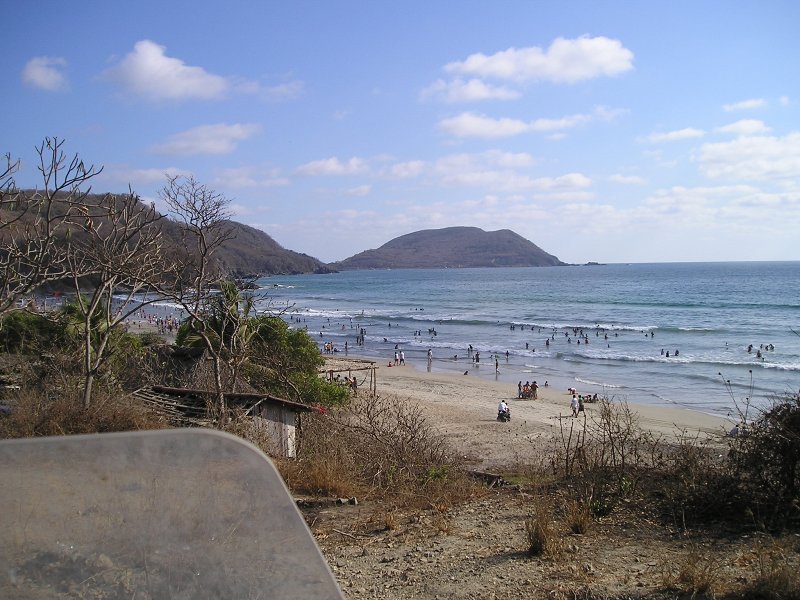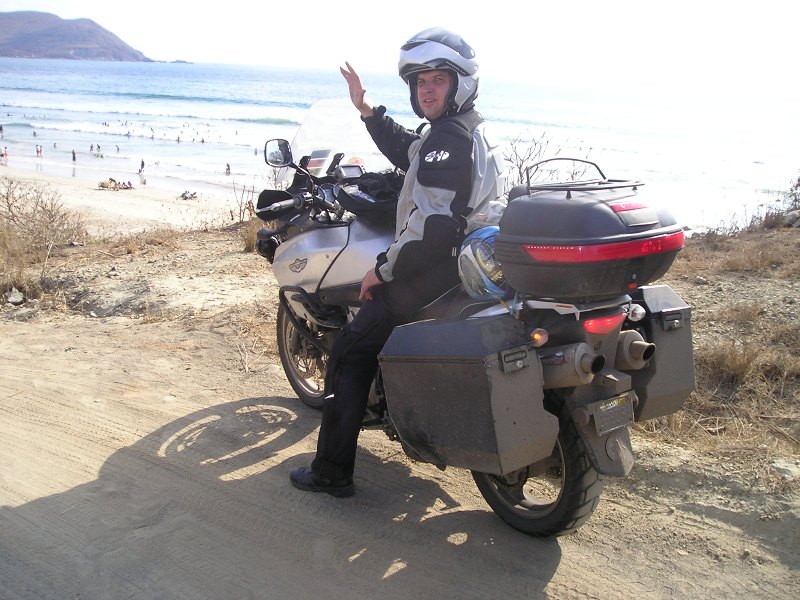 Thinking that if I was born in Mexico, perhaps I'd have a pickup -filled with many children and we would be coming here for holiday. Turns out that I wasn't and I'm just visiting from the USA on my motorcycle.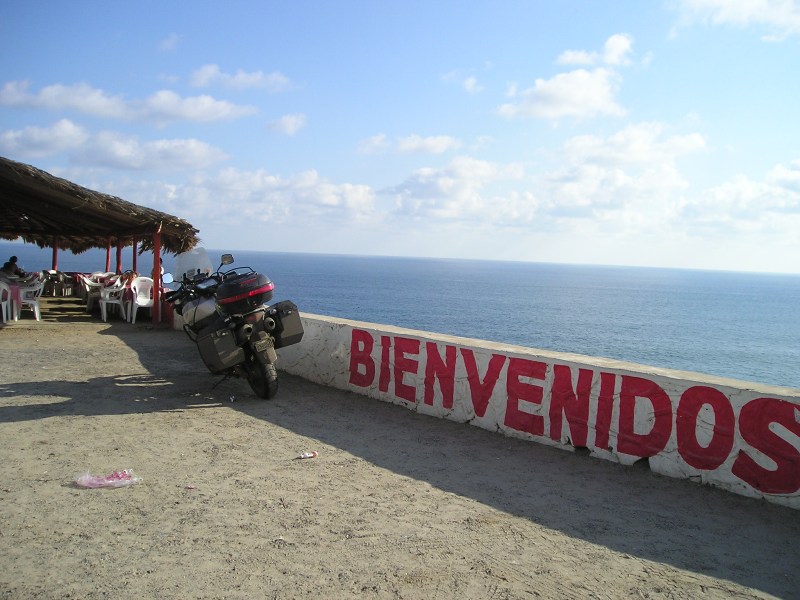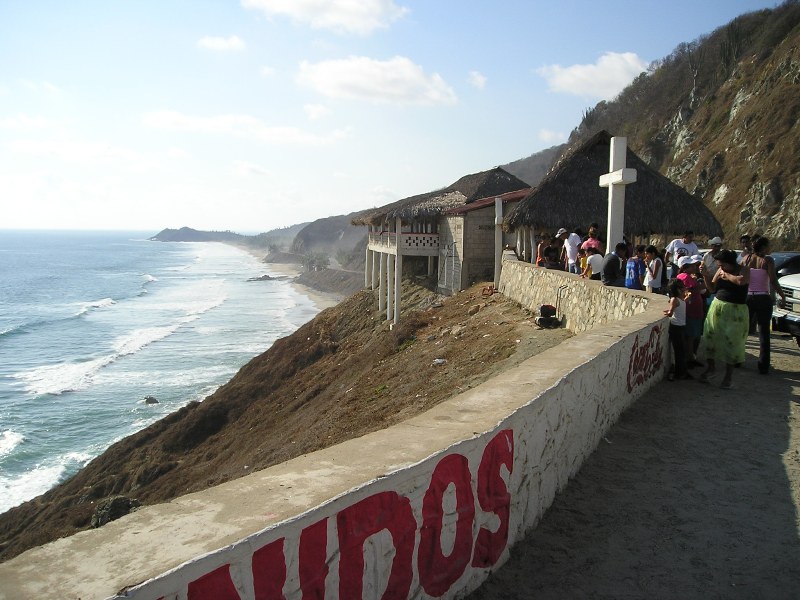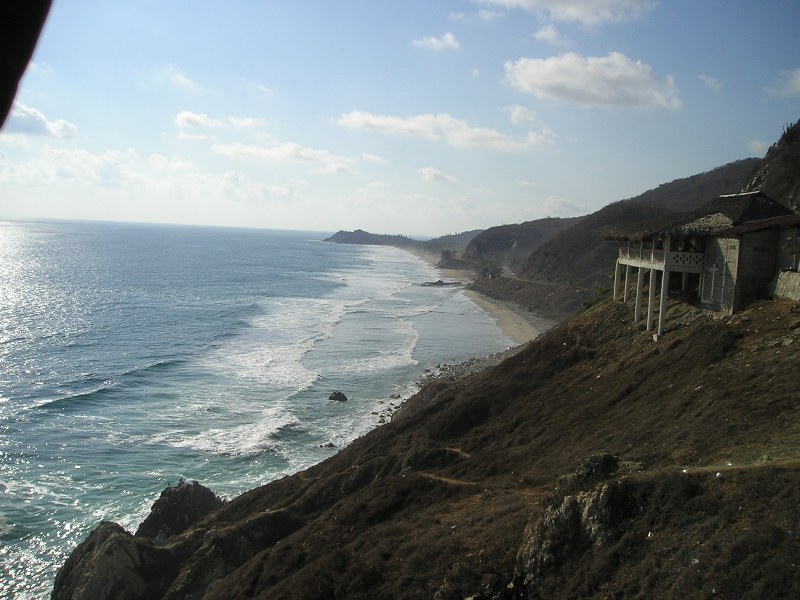 Well, as hard as it is to believe, I got lost and ended up chasing myself around in circles trying to get into Lazaro Cardenas. I eventually did stumble into it, and the town was alive with vacation and pre-easter celebration. A big street fair and all kinds of fun activity. This little town is a popular beach destination for common Mexican folks.
I got here very late. Motels were all full but one of the hotel proprietors introduced me to a fellow who had a fenced dirt lot in town and was renting space for people to pitch tents. He even had a one-man tent he'd already set up and would rent it to me. So I threw my sleeping bag in it , pulled my bike up next to it and I was set for the night.
Went for a beer at the cantina next door and also got some street tacos. A pretty festive place. I was so exhausted that I don't even remember getting into the tent that night. I slept good and the next morning had to laugh at the experience.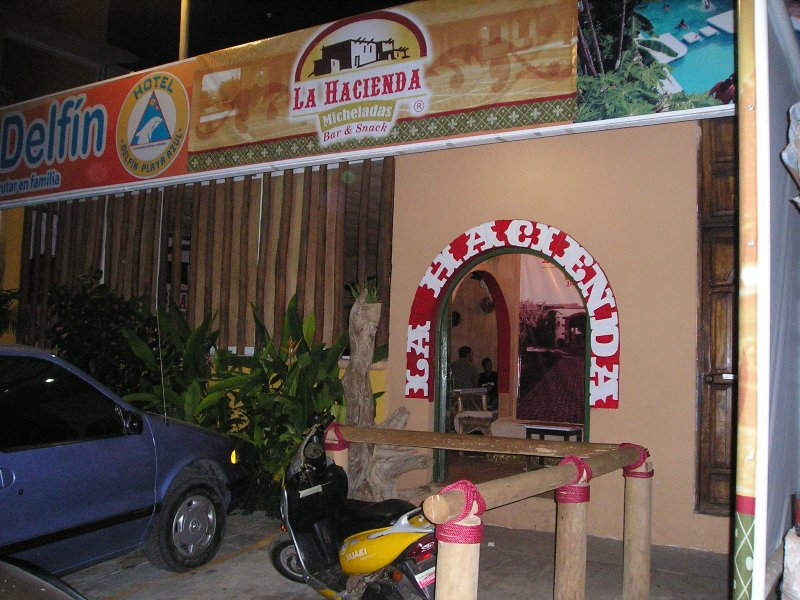 Cantina next to where I would sleep on the dirt.

Young guys playing cards for Pesos and the quaint bar.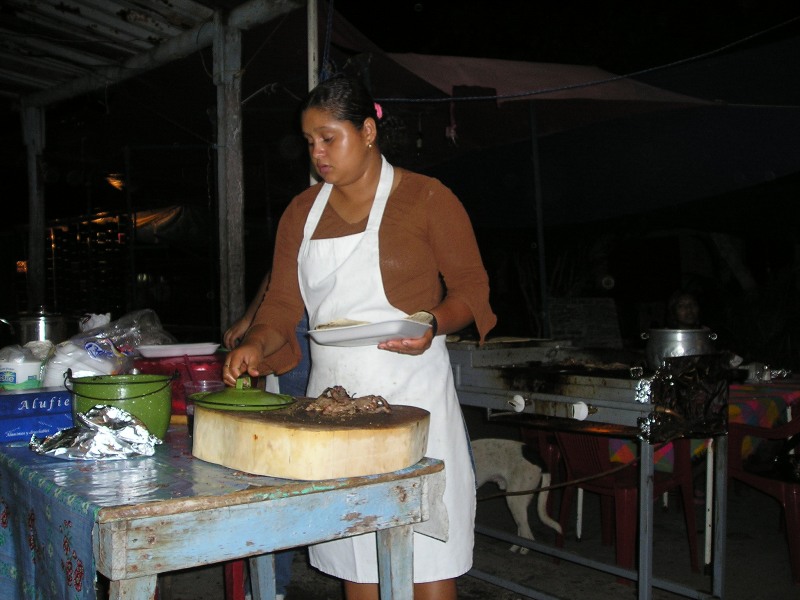 Not sure what this meat is, but it was good and hope it wasn't related to the dog under the grill.

Taken from inside my tent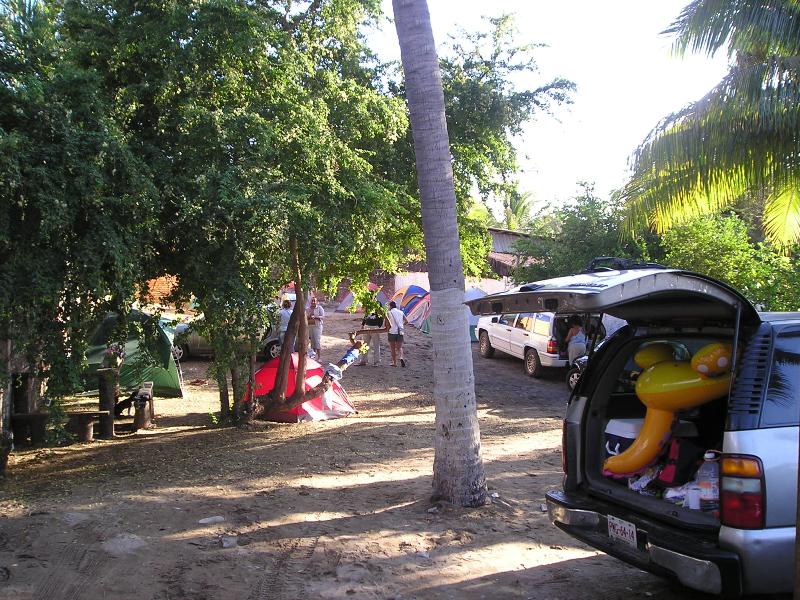 The next morning the dirt lot was easier to see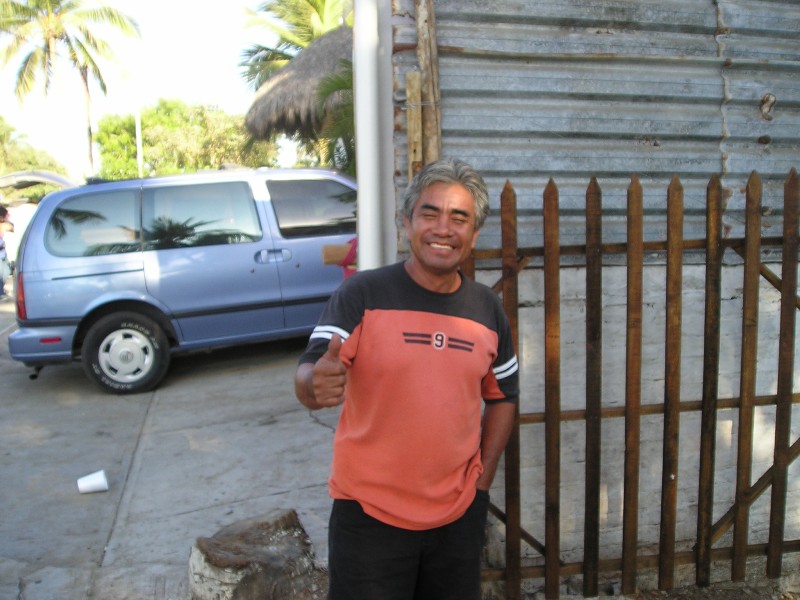 Proprietor of the dirt. . He's smiling because he's nice ....and because he got me for 150pesos (14bucks) to sleep on his dirt.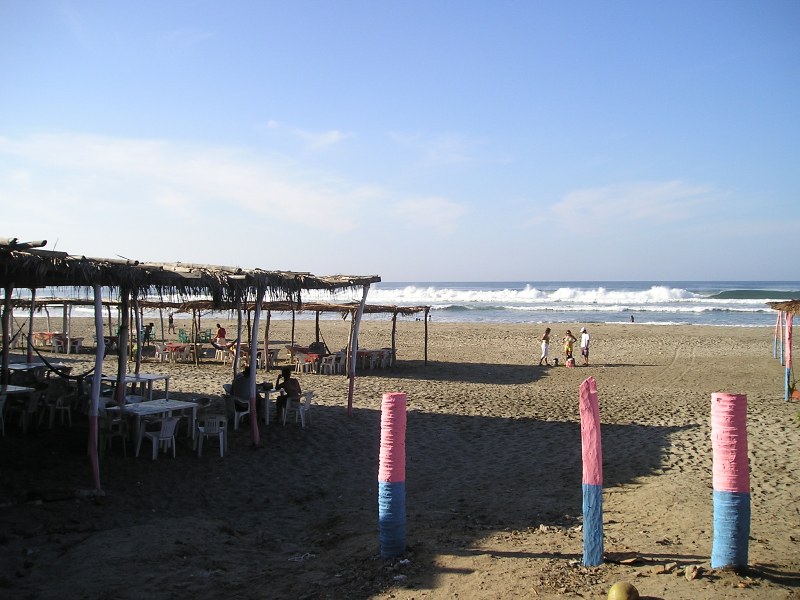 A view of the beach from this town ....a typical beach town for common mexicans.

---
---
---

1 2 3 4 5 6 7 8 9 10