2007 Mexico Bike Trip
4
Beautiful coastline and a new friend.
It was time for another decision. I was aiming for Guadalajara, more specifically: Ixtlahuacan. The common way was to take the mainstream road northeast (#37). However, looking at the map it seemed that going further north up the coast was a good option as well. Everyone I spoke to said to take the main road. I elected otherwise and am so glad I continued further up the coast.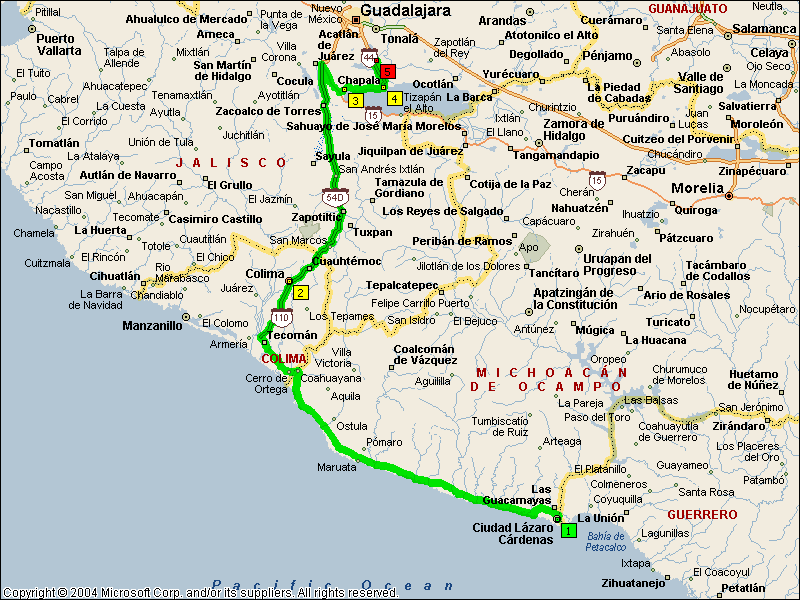 Riding along the ocean, suddenly turned from ordinary to very spectacular. The road was twisty, fun and full of spirit WITH NO CARS!! .The ocean/beaches were spectacular. I can see why people don't go this way as it is slow --a very tight twisty road. But, it is wonderful riding –Definitely worth doing. Similar to the best parts of hwy1 in California, but with no traffic!



I stumbled into one of the highlights of my trip:

- Just south of the small town of Caleta De Campos I pulled into a Pemex station for fuel. A young girl activated the pump, noticed my English accent through my poor Spanish and started speaking fluent English to me. I was quite taken at the wonderful English from this 8year old girl! Her name is Jenniffer Paloma Palominos. I ended up spending an hour or two with Jennifer and her family. The PEMEX stations are a government controlled monopoly in Mexico but her family owned (leased?) the little quick mart store at this location and attended to the gas pumps.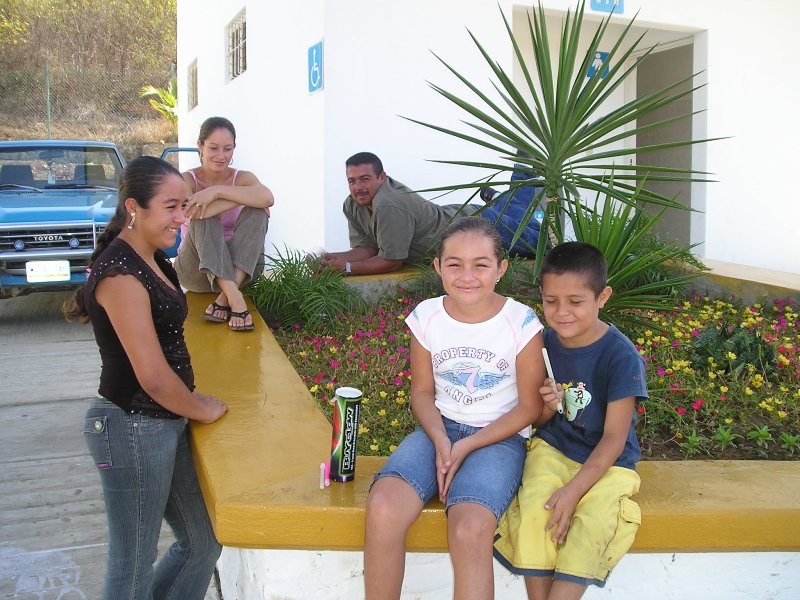 Here is the whole family ...Dad, mom, sister, Jennifer and her brother.
She was a real treat and shared all kinds of fun stories about life in Mexico. I learned all about her dog, her chickens and how she loves to sleep on the beach. We became good friends instantly. She wanted to know where my wife was and I explained that Kathy doesn't like the motorcycle but I showed her a picture. This is when we really became the best of friends: The picture happened to be a silly one that Kathy had packed in my tank bag ..it was of us sitting in a tent that was pitched in our living room. Jennifer thought this was way too funny and she thinks that Kathy and I are her kind of fun! She went into detail about her three tents ..one on the side of the house and one for sleeping on the beach and another one for going places.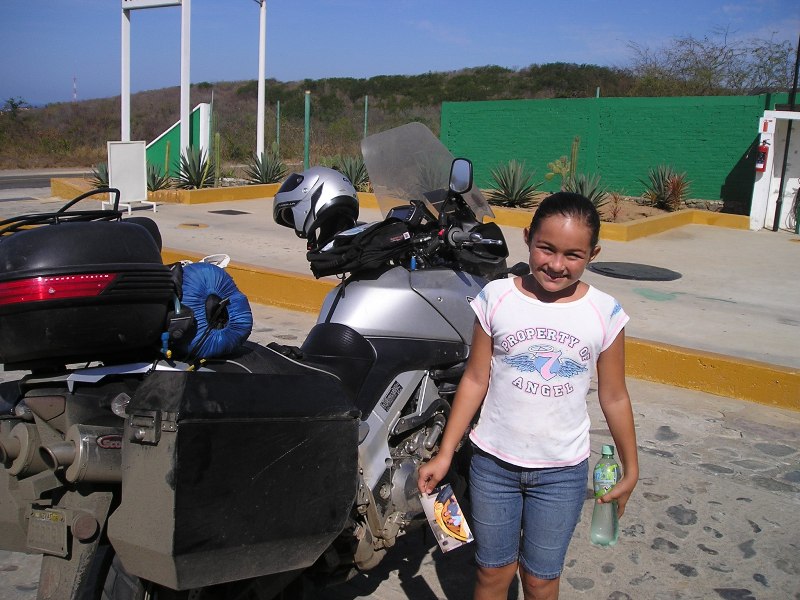 Here is jennifer, ...holding the silly picture of me and Kathy.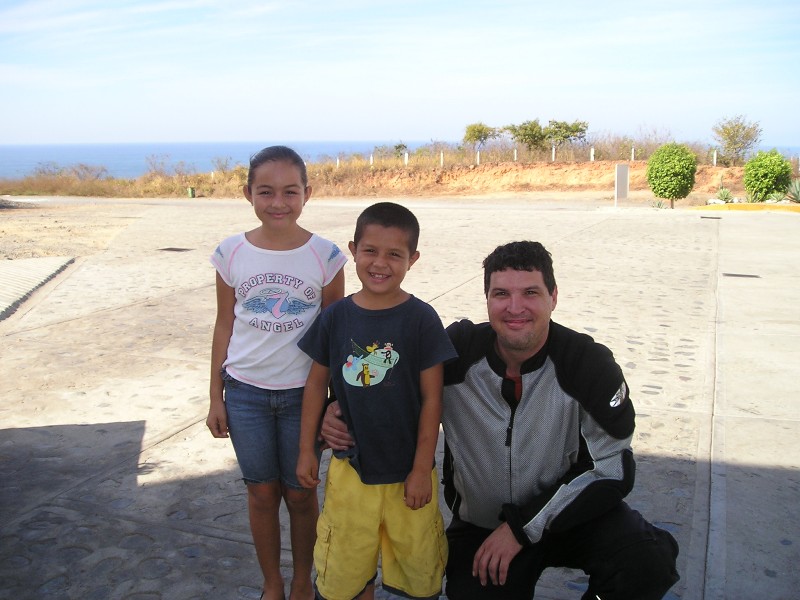 Jennifer invited me back to stay with her and her family anytime …she wants to show Kathy and I how to sleep on the beach. I'm not sure if she got her parent's "OK" on this generous offers, but I can see the pride that they have in this special girl and I bet they'd welcome us as Jennifer's friends.

I will never forget the experience of meeting Jennifer and I hope to stay in touch with her. I would love to check in on her in the coming years to see what wonderful things she is bringing to the world. She's going to do great things as her sense of fun and keen people-skills make her a very special person.

Thank You Jennifer.
While spending time with Jennifer, a young fellow on a Honda XR250 came in for fuel. He rode up to my bike and we (attempted) to trade a few words. Awkward with the language barrier though. I could tell he wanted to ride together, but I was not ready to go and he didn't want to make it obvious. A bit up the road I caught up to him and we did ride together.
He was damn good on that bike in the twisties. Laugh all you want at a guy on a dualsport 250 bike ..but on this twisty road he'd skewl most of the v-strom riders that I know and all but one of the FJR riders that I know. He could also wheelie effortlessly for about 75yards. I'd leave him behind in the many fun sections but he'd never be far behind when I slowed down to let him catch up on the straights. It was fun riding with him and he didn't mind my stops to take pictures on occasion.
Turns out he was on his way home to Colima after riding down to Acapulco to visit his girlfriend. Fun riding with this young guy.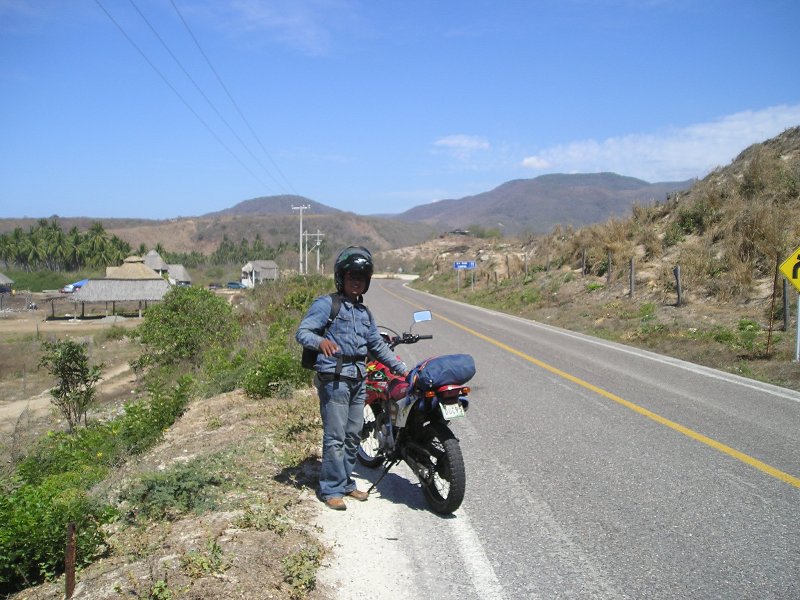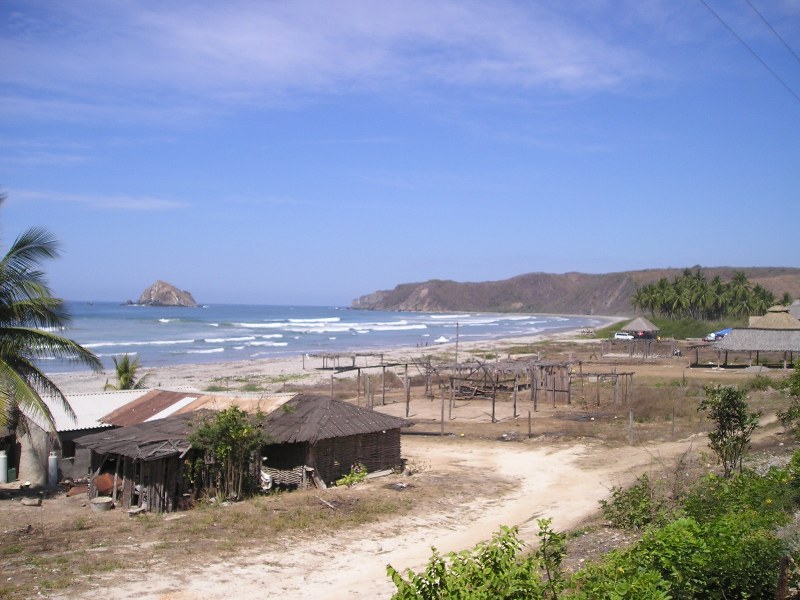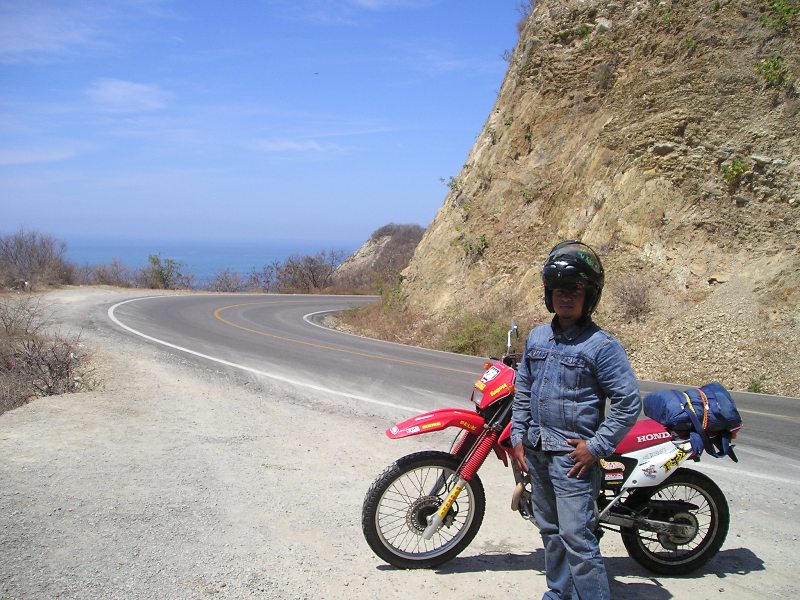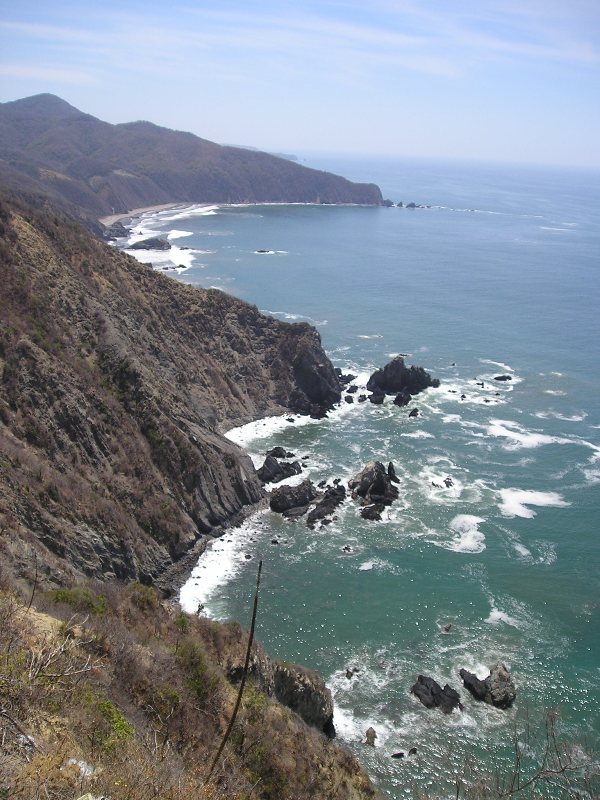 This section of the coast was amazing. GREAT riding, tight twisty and a magnificent coastline. Best of all, no cars!!, we had the whole wonderful road to ourselves.
We rode together to Calima and which point I called Dave (strokerdave) and told him where I was. He said "come on over" so I headed toward the town of Ixtlahuacan, which is between Lake Chapala and Guadalajara. I then called Dave again, and we met up and I followed him to his home.
---
Dave and I had traded many emails in the previous weeks and he was expecting me. How lucky I was to be the recipient of Dave and Rosa's hospitality.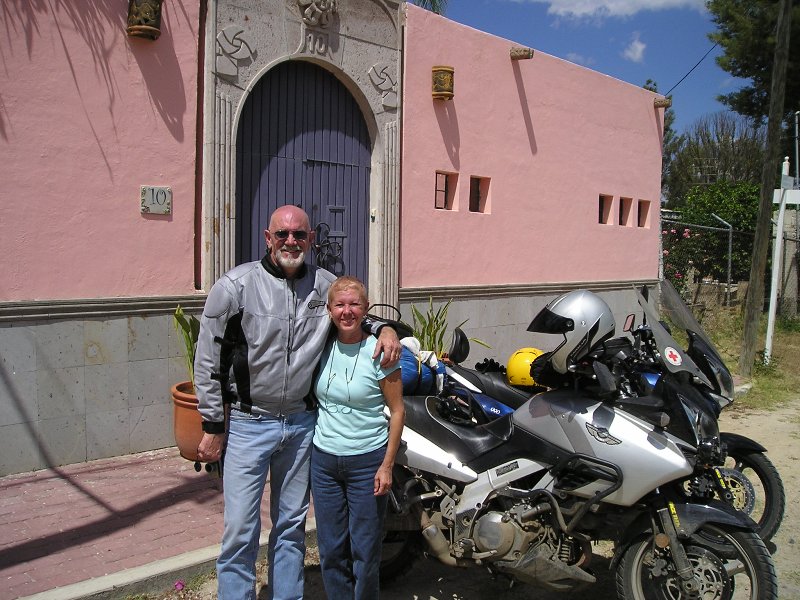 Dave and Rosa outside of their beautiful home.
I was now many days into my trip, and I had put some long days of riding (and fun) in ...and the previous night I had slept on the dirt. The timing couldn't have been better for me to enjoy the comforts of a real home. I was getting a bit run-down and little did I know, I was getting a bit dehydrated as well.
But a real home this wasn't ....it was much more. Complete with a wonderful spirit, a home unique in every way.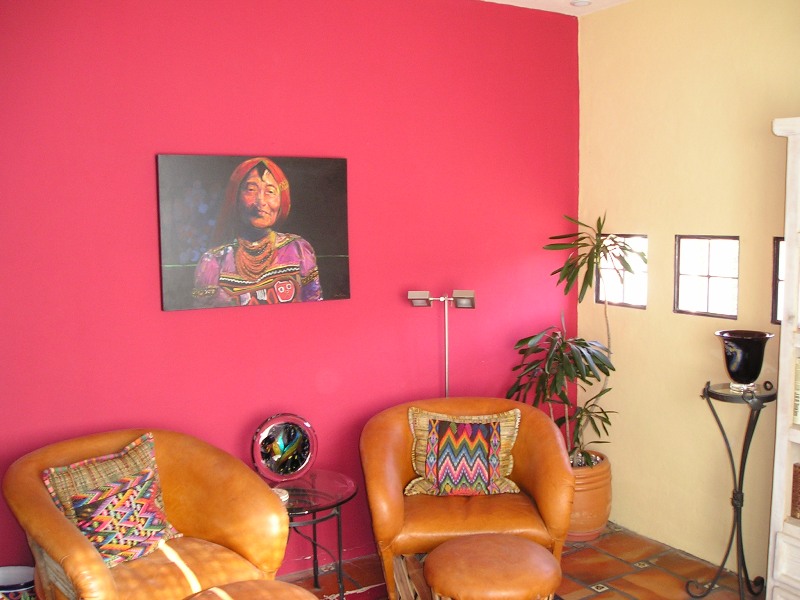 One of the MANY rooms, ..this is part of the library.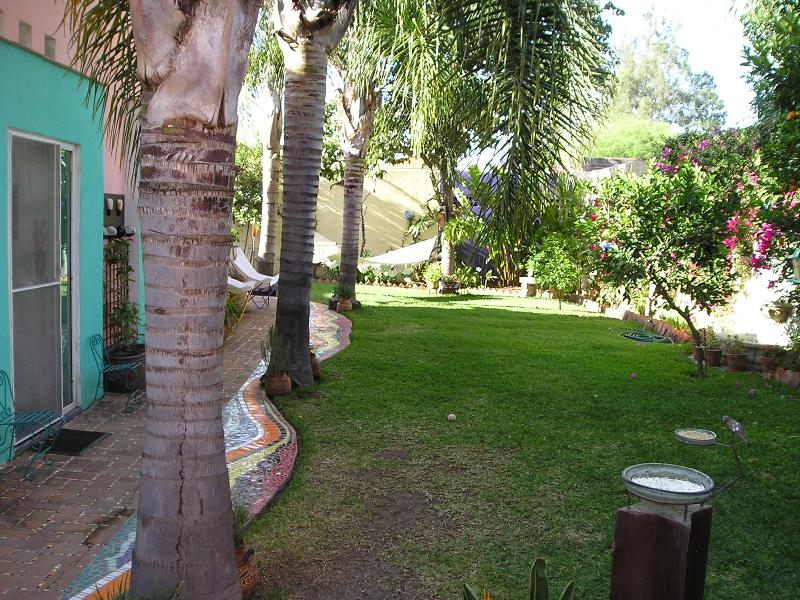 Wonderful fun landscape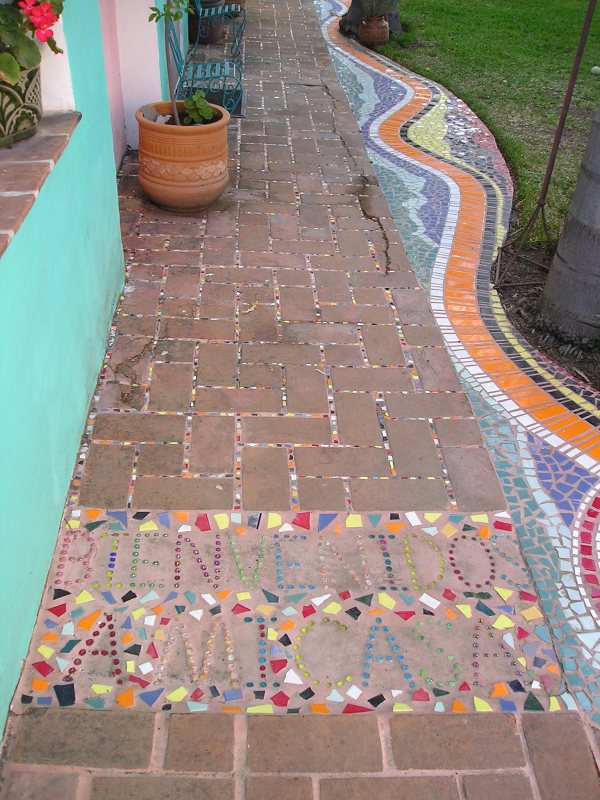 And a real fun colorful spirit.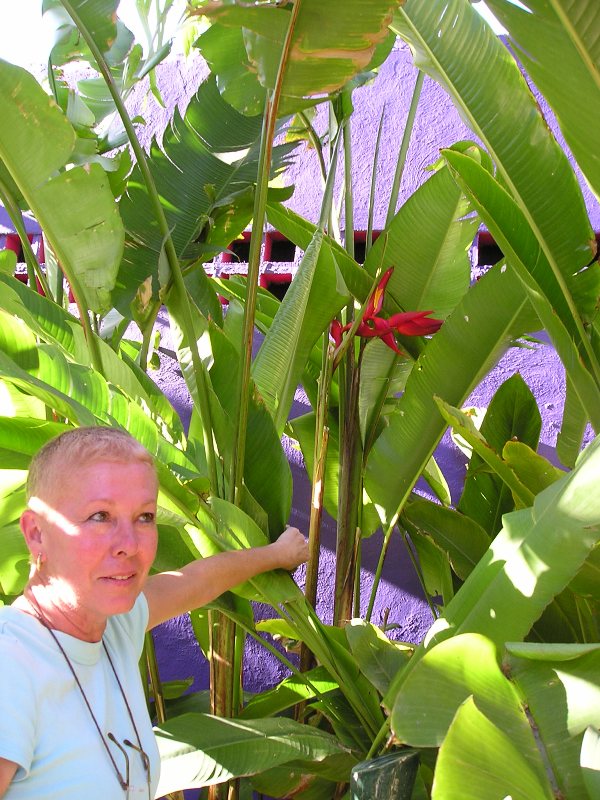 Rosa showing me this flower and giving me a tour of their wonderful home.
The first night I got a much needed shower and we went for a Burritto feast at a nearby restaurant. .....Dave said: "Is there anything you'd like to do tomorrow?" And of course I said: "Let's go riding!!" ...he smiled and said: "Already got it planned ...and I'm pretty sure my v-strom friend Jeff will be joining us!!"
While their home was beautiful, and a real treat for me to enjoy -especially after being on the road. Nothing can match the fun and generosity of Dave and Rosa. I am so appreciative for the two nights that they had me as a guest in their home. I look forward to returning the favor.
Thank you.




---
---
---

1 2 3 4 5 6 7 8 9 10