2007 Mexico Bike Trip
4
North of Mazatlan ...onward back to Reno
After the fun of Mazatlan, I headed north. Not much exciting to report on these roads. Lots of agriculture. Reminds me much of the central valley in California. One of the silly highlights though was stopping at this little place in the middle of nowhere. This man chopped up a chicken for me and heated some tortillas.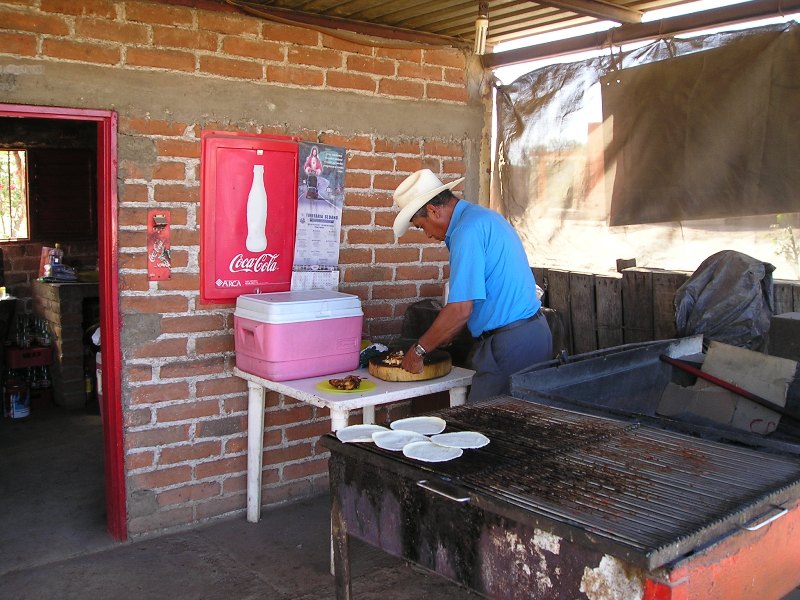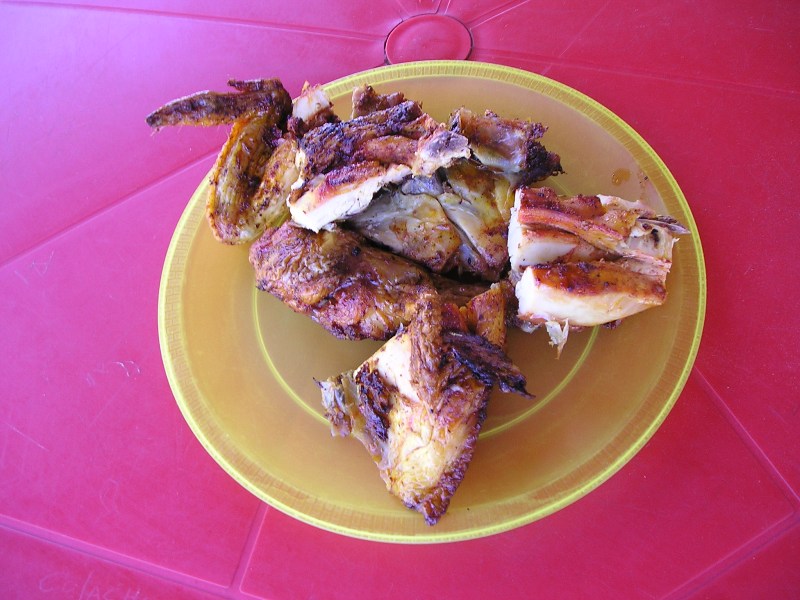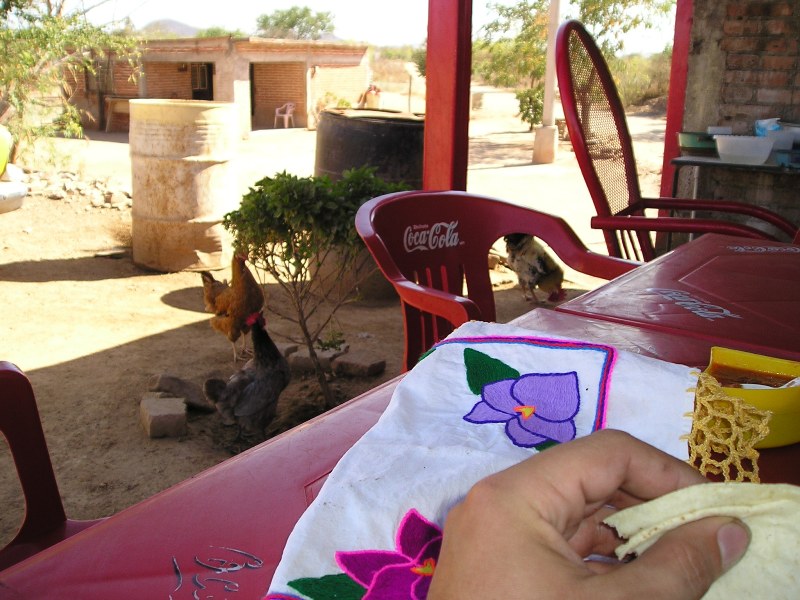 As I ate my lunch, I couldn't help but notice the chickens loitering around this place and of course my curiosity had me guessing which one would be the next one on the grill. One of these three perhaps?

Or maybe this one being that it was already close to the grill.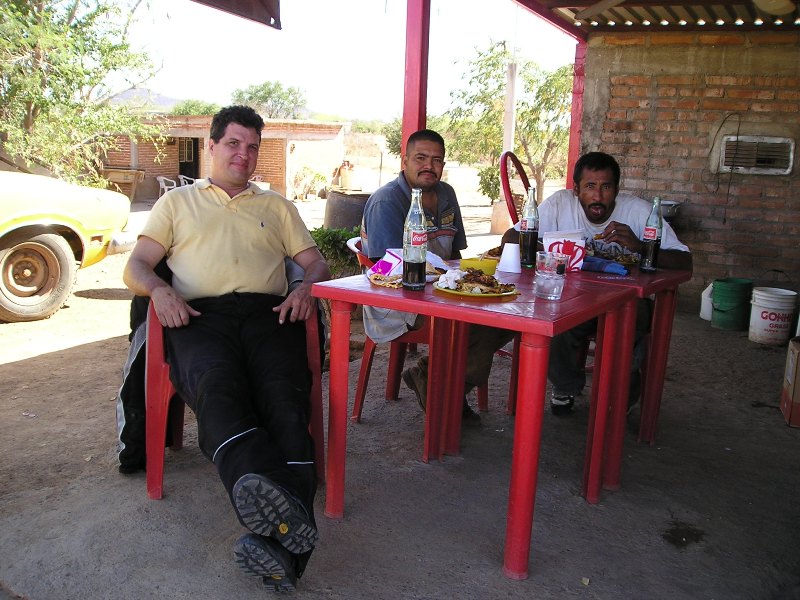 After a while these two truck drivers showed up and they too ordered lunch.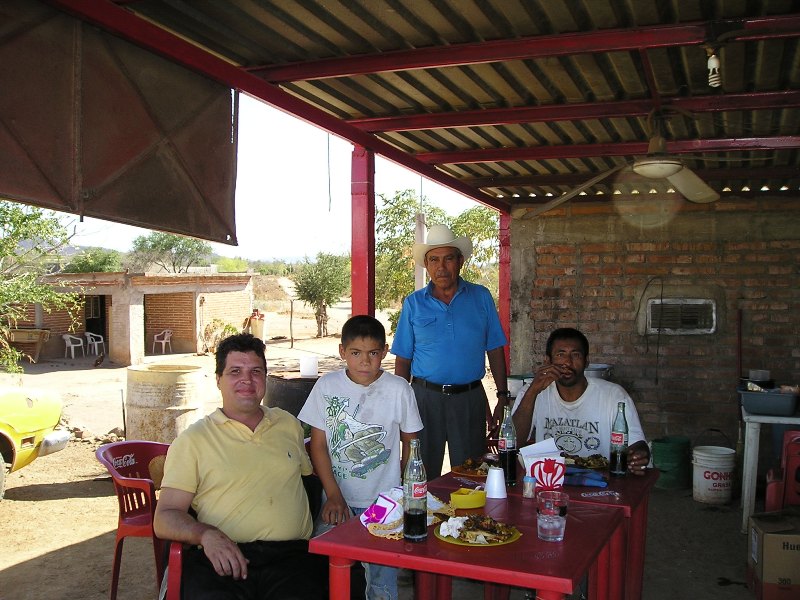 And then this young boy who lives nearby came up ...and I figured a group picture of my new found chicken eating friends was in order.


As the sun went down I was just entering the town of Navojoa ...where I stayed at this nice motel.
---
The next day, as I passed Guaymas, I decided to take some back roads and head for Kino Viejo and Kino Nueve. This would be a good diversion on the way to Hermosilo I thought, and I had these town on my list of things to see.
These two town connect. One is an old traditional mexican fishing village, and the other is full of expensive beach front mansions owned by wealthy Mexicans and likely some Americans. A greater contrast in classes so close to each other would be hard to find. Here is a picture of the nice beach and ocean: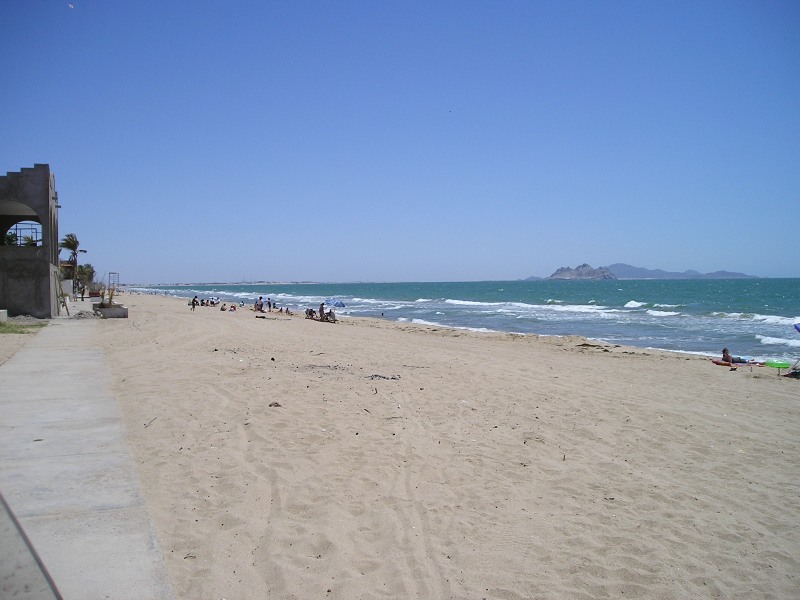 In Hermosillo, I stayed at a Hotel that I had stayed on a previous trip. Not a bad place. I had a mild case of the "common cold" ..but still spent some time walking the city.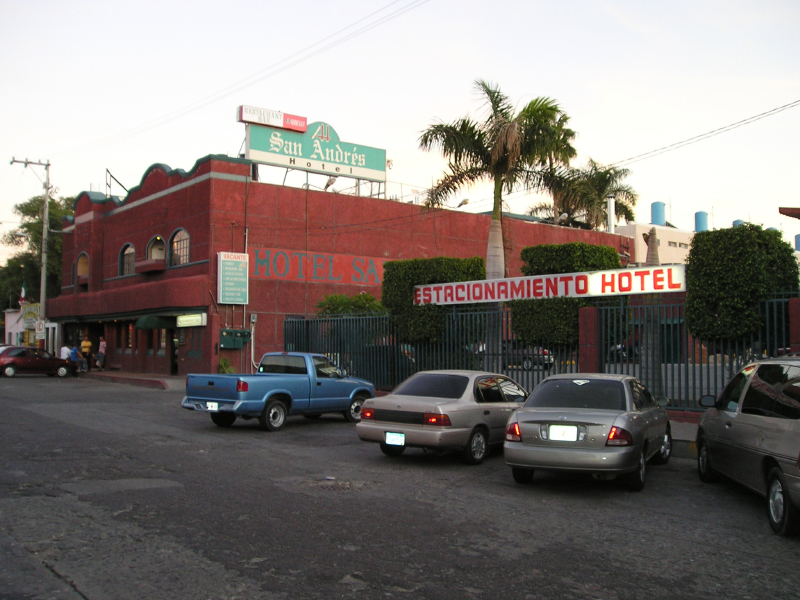 ---
From Hermosillo I made my way to the US border. Passed over at Nogales. Twice actually. I missed the point where I was suppposed to turn in my vehicle permit ..and ended up getting all the way to the border. Dumb mistake, but it wan't well marked. So, after debating, I decided to to the right thing and go back into Mexico for the permit processing. Returned my permit and then again went across the US border. The mistake cost me a couple of hours, but no big deal.

South of Phoenix the freeway stalled because of a big accident. Once around that I made the likely unwise move to go around Phoenix via hwy 8 west ...then cut north up to 40 etc etc ..eventually through Quartsite and then up to Parker where it was now late at night.

I looked for a cheap/clean motel in Parker. No such thing .....found a dirty expensive place instead ....two doors down were a clan of huge and drunk indians, upstairs a party of teenage girl crack-whores. And the room was 72bucks!!! Geeze, welcome back to the United States I laughed to myself as I dead-bolted my motel room door.
---
The next day: Las Vegas. I could have went further, but Vegas is always a great spot to be --and besides the weather to the north was kinda dicey. I was very luckly and stumbled into a beautiful room on the strip. No stranger to Vegas and it's sins, I walked around a bit, but because I was slightly under the weather, I was pretty tame. Hit the buffet for 4 orange juices, a bunch of fruit and two bowls of soup.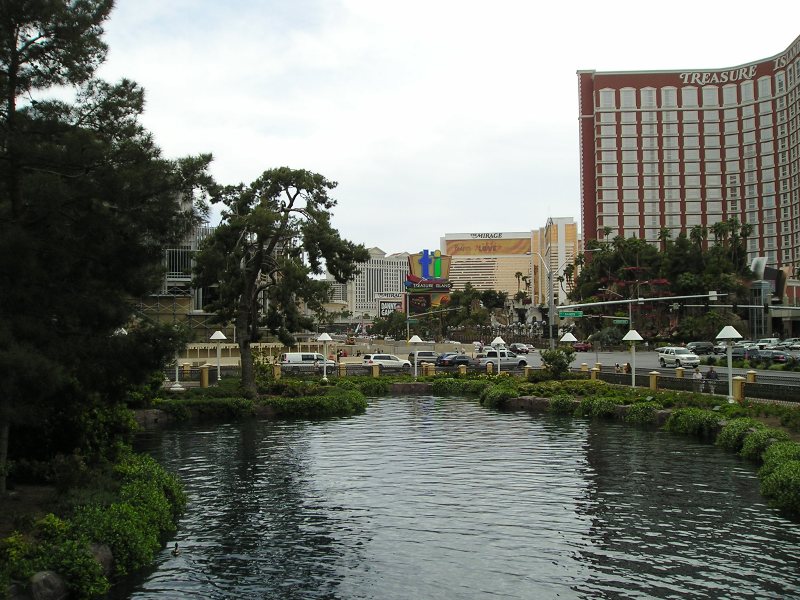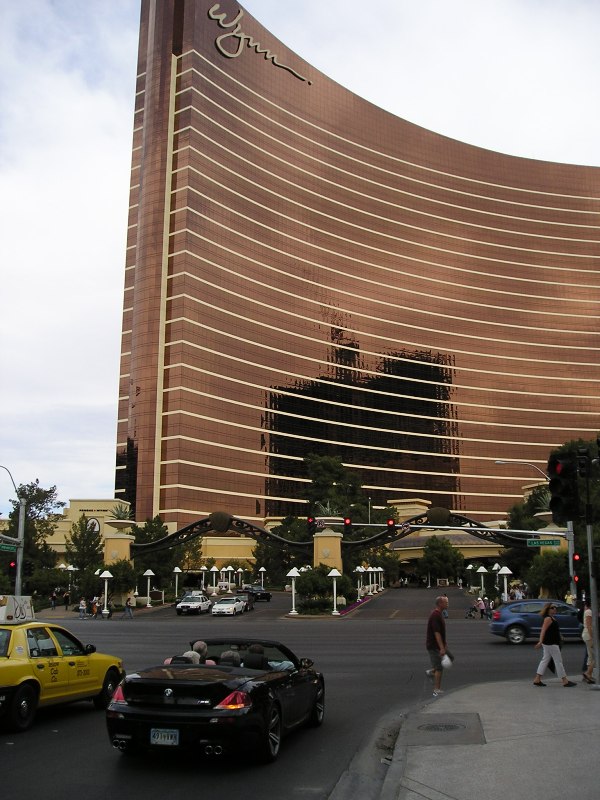 Regradless of how often I see it, I always laugh at the sites of Vegas. Here young newlyweds gettng their picture taken on the strip.

---
Got out of Vegas the next morning, only 450miles to home and I knew what to expect ...which is alwas the unexpected this time of year. Strong head winds and then north of Beatty I hit rain and by Goldfield it had turned to snow ...and it increased as I climbed in elevation up to Tonopah. Here in Tonopah I stopped to eat and warm up. Met a couple of Harley guys from WA and they were fun to talk to. They were boasting of their long ride -as if they were going to impess this Nevada hick on his fat traillie motorcycle. But they got humbled real quick when I told them were I'd been over the last two weeks. Funny too: I asked where they stayed in Klamath Falls and they said the Golden West ..and I had to tell them that I was friends with Vince (the bike loving owner). It was good fun.
The snow decreased and the weather got a bit better north of Tonopah and by late afternoon I was home.
What a wonderful trip. Just under 8,000miles with over 6,000miles of that in Mexico ...and on some amazing twisty roads ...as well as a fair amount of dirt.
Mexico is the greatest, the best roads, the best sites and the most wonderful people.
Thank you Mexico for a wonderful experience. I'll be back soon.
---
---
---

1 2 3 4 5 6 7 8 9 10